Dans ce post, je vais vous parler des trois meilleurs moments de cette semaine de Raw et de Smackdown live. Je vais tenter de faire ce post le mercredi ou jeudi à chaque semaine.
In this post, I will tell you about the three best moments of this week Raw and Smackdown live. I will try to do this post on Wednesday or Thursday every week.
B-team mimics the deleters of worlds / B-team imite les deleters of worlds
A very funny moment the B-team that imitates the deleters of worlds. Especially, when Bo Dallas imitates his brother Bray Wyatt.
Un moment très drôle le B-team qui imite les deleters of worlds. Surtout, quand Bo Dallas imite son frère Bray Wyatt.
KO now Braun Strowman's friend? / KO maintenant l'ami de Braun Strowman ?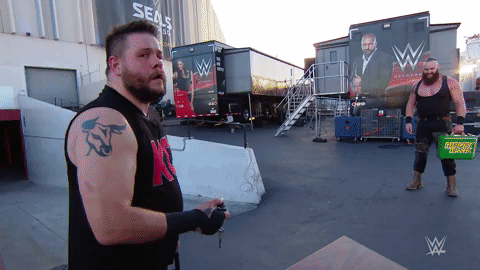 This week Braun asks KO to become his teammate for a team match as he knocked out to become his friend. After the victory, KO by running and Braun back the KO car in the parking lot.
Cette semaine Braun demande a KO de devenir son coéquipier pour un match en équipe car il KO a demandé de devenir son ami. Après la victoire, KO par en courant et Braun revire l'auto de KO dans le stationnement.
Bayley romping on Sasha Bank / Bayley se défoule sur Sasha Bank
As a result of their defeat against Riot Squad, Bayley attacked Sasha Bank for about 5 minutes the crowd liked it but is it a Bayley Heel Turn?
À la suite de leur défaite contre le Riot Squad, Bayley attaque Sasha Bank pendant environ 5 minutes la foule aimait cela mais est-ce un Heel Turn de Bayley ?
The Return of the Hell NO Team / Le Retour de l'équipe Hell NO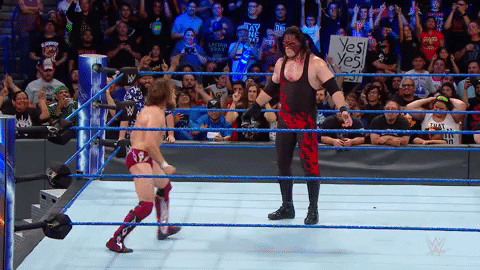 Daniel Bryan is the victim of an attack by Rowan at the end of the match against luke harper and after we hear an explosion and we see the arrival of Kane and they will reform the Hell No team to extreme rule for a championship match by team.
Daniel Bryan est victime d'une attaque de Rowan à la fin du match contre luke harper et après nous entendons une explosion et on voit l'arrivée de Kane et ils vont reformer l'équipe Hell No à extreme rule pour un match de championat par équipe.
Quel a été votre meilleur moment de la semaine ?
What was your best moment of the week?