WHAT ARE THE OPPORTUNITIES WORKQUEST CAN CAPITALIZE ON? 💭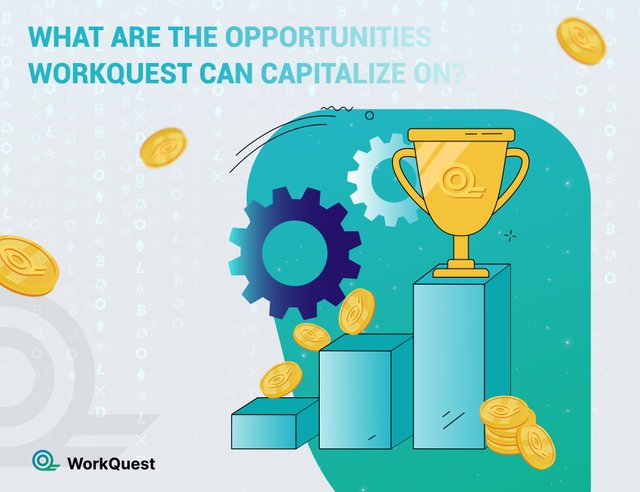 Today's recruitment challenges are numerous. Despite leaner teams and tighter budgets, the results remain the same. In this article, we outline some of the most common recruitment challenges that organizations face, as well as tips for how WorkQuest can overcome them.
🎯Ensuring a good candidate experience
In addition to branding, candidate experience is a factor when evaluating job offers for the most qualified candidates. Your hiring process reflects the way you treat candidates afterwards. It is less likely that they will accept it if they had a terrible experience. Additionally, a positive candidate experience can help enhance your company's brand and encourage quality candidates to consider your openings and accept them. On WorkQuest, you're assured of receiving the highest quality of experience.
🎯Faster Processing
You can turn the numbers in your favor with WorkQuest. Rather than assessing candidates individually, you can use our tools to analyze and evaluate everyone's technical skills at once. In addition, it is a solution that can easily be scaled.
🎯Fewer applicants
Among employers surveyed, 11.5% report an underwhelming number of applicants as their top challenge when it comes to online recruitment. HR managers could benefit from expanding their recruiting tool sets as a consequence of the talent shortage and tight labor market.
🎯Centralized Job Platforms
There is currently a high degree of centralization in Job platforms. The recruitment firms accumulate and manage highly sensitive personal and financial data, which exposes them to numerous risks, such as data hacking, identity theft, and unscrupulous employees. It is also possible to alter data intentionally or by mistake. In order to combat this, WorkQuest offers decentralisation.
🎯Accuracy in Reviews and Ratings
There's a problem with job platforms not being completely trusted by people. Numerous times, these job platforms have either cooked up ratings or don't have any at all. WorkQuest provides a system for ratings and reviews that can be trusted. Using this method, both employees and employers will be scored, allowing for the development of competent employees and credible employers. Employers will be able to find the right staff more quickly as a result of this.