Week 4 has started!
There will be an extra 21 hours or so to submit an entry for week 4. The official countdown clock has started.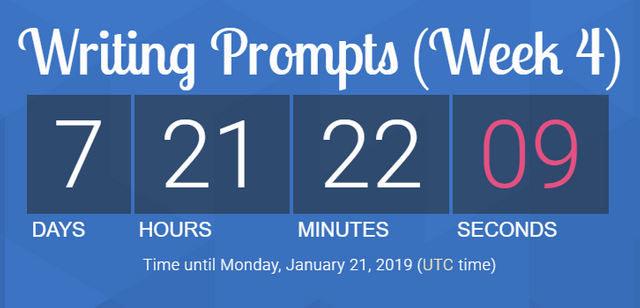 Refer to this link for the official time of the contest.
I will be unable to accept entries after this time.
Theme
The theme for week 4 is The first time I realized I was a wizard.
Prize Pool
The prize pool is currently 50 Steem. All prize money will be delivered as powered up Steem to the winner chosen by the judges. If the pool gets larger than 100 Steem, I reserve the right to award more than one winner. The target is to keep the prize to at least 50 Steem each. If we hit 150 Steem, there could be three winners for 50 Steem.
Want to increase the pool?
Send any amount of STEEM with writing prompts as the memo and I will add it to the pool and credit you in all posts for the week.
Judging
Judging will be done by @llfarms and myself and will happen through the week after the contest ends.