The Giza Death Star Revisited: A New Steemit Novel Chapter 80
The Giza Death Star Revisited: A Novel Based on the Work of Joseph P. Farrell
©2017 by Carl Joseph DeMarco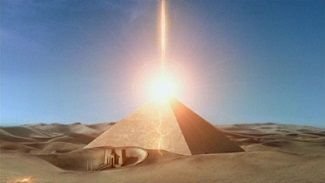 Prev. Chapters: 1, 2, 3, 4, 5, 6, 7, 8, 9, 10, 11, 12, 13, 14, 15, 16, 17, 18, 19, 20, 21, 22, 23, 24, 25, 26, 27, 29, 29, 30, 31, 32, 33, 34, 35, 36, 37, 38, 39, 40, 41, 42, 43, 44, 45, 46, 47, 48, 49, 50, 51, 52, 53, 54, 55, 56, 57, 58, 59, 60, 61, 62, 63, 64, 65, 66, 67, 68, 69, 70, 71, 72, 73, 74, 75, 76, 77, 78, 79
Chapter 80
The plan, indeed, was to have the Land Rover and its phase conjugator waiting at the port for their arrival. Frank and Melissa had driven it to Houston to get it on a fast ship to Alexandria rather than lose time navigating the Pacific and the Panama Canal. Greaves and Frank were there to make the pick up.
"I'm terribly sorry, Mr. Greaves and, ah….. "
"Barstow. Frank Barstow."
"Ah, yes, I see you here, Dr. Barstow. Your cargo has been held up by the Port Authority. We will release it to you as soon they clear it."
"When will that be?"
"It's hard to tell with these things. Inspections, paperwork, customs fees…..Maybe a few days, perhaps a week or two."
"A week or two?" Greaves was flabbergasted. "Let me talk to Abu Samra."
"I'm afraid Abu Samra is not here at the moment."
Frank slapped his copy of the paperwork on the custom officer's desk. "It's very clear we need that equipment for urgent archaeological work which has been approved by the Department of Antiquities. Our grant will expire by that time!"
"I'm very sorry. These delays aren't uncommon. I'm sure you will find a way to work around it in the meantime. Er, what institution did you say you were with?"
"South Dakota State University. See? Here are all the permits. Again."
Faro had been sure to supply the legitimate paperwork Greaves' 'guy' needed at the port. It was just a portion of it, but all of it had been done and cleared by the relevant authorities.
"Look, Mr. Greaves and Dr. Barstow, I know the Department of Antiquities has approved your permits. I know the cargo matches your manifest. I know you have done everything correctly. So, I have no doubt that the Port Authority will also soon comply. I'm terribly sorry. Again. Now please, I have too much work to do in Mr. Abu Samra's absence. Check back tomorrow."
Greaves and Frank left grumbling. When they were clear of the office, Müller emerged from a back room. "Well done, Al Busiri," he said placing an envelope obviously loaded with cash on the table. "You can have your family back now."
Al Busiri leapt from his chair and raced into the backroom where his family sat bound and gagged, and freed them. They embraced as Müller made his surreptitious exit.
Frank and Greaves found a hotel and checked themselves into a room. Then they made a call to Faro.
"Hello?"
"Doc? Frank."
"Well, well, well. What's going on at your end?"
"Let's just say this wharf is full of rats."
"I see. What about Greaves' guy?"
"Not here for some reason. That's probably the fishiest thing about this."
"Hmmm. I can smell those rats from here. The bratwurst and sauerkraut farts give 'em away."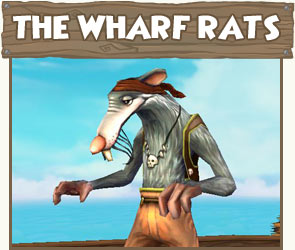 "That's one way to put it. They did just orchestrate a coup to get their people in for the Death S…." He stopped himself. "You know what I mean."
"So what's the plan there? Georgeanne wants to do a fashion shoot here, with me in my Desert Rats outfit."
"Huh. Wharf rats and desert rats. Sounds like a regular rat row brewing. Plan here is to snoop around and see what wharf rats come out of their holes."
"Well you better hurry. It's very obvious now they're preparing to test the thing. We need the kill switch on that vehicle. And watch your backs. Those are the biggest, craftiest rats you'll ever run into."
"Watch yours. You don't wanna be out shutterbugging and making a scene with Major Strasser and all his Nazis in Cairo expecting you."
"Thanks. Major Strasser was in Casablanca, not Cairo, but I know what you mean."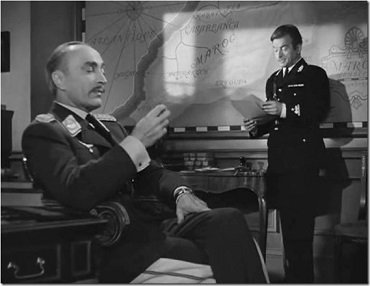 Major Strasser dictating terms to Capt. Renault in Casablanca
This post is Steem Verified