Great Grandfather Don's 100-year-old Strongbox
When Mum and Dad died, the most interesting artefact they left us was the chest of old family photos and documents, accumulated across more than a century ("The Ancestor Chest"). I was carrying four hemp bags worth of the chest's contents one recent November, when I visited my cousin Donna in Suffolk in south-east England, about two hours from London.
Donna lives in the former home of great aunt Cynthia and great uncle Hugh - near the coast, about a mile back from the crumbling cliff line, near the site of the former Medieval port city of Dunwich (now swallowed by the waves). The house is a place of earthenware crockery, Hugh's beautiful oil paintings, and loft spaces filled with the paraphernalia of foreign adventures.
I arrived on a Saturday afternoon, and Donna, her partner, Alexander, and I, shared a hearty lunch of cheese, salad and home-made bread. We toasted absent friends, shared belly laughs, and gossiped until the sun sank. Then Donna and I took the dog for a walk.
The Night Walk
In the countryside where I grew up, discussion-filled night walks were a vehicle for expressing experimental ideas, receiving wisdom, and looking at the stars. As we rambled, Donna and I peeked over the crumbling cliff edge at the dark sea, wandered past the ruins of the 13th-century Franciscan priory, and made our way down a secret route she knew, snaking through the village. On the far side, Donna shone a torch across a field, where a herd of 10–15 deer stared back at us, eyes a floating cloud of white mirrors. The conversation ranged from what we were doing with our lives, moments we'd shared, and recollections of dead relatives.
I reflected on the experience of sorting the Ancestor Chest, sharing what I was learning by categorising, and making sense of, images of ancestors – some long-passed, others well within the edges of living memory. A key character I was learning about was my Great Grandfather (Donna's maternal Grandfather), John Donnelly.
I pointed-out that – at the age of 42 – I was just coming to understand an accomplished, significant and not-that-distant life, which did much to shape my own. Yet until the previous few months, I hadn't know what he looked like, or really understood who he was.
As this John Donnelly was the main theme of that evening (and this post), and because – discombobulatingly – he shares that name with his own grandfather, father, son and grandson (henceforth: John Donnelly I, II, IV and V), I'll refer to my Great Grandfather via Donna's affectionate moniker: "Jon the Don".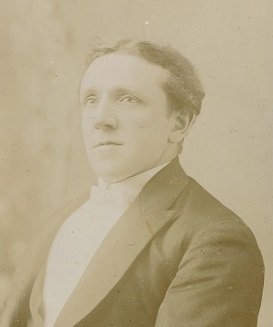 John "The Don" Donnelly c.1900
On my mother's side, we were always close to the extended family. It was from that ecosystem of familial relationships where I inherited much of my original world view, philosophical outlook and prejudices about right and wrong. That environ was largely made up of Jon the Don's grandchildren, great grandchildren, and their partners. I effortlessly recognise common cultural characteristics between those people, such as a tradition of political pacifism, a habit of walks as a vehicle for social bonding, a certain devil-may-care free-spiritedness, and a gift for organising social gatherings. These characteristics were presumably forged in an environment he and his wife shaped.
Jon the Don lived in Lancashire between 1875 and 1928. He was a cinema magnate and entrepreneur. He briefly served in the British Army, at the end of WW1, at the age of 43. He travelled extensively around Europe and (allegedly) north Africa – setting an example which endured through three subsequent generations (so far).
He often appeared on stage in Manchester. It was an image of him, dressed up and mid-performance, which most recently brought him to my consciousness. Difficult-to-verify echoes of his life include that he housed Belgian refugees during WW1, organised work teams of the unemployed during the 1920s, and that his first experiment selling movie tickets was a projector in a hall – which led on to a chain of cinemas. He was also an accomplished watercolourist.
Donna recalled a story that, as he died – on a tram in Stoke-on-Trent, in the arms of his eldest daughter – his last words declared that he wished he'd spent less time making money and more following dreams. During his life, he was normally called "Jack".
His wife was Mary Elizabeth Donnelly (1881 to 1924), whose descendants referred to her via a combination of her nickname and maiden name: "Mollie Molloy". One notable thing about Jon the Don and Mollie Molloy is that they both died young (at 53 and 43 respectively). This loss shaped their children's lives, and effected their heirs for at least a further generation.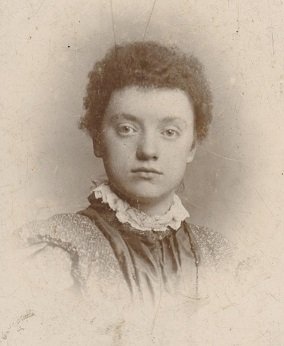 Mollie Molloy, My great grandmother
The Don's Offspring
Jon the Don and Mollie Molloy had five children, one of whom, Dorothea, died in infancy. The four who survived to adulthood were all huge characters who did big things with their lives.
• Their eldest daughter, Bessie (1905 to 1974), my grandmother, parented three siblings following her final parent's untimely demise. She married a man who, like her father, went on to run a business empire and live an expansive, high-achieving life. During WW2, they moved to Essex and became farmers to support the war effort. They raised four children. In 1956, her husband died suddenly and unexpectedly at a peace conference in Sweden. Then, remarkably, at the age of 50, Bess went from domestic housewife and mother-figure, to international peace and human-rights campaigner. She travelled the world, visiting countries including Poland, Hungary, China and North Korea – flying, allegedly, from China to North Korea in the personal plane of Kim Il-sung. The Ancestor Chest contains multiple pictures of her in Pyongyang in 1954. In North Vietnam, they named a hospital wing after her. She enjoyed an audience with U Thant, Secretary General of the United Nations and hobnobbed with the likes of Dora Russell, the feminist, social campaigner and former wife of Bertrand Russell. She also ran the local "good neighbours" club, a Quaker Sunday group, served as a local councillor, was chairwoman of the Colchester International Club for 20 years, and was by all accounts a superb pianist.
• Their eldest son, John Donnelly III (1911 to 1981), was in the officer training corps at Worksop Collage (public school), where he was the best shot the school had ever seen, winning a cabinet of medals. He studied law at Magdalene College, Cambridge, but bayonet practice disgusted him and he rebelled against the idea of the state telling him who to kill. When WW2 broke out, he registered as a conscientious objector and was prosecuted for cowardice, despite a knife-edge survival of a German bombing raid, during which he was commended for bravery by a British officer. His two fingers to the state earned him six months in Strangeways high-security prison in Manchester. On release, he joined the pacifist movement, farming the land, during which time he met his wife. Before the War he'd circumnavigated the globe in a tall ship with a group of adventurers on an epic two-year journey, sailing between Tristan da Cunha in the south Atlantic, the Marquesas Islands in the south Pacific, Rio, Cape Town, Sydney, Auckland, Lima, and Panama. There's a book about it: The Voyage of the Cap Pilar. After the War, he had three children, set up a legal practice in Colchester, and supported his wife in saving and redeveloping the town's historic Dutch quarter.
• Their younger son, Brian (1913 to 1955), became a doctor, and ultimately a consultant radiologist, working at St Mary's Hospital, Manchester, the Royal Manchester Children's Hospital and the Edinburgh Royal Infirmary. In 1941, he joined the Royal Air Force (RAF), during which time he was posted to Karachi, where he planned the radiological department at the RAF hospital. He was later adviser to RAF Bases in South-East Asia and was demobilised with the rank of squadron-leader. In 1946, he moved to Cambridge where he worked at Addenbrooke's Hospital, specialised in radiodiagnosis of diseases in children, and was assistant lecturer in radiology at Cambridge University. He had a wife and son, and died a tragic, untimely death at the age of 42. A generous obituary in The Lancet described him thus: "That indefinable quality known as charm was one which he had in full measure and radiated to all with whom he came in contact".
• Their youngest daughter, Cynthia (1920 to 2008), Donna's mother, was the only one of these I properly met. When WW2 broke out, she was at Ruskin's College in Oxford. She, as a conscientious objector, along with the Principal, Alfred Barratt Brown, refused to join the armed forces. Appearing before a tribunal of the army, navy and air force, she was treated more leniently than her male sibling and allowed to join communities growing food. There followed an immersion in the pacifist movement, which took her around the country, latterly to the Adelphi Centre pacifist community in Langham, Essex, and from there to set up her own community, on 300 acres of land with two huge farmhouses in the Suffolk countryside. She met her husband along the way and the two of them spent 35 years farming, while raising four children. Cynthia was a campaigning-networker, activist and mobiliser throughout her life, from the Aldermaston anti-nuclear-weapons marches , to anti-Vietnam protests, and latterly the Campaign for Nuclear Disarmament and Greenpeace. It was through her that I gained much of my original exposure to environmentalism and politics, habit of having strong opinions, and conviction in the underlying goodness of the world which informs my own analysis of human affairs, The Jolly Pilgrim.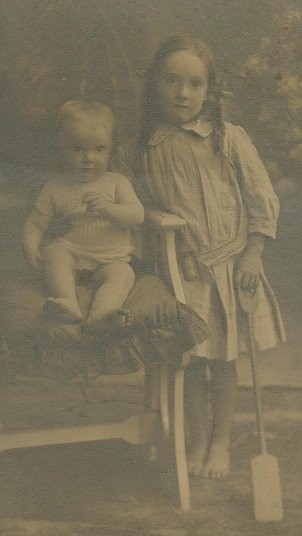 My grandmother, Bess, with her younger brother, John Donnelly IV
Reflections
So, Jon the Don, during a life one would now call cut-short, achieved a lot, and did more than his bit to shape this Earth. He made a fortune, ran multiple businesses, enjoyed notable artistic exploits, and had four big-personality, highly accomplished children. He and his wife were the bloodline link anchoring my original cultural universe, and 4 years of my life were invested in a familial tradition of mind-expanding travel that he at least partly inspired. His life clearly and deeply shaped my own – before you even get to the genes. Yet I was just starting to grasp that he existed.
A very appropriate matter upon which to reflect while tramping through moonlight.
Back at the house, Alexander complainingly plucked a pheasant cock while Donna and I cheered him on, drank his wine, and looked at old photos from her collection – reaching back to our forebears though physical evidence and personal memory, reinforcing and complementing each other's musings and recollections. We soon came across a photo on which Cynthia had written "Dad". A definitive photographic identification of Jon the Don. I realised at once that a photo I'd filed as unknown in my cataloguing was also of him – a bloke on a picnic blanket; I knew he looked familiar.
Then we looked in the strongbox.
The Strongbox
The strongbox was one of several items I had retrieved from the Ancestor Chest (then in storage) that morning. The box was a rock-solid, black-iron, and designed to preserve its contents against the most outrageous misfortune. I vaguely remember it living, for decades, in a corner of the garage at the old family house. No one had looked in it for ages.
There followed one of the most memorable and moving moments of my recent life, as article-by-article, Donna and I went thought the box's contents. It was uncannily well-timed, and that rare experience of uncovering genuine treasure.
The box contained photographs, marriage certificates, birth certificates, legal documents, funeral notices, a newspaper cutting, a letter, an old Christmas card, a love note, a post card, a child's diary, a lock of hair and Jon the Don's passport. Via what we found, Donna and I deducted the box's basic history: it had belonged to Jon the Don, then been passed to his eldest daughter, Bess, who'd added to its contents. Via her, it had come down to us. In it were things Bess and the Don had sought to preserve. After Bess died (in 1974), the box lay forgotten in a corner of her daughter's garage.
Through its contents, Jon the Don and his daughter came a little more into focus. Here is some of what we found …
School report of Bess, dated July 1916
Grandmother Bess died when I was 9 months old, so I never knew her. But the most important members of my family knew her intimately, so I've heard so much about her that I feel like I knew her. They talk of Bess with deep affection, as one with a scatty, saintly, magnetic personality, known to, and adored by, many across the world, and who, when she spoke, made people feel like they were "at the centre of the world". In many of the photos, she's either on the podium or holding the microphone.
Her 1916 school report does nothing to mar this reputation.
"Bessie Donnelly has been a pupil here since 28.8.16 and has completed the course that corresponds to Standard 7. She is an intelligent, capable, industrious girl of excellent personal character – truthful, honest and in every way trustworthy. Robert Race, Head Master"
Click here to view the original.
Newspaper cutting dated from the 1920s criticizing the new fad for slot machines
We found a newspaper cutting, with no explanation, dating from around the 1920s. It was from the letters page. Donna pointed out that the clipping can only have been preserved because it was submitted by Jon the Don. It reads as follows:
'… "Observer" writes: - May I draw the attention of your readers to a pernicious evil growing up in the small shops in the back streets of the poorer sections of Manchester and Salford? I refer to an American gaming machine. The shop's customers buy a disk for one penny, put it in the machine, then pull a handle. Three drums revolve, and if they come to rest showing certain figures cheques from twopence upwards are obtained. There is not the slightest element of skill involved; it is pure gaming, with the odds heavily in favour of the machine. I am told that these machines often take as much as £20 per week. They are a constant temptation to men, women, and children, fostering the gambling spirit, robbing them of badly needed money, demoralising the shopkeeper for the profit of the owner of this machine which spins only destruction. …'
We guffawed at the tone – neither Donna, nor I, have ever been shy of the odd vice. But we both abhor gambling, regarding it as an outrageous waste of time, money, and energy. No coincidence.
Click here to view the original.
Jon the Don's passport
When we found the Don's passport – such a manifestly interesting item – we knew the bottom of the strong box had not been glanced at for years. It's inner takes the form of a fold-out A2 sheet. Cock-a-hoop as we realised what we'd found, we gingerly unfolded it, cooing as we surveyed the stamps corroborating those stories of wide travel. And there was your man: confident, grinning, leading against a wall. As Donna pointed out, you'd give that guy a hug.
When describing one's great grandfather, 1920s passports turn out to be stripped of political correctness:
• Age: 45
• Profession: Theatre Manager
• Birth: Manchester, 25th November 1875
• Height: 5 feet, 3 inches
• Forehead: Broad
• Eyes: Blue
• Nose: Long, straight
• Mouth: Firm
• Chin: Heavy
• Hair: Brown
• Complexion: Fair
• Face: Heavy featured
• National status: British Born Subject
The passport was issued at the Foreign Office in London on 13th December 1920. Both his sons were listed as accompanying minors as of 1924, when John Junior was 13 and Brian 11. There were 44 stamps. We could make out ones from Switzerland, France, Belgium, Italy, Holland, Norway, Sweden and Denmark.
Click here to view the original.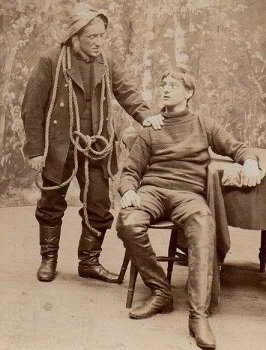 Jon the Don (left, standing), on stage in Manchester
A letter from Jon to his daughter, Bess
The final bit of contents I'll describe was the one I found most moving – a letter Jon the Don wrote to his daughter, Bess (my grandmother), which she placed in the box. He was travelling in Switzerland with his two sons and two of their aunts. It was written from Montreux, on the eastern shore of Lake Geneva, sometime between 1924 and 1928.
Of everything we found, the letter gave us his voice. Three passages – written in a flowing, elegant hand – were arrestingly familiar.
"Montreux is a very fine town and the lake (Geneva) is very glorious – big mountains all around, fine sunsets over the water, and lovely moonlit nights making the whole place a dream of wondrous delight.
Last night … I was walking along the lakeside, alone, the boys were safely asleep in their comfortable beds and the others had also retired. I had the mystical, wonderful gorgeous beauty all to my little self – and words cannot describe the scene or transmit the atmosphere of quiet and peace. The clouds and the moon. The mountains and the water. All shades of beautiful blue.
At 12 p.m., birds singing over the waters, [like] a lovely orchestra playing a quiet waltz from the Kursaal. Soft, warm air, gentle breezes, enchanting music and a quiet mind – all was too perfect."
Click here to view the original, or view the transcript.
Ninety years later, I'm sure he means 12am (midnight) rather 12pm (midday). According to Google, it's feasible were birds singing over Lake Geneva at midnight. And it's abundantly clear Jon the Don was having a whale of a time. With those passages, he reached-out across the gulf between death and life, and showed Donna and I that he was right there inside our psyches and double-helixes.
In Shadows of Forgotten Ancestors – Carl Sagan and Ann Druyan's masterpiece of popular evolutionary psychology – the authors assert that most people on Earth can peer into their family histories clearly for only two generations, dimly for three, and beyond that almost not at all. Such is the feeble searchlight of living memory. A vast chain off humans, and other things, in various degrees of darkness, stretch beyond to the origin of life. With his time box, Great Grandfather John Donnelly briefly, and perhaps deliberately, flashed a light onto a recent link of that chain, and we glimpsed how much of ourselves was back there.

Our written records carry us only a millionth of the way back to the origin of life …
The overwhelming majority of our ancestors are wholly unknown to us.
They have no names, no faces, no foibles. No family anecdotes attach to them.
They are unrecognisable, lost to us forever.
― Carl Sagan and Ann Druyan
Click here to see the full contents of the strongbox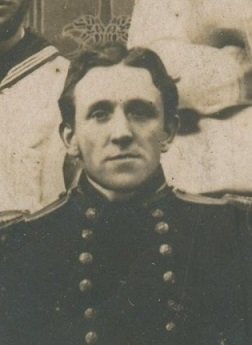 John "The Don" Donnelly, 1875 to 1928, my great grandfather
We're all ghosts. We all carry, inside us, people who came before us.
― Liam Callanan
More from me:
My book (UK)
My book (US)
My website