Well, Finally Something Went "Right" for KLYE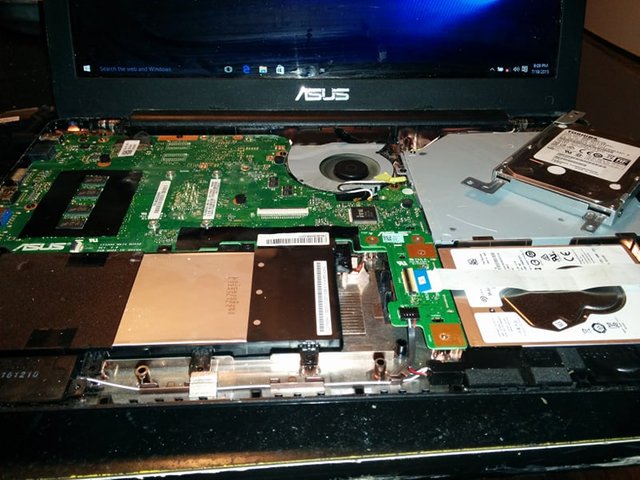 ( a picture of the guts of my work laptop )
Seems for a while there the universe was trying to take me out of the runnings.. A recently discovered hard drive failure on my ASUS work laptop had all but diminished my ability to live as I generally do in cyber-sloth style, which fucked me off beyond all reason and crushed my will to do much of anything. However, as of the time of typing this post I'm glad to say that after a new drive installed and a fresh install of windows onto said drive I'm back to terrorize the internet and Steemit community with my presence.
While me main Ryzen Threadripper 1950x PC workstation ( WhichWAS a literally top of the line powerhorse until AMD's recent release of the 2nd generation, damn you AMD ) is still stashed away at a friends house containing the majority of my current coding endevours at least with my laptop back running again I can hopefully get back into the swing of things and begin working again. While floating about aimlessly this summer has been a blast of "fun" it's donned on me that my life seemingly has little purpose unless I'm busy creating things and thus my psyche had been dragged into the shit abyss taking my motivation along with it..
But to that I say: "Nay, fuck you failure, I shall smite thee and succeed..." and so I shall!
> Back. Up. Your. SHIT! <
While I've still not even begun to realize the sheer amount of work and data that was lost in the HDD failure on my work laptop I've felt the need to mention that unless you've got a proper system/data backup ritual chances are when (not if) your hard drive ever shits the bed like mine did YOU WILL LOSE DATA! In some sort of sick twisted luck I actually managed to fix my laptops functionality by gutting an old Seagate 2TB external hard drive that I neglected to backup my files on.. Oh well, shit happens. At least it doesn't feel like a hurricane anymore.
The Road to Success is a Bumpy Ride
They say Rome wasn't built in a day, and in all reality Rome still isn't done being built.. Few things are ever actually completely done being built, revisions and reinvention is key to moving forward in most scenarios. This adage goes for nearly all things. Life always has room for improvement and with that being said I've a hell of a lot of space at this point to regrow upwards and get back to something that closer resembles my potential. Getting this damn laptop up and running again is a solid step back towards the direction that I seem to prefer after this downward spiral that's plagued my existence months prior. I've got a long way to go and much to accomplish before I even have a chance of sniffing my former glory, but it's in the works, my sights are being dialed back in and the push to get my life back together before winter is on.
When in Doubt, Whip it Out
No, I'm not talking about dicks when I say this.. "It" refers to a battle strategy, a plan or some type of vision in order to keep yourself moving forward. While ole @KLYE already knew this little secret to success it seemingly slipped the mind the past little bit, leaving me flooating in my own little shitshow which really accomplished little. I feel the need to appologize to the STEEM community as well as myself for derailing so badly under the stress of months prior.
The past dictates I can do much better than this, and I will.
---