Heirloom featuring within my novel
During the note-making years before I started writing the first draft, I sought an item which would be valuable at the time (18th century) and rare later on. In an encyclopedia of antiques I came across a photo of a piece of Lomonsov porcelain. Friends of mine who are familiar with antiques had not then heard the name.
Within my novel, a young bride takes into her marriage to a Scottish ducal family, a dowry which included a full set of all serving items of Lomonsov porcelain - the Forget-me-not pattern as this seemed appropriate for the purpose within my novel. Over the years the Duchess gifts cups and saucers to close friends and these are handed down over each of the generations within my novel. At that time, the name was not found by Google.
Well under way in the writing, I went on-line to track down an on-line version of my original source and found to my pleased amazement that the factory Lomonsov was back in business and the same pattern as was available in the middle of the eighteenth century is available today.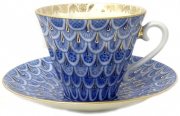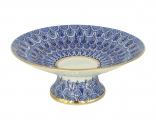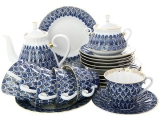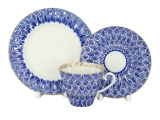 heirloom ˈɛːluːm/noun a valuable object that has belonged to a family for several generations.
I doubt I will ever have the space for a full set, but am hoping to purchase at least one cup and saucer out of my royalties which I hope will flow once I publish MIXED FORTUNES.
Am just waiting for a tick of approval from a tutor who has my great respect before I upload to Createspace.