Losing innocence | When dreams speak to you
It may be tied to evil, but it is thanks to evil that we grow.
For what we learn, we become stronger and we are who we are.
It all depends on how you take it, because just as it can make you strong, it can make you weak. And you know how it is to be weak, is to be a person of bad judgments, hatred, resentment or even egocentrism. It is that which makes us choose, and that shows us the true self, because only we decide what "I am".
---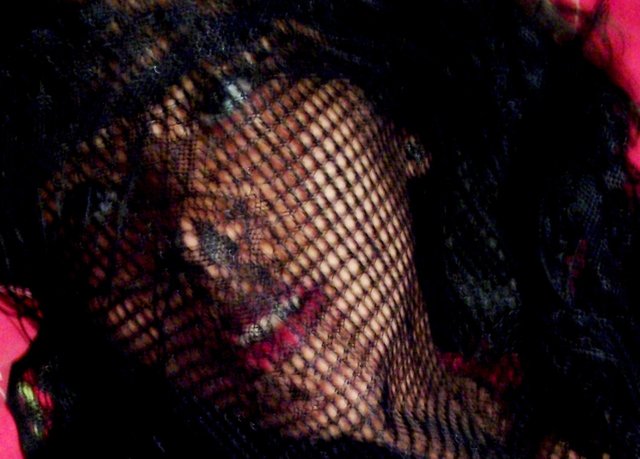 While walking in a familiar place, the devil was at the end of the hall, a robust guy with yellow sclera and very dark pupils; making a game of strong looks, so much that it was hypnotizing and I was attracted to him submissive, without denying at all, no thinking or can't looking to other way.
I could not tell if it was strange, even though he was a man with horns and reddish skin, I went as if it were the love of my life. When I arrives he extended his hand to me and I gave him mine, I felt a sense of fear and I got to wonder what is this? What am I doing ?, but quickly made me look him in the eye and follow in his footsteps without feeling fear again or wondering if something was wrong with the universe.
We walked a few steps, we were in a shopping center; there where the musical store was, we entered and it turned out to be a space for the creed. In the great hall, which looked like part of a church, was a group of monks with their faces covered by their triangular hoods, they formed a semi-circle that sheltered in the middle some bloody white sheets.
It was a ceremonial act with a balanced atmosphere, they with dark suits inside the totally white room. High ceilings and subtle chants like oral meditations, they were kept in order while two of them changed the sheets. They took me and put me over the new white cloths, they tied each wrist to me with two iron tubes that held the candles in each corner in the upper part of my body, just behind, they were with the same formation while the devil waited for my body.
I did not realize at what point I no longer had clothes, but I did not feel offended or abused, it was as if I myself was being delivered. Everything followed as if I were who gave the orders, I was intrigued when at the same time he approached, opened my legs and penetrated me. He fucked me and I still enjoyed no matter the semi-circle of monks what surrounded us, them still like statues while the infernal member moving between my flesh, but it was not too much, after minutes he took off; Then I saw my legs and I was bloody, I woke up and I kept thinking about why I had liked to fuck with the devil.
---
Years later I concluded that it was the way the psyche told me I was going to lose my innocence, what did it all mean? I was not afraid to grow? It was going to happen in any way and I just followed the tide, not wanting but not denied as when life happens, is that how we accept what comes to us? Then we see what we do with it and bit by bit we answer questions that had remained in the almost forgotten or that we had not yet formulated.

I leave this short film by Jaume Balagueró, called "Alicia" (Before playing the video, make sure you are of legal age). You will enjoy this. And if you wish, leave me your opinion.