IT'S THURSDAY SEAFOOD TIME !!
Seafood is everywhere and anywhere in HCMC. Every corner that you turn, you're bound to find an eatery that serves some form of seafood. Even a trip to the local wet market, you will be amazed at the amount of seafood available for purchase.
Squid is a very common dish and I have always thought that I've seen all the different varieties of squid until I came here. I usually do my wet market shopping on Sunday mornings and something caught my attention last weekend. Walking down the same street every Sunday and looking out for my usual grocery, one fishmonger stall caught my eye!
There was a whole container of squid laying there all cleaned. I haven't seen this type of squid before. About 1.5-2 inches in length with a head rather large. The flesh is white in color; not sure if it's because it's been cleaned before being available for sale.
I was curious and wanted to take a closer look, perhaps catch a photo of two but since it was getting crowded, I decided otherwise. Perhaps next week, I'll try again and maybe buy a few pieces and try my cooking skills on the squid.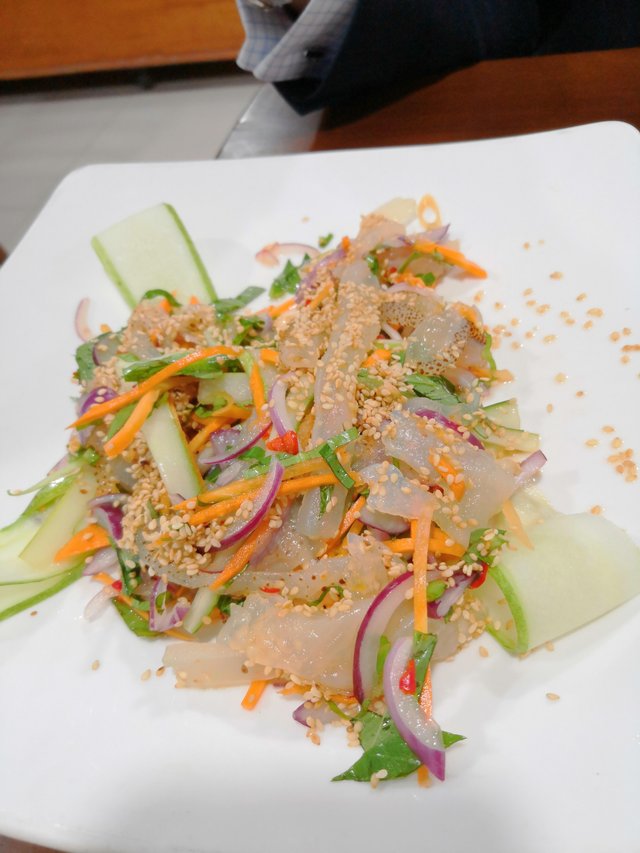 For now, let me share with you one of the squid dishes that I've enjoyed in DIN KY Seafood Restaurant in HCMC.
Hope you enjoy my photo as it's taken from my iPhone.

Thank you @travelsbyblue owner of THE HOME OF @worldsdailyfood for introducing me to this new world.
Join the fun in #worldsdailyfood photo contest:
MONDAY DRINKS
TUESDAY APPETIZERS and/or SOUP
WEDNESDAY MEAT DISHES
THURSDAY SEAFOODS
FRIDAY PIZZA and/or PASTA
SATURDAY SALAD and/or DESSERT
ANYTHING GOES SUNDAY