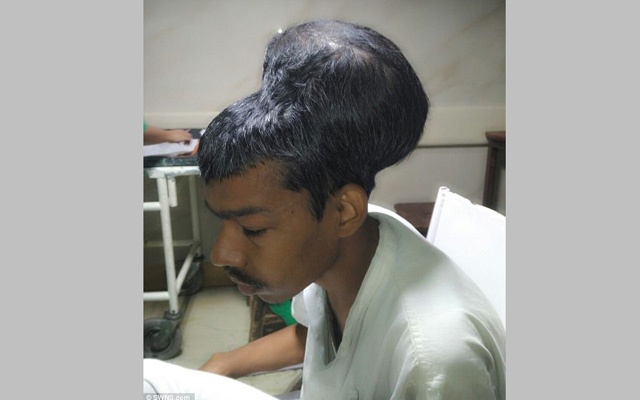 A big hive on the head. But it's not really a hug, it's a big brain tumor. The doctors said that the tumor, which weighs 1.8 kg, is the world's largest brain tumor.
On February 14, doctors removed the tumor from the head of the 31-year-old Sralal Pal in Mumbai's Nair Hospital. They took 7 hours to do the surgery.
Although the surgery was done several days ago, the matter has been published on Thursday. Because, because the doctors were skeptical about whether or not the operation was successful, they did not say anything earlier.
Trimurty Nadarkerni, chief physician of neurosurgery at the hospital, told the BBC, "Now her (salalal) is about to get upset. But now he is fearless. "
Saltal Pal, who was traveling with the tumor on the head for almost 3 years. He is a shopkeeper in Uttar Pradesh state of India.
Because of tumor, Saltal also lost sight of her. But doctors hope that after the operation, he gets restored after gradually recovering.
In an interview given in The Hindu, India's wife said that three hospitals in Uttar Pradesh returned them because they could not be removed from the tumor.
Nadarkerno of Nair Hospital said, "Such surgery is very complicated. Sallal's 11 units took blood to perform this surgery. And then he was kept in the Ventilation for a few days. "