Always go for victory and while you prepare for the victory, only remember one thing and that is, victory never comes easy way so sometimes we need to throw our Soul and Sweat into our work. But still sometimes life defeats us, and defeats us so hard that everywhere we see the darkness and this darkness pull us into the scarcity of positive thoughts and it provides an vision which only showcases negative aspects. So no matter what we face we have to find one aspect or one point to continue and to transform our situation. Until we achieve what we desire we have to hold the focus and with that focus we have to continue our journey with Mountain Breaking Mindset and by that i mean, our mindset should be strong and unshakable so that nothing can divert us from our desired goal. Always keep one thing in mind and that is, never give up and be ready to defeat your situations and win over them every time and attain Victory.
Secret of victory is "Mountain Mindset".
-Own Opinionated Thoughts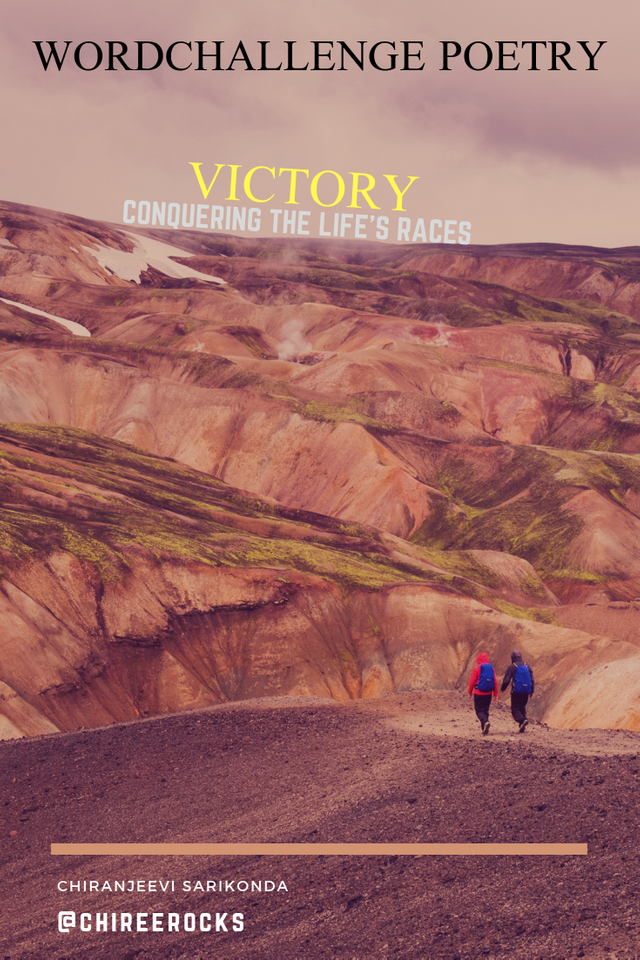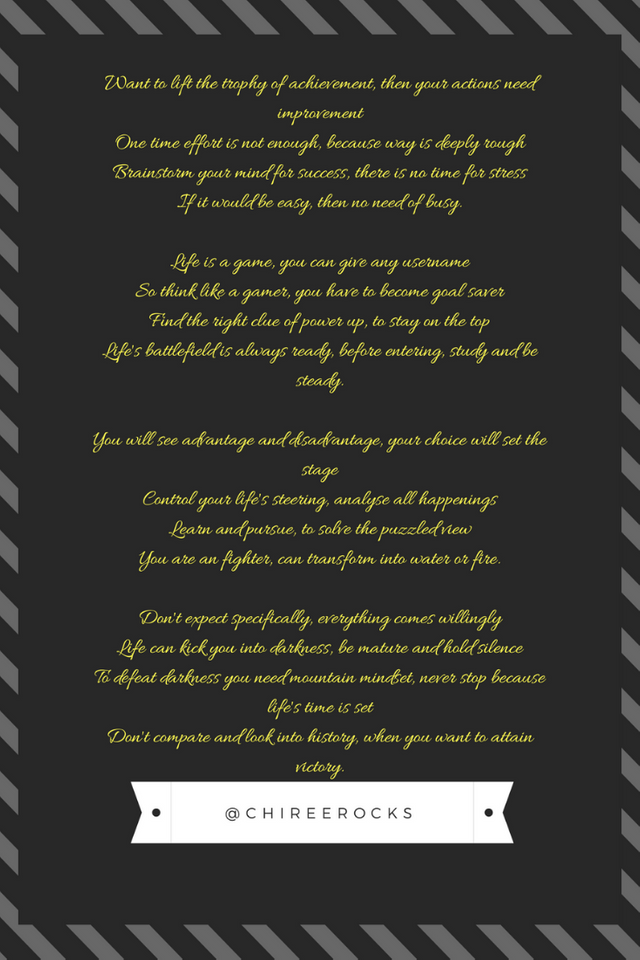 Want to lift the trophy of achievement, then your actions need improvement
One time effort is not enough, because way is deeply rough
Brainstorm your mind for success, there is no time for stress
If it would be easy, then no need of busy.
Life is a game, you can give any username
So think like a gamer, you have to become goal saver
Find the right clue of power up, to stay on the top
Life's battlefield is always ready, before entering, study and be steady.
You will see advantage and disadvantage, your choice will set the stage
Control your life's steering, analyse all happenings
Learn and pursue, to solve the puzzled view
You are an fighter, can transform into water or fire.
Don't expect specifically, everything comes willingly
Life can kick you into darkness, be mature and hold silence
To defeat darkness you need mountain mindset, never stop because life's time is set
Don't compare and look into history, when you want to attain victory.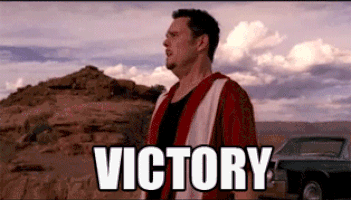 Source

Found some meaning in my work? You can also support my work through below.
BTC : 3GJCQPyxQMc5zQasc3EoW7vnV2fKpp9aY9
BCH : 3HuEY89mvnVUwvhQ6AKWkkiKVMyh9MkSEc
ETH : 0x514d948ead79d7f8db680173c266a39cd2677c98
LTC : MLAPibFYumkF4ytcGL4vmotQDC6J4Dy7Ri
PAYPAL : paypal.me/ChiranjeeviSarikonda


CREATE YOUR OWN @REVIEWME PROFILE TO START EARNING CREDIBILITY STARS FROM THE COMMUNITY!
CREATING YOUR PROFILE IS EASY! JUST FOLLOW THE STEPS HERE ☜(ˆ▿ˆc)

Discord Channel Links:
ASK ME CRYPTO: https://discord.gg/B348MGa
QURATOR: https://discord.gg/CGK7hTY
STEEMGIGS: https://discord.gg/vYjcVqX
VOICES OF STEEMIT: https://discord.gg/UBZGJGp

Kindly find the original contest post below.
https://steemit.com/wordchallenge/@jassennessaj/word-poetry-challenge-17-victory-or-win-steems-prizes-increased-2x
I want to thank @jassennessaj for this contest.
"This is my original work."
Stay Blessed.
Spread love and spread kindness.
Thanks and regards,
Chiranjeevi Sarikonda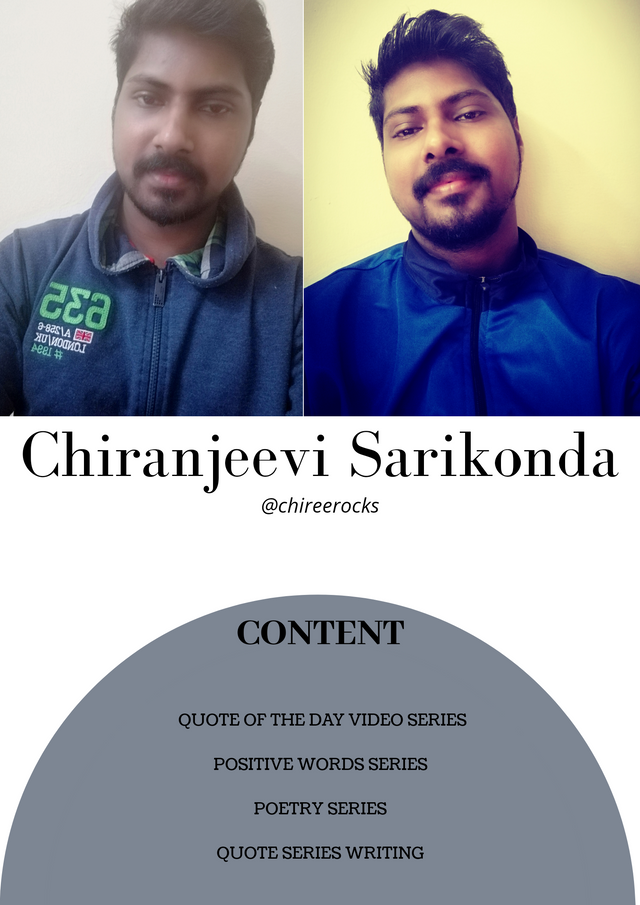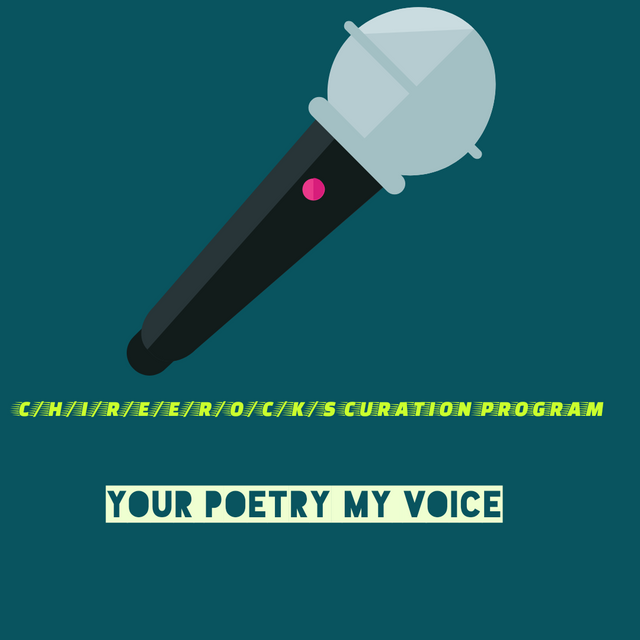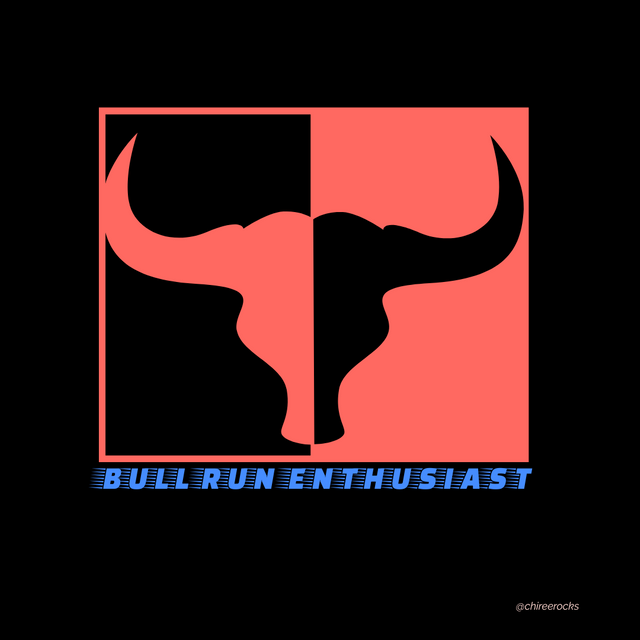 (If you want this logo, let me know in the comment section.)