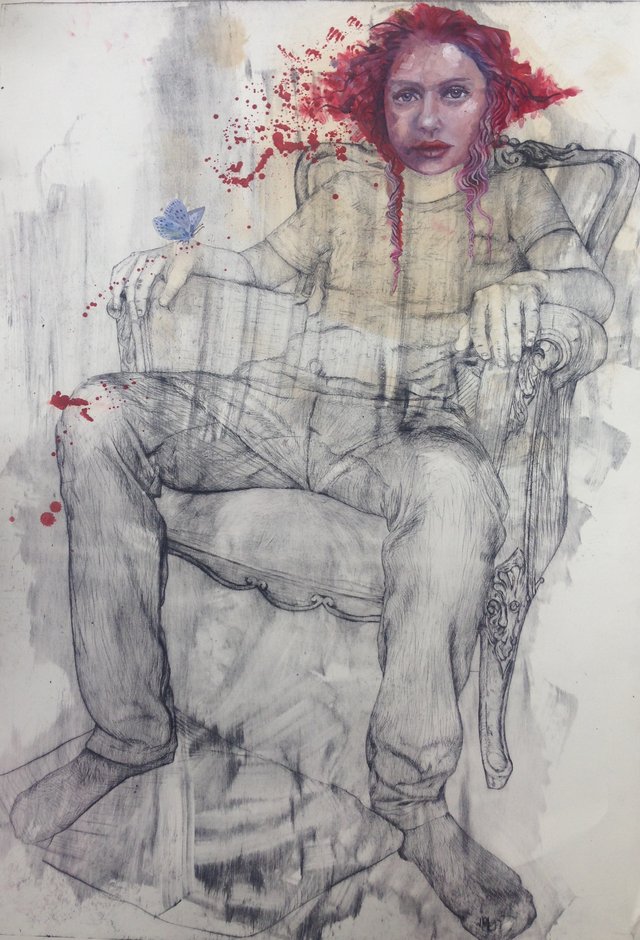 What did we gain by the women's liberation movement?
We can have sex with multiple partners, is this really empowering for women or is it more empowering for men, when a man would have to support a wife in order to have a healthy sex life or pay a prostitute, now he can have multiple partners and the cost to him is minimal. Women are even offering to go Dutch or be the payer in the name of equality.
Women have sexual desires but are much happier having them fulfilled in a secure stable relationship. A woman's body is more complicated than a mans and one off sexual encounters are usually far less satisfying than getting to know a person, feelings of closeness, being understood and having a sexual partner who has come to know their body and how it likes to be touched are much more pleasurable for a woman.
Was it a CIA plot to break up the family,
The family was not the only thing to be destroyed in the last 100 years, skill in art was seen as an outdated relic of a society that didn't have a camera and childlike naivety was regarded as a reflection of the times we lived in. Art collages stopped teaching the basics of drawing and painting and concentrated on intellectual concepts. Now even the concepts seem to have vanished and we are left with a meaningless mess of contemporary art, fuelled by hope for riches. Talent is no longer a skill needed and anyone can be famous. Universities are run for money and if you leave with no skills at all that are not accountable.
Food went from healthy unadulterated, fresh, nourishment to a poisonous toxin killing us all.
Government went from a democratic body that represented the people to an unelected control system designed to oppress people. Obama, the President responsible for killing more people and bombing more countries than any other President before him is given the Nobel Peace Prize.
Education went from a mind expanding free thinking cause for joy to an indoctrinating thought stunting, money making organisation.
Banking went from a safe haven for you money to be invested in safely and give you a reward for saving to an exploitative company, making money from your money and charging you for it as well.
Medicine went from solutions that helped the body recover from illness to sticking plasters, made to hide the problems and give you more at the same time.
Is it a coincidence that all these things happened at the same time? Or was it a mighty plot?
What did we loose?
We had an unwritten power, men can not live without women, they have mothers, sisters and mostly high sex drives that lead them to need lovers, they are oppressed by the expectations that society pushes on them. They die earlier, have higher rates of suicide, heart disease and Cancer. Are forced to work 40 hours a week often in jobs they don't enjoy. It's true that women did not have control of their own money but what made them look at men and say "I want to be like that"? Was there not another solution? A cashless society? An anarchist Governmental system?
When women started working the economy absorbed there labour, the man didn't work less so that everyone could have a 20 hour week, more leisure time and men could help with the raising of children. The women just got to have 40 hour a week jobs but also do the cooking, cleaning and child raising.
From a spiritual point of view women had it all, time to work on their own spiritual development, to be nurturing, loving, true to their own nature. Liberation forced them to act like men, to loose more freedom than they gained. To be sex slaves rather than respected partners. And ultimately in many cases to be single parents bringing up a generation of children who do not know what a traditional loving family looks like so have no chance of having one of their own.
In conclusion, I do not know what it would have been like for me to have grown up in a society where I had no vote, no personal money, to rely on men to provide for me. But I know I have spent many years not voting because I feel disempowered by a government that does not represent me. I have had to rely on Benefits to live because having got me pregnant my boyfriend left me to raise a child on my own. Having been sexually promiscuous, I have actually been used by men to pretend they wanted to be in my life but have left as soon as they are bored with me. I have been a failure at being a mother because I felt I should have been earning money and have never got married because I have commitment issues because I never saw a loving relationship and how a marriage could work. Liberation didn't give me the chance to own my own property because I never had enough money to afford modern mortgage rates. It's true that I may have been stuck in an unhappy marriage before liberation, but most men are not monsters.
Women were not castrated by a system in which men had to be responsible for them, men and women are castrated now by a silent oppression, a society based on capitalism, the rich get richer, the poor get poorer, no one even asks for a fair society because they are blinded by consumerism and fake dreams. Once the idea of God and Heaven kept people in line, now it's the TV, the Lottery, Bitcoin, Distractions, promises of fame and riches. Promises of a better future with no proof based in reality that it could come about. But the promise is enough. Because the dumbed down society does't know how to ask questions.