@ro-witness - Witness Update 17th of June '18
Hello Steemians,
here is the weekly witness update from @ro-witness. You can read about us in our introduction post.
---
Winners of the contest for the @steemmonsters booster packs
Last week we announced a contest for the chance to win a @steemmonster booster pack. More about the @steemmonsters can be read in the introduction post by aggroed.
We changed the terms of the contest and we raised the stake, so everybody that left a comment on our last post has received a booster pack.
The lucky winners are in alphabetical order:
Thank you for your support and hope that you get some legendaries on this packs.
---
Projects we like and support - Lucksacks Poker League
Exactly one year ago the Lucksacks Poker League was founded. Here is their anniversary post and give them some love.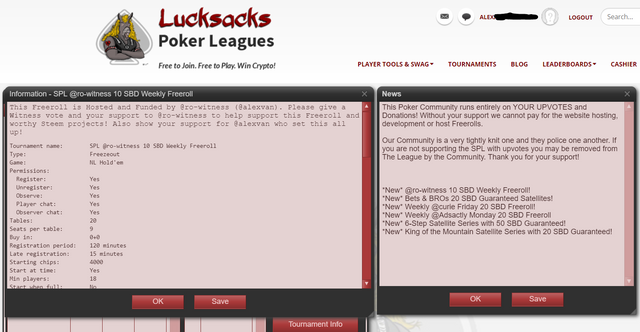 We started this week a 10 SBD weekly freeroll which will take place every Friday. Visit https://www.lucksacks.com and follow @tuck-fheman and @spl for the poker-related news.
---
Rank
At the moment of writing, we are at position 82 in the witness ranking. 76 if we don't count the inactive ones. It is a climb of one position from last week but a real drop of 5 positions as some witnesses became active.
We had a server maintenance on Friday to Saturday where our witness was deactivated. In the next 2 weeks, we will have the backup server set up in a different location but with the same specifications.
We did not miss any blocks as the server was running smoothly.
By this, we want to thank all our voters who gave us their vote and helped us climb on this position. You are awesome. We produce now 6 blocks a day.
---
You can vote either via the Steemit witness page or via steemconnect. Both options are presented here.
https://steemit.com/~witnesses

Vote via Steemconnect