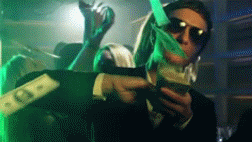 Yo Steemians,
Check out this link which shows the current rewards for EOS blockproducers, https://eostracker.io/producers . As you can see the top block producers is making 1185 EOS per day lol. That's about $300K USD per month. This is a brand new blockhain lol.
The payouts should scale with blockchain size. Do you think google pays the same for hosting today as it did when it got started?
Also would you vote for a senator or representative in congress today if they were making a million+ a year in salaries? I know they have side deals etc, but that's a different discussion.
Steem witness payouts should have been in SBD and scaled with blockchain size. Overpaying blockproducers is a good way to take away trust from investors in the platform, or prevent them from investing in the first place. Who would want to buy into a platform where this buddy buddy system is taking rewards away from the people steem needs which is the content producers.
It is what it is, doubt it can be changed now.
Inventor16