It has been a few weeks since my last Witness update when I announced I had moved on to experimental version of Steemd v0.19.10. I'm pleased to say since then my Witness server has been running smoothly, with all blocks dutifully processed when requested. To ensure the optimum operation of my server I have multiple terminal sessions open all the time on the Mac Mini I use at home as a media server, I can access this from multiple devices at any time and instantly see at a glance exactly what is happening.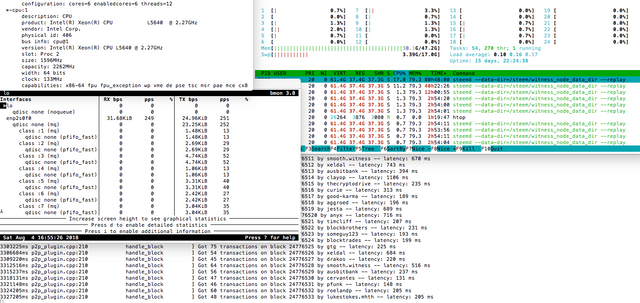 This week I was sad to read DerangedVisions would be shutting down his Witness Server , I am always excited to see new Witnesses launch it shows how much belief people have in this platform and of course every new server is greater stability for the blockchain. I gave him some helpful tips while he was setting up his Witness server, and I was the first vote @derangedvisions received as a new Witness.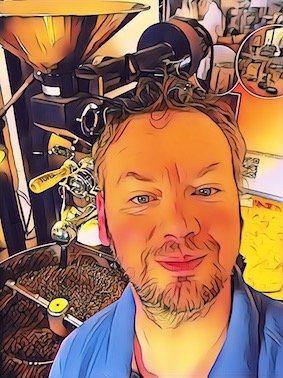 Very quickly he went far above me in the Witness ranks, @derangedvisions is very popular in multiple communities, his photography contents are always packed with entries, quite rightly so as the winners are always rewarded generously. The Witness votes he received were hard earned, because those people could see how much work he does for communities on Steemit helping to encourage and retain accounts of all sizes.
I feel that we both share the same enthusiasm for this platform, and although we display it in different ways - we are both devoted to encouraging and growing accounts, supporting people by sharing our upvote far and wide, leaving encouraging comments and generally building great communities. While we were discussing @derangedvisions shutting down his witness server - we both realised that all the work he had put into it over the last few months could still be utilised - by combining and becoming a Witness team @derangedvisions supporters could continue to support him by moving their Witness vote from him to me.
As a Witness team I will handle the responsibility of taking care of the Witness server, and all Witness votes for @derangedvisions should now be placed under my account c0ff33a , the higher up the Witness ranking these take me the more often our Witness server will be called to resolve blocks and receive producer rewards. Every Thursday evening (his Witness server was cancelled last Thursday) we will look at https://steemworld.org/@c0ff33a Witness Details and split the 7 days rewards in half, I will then send @derangedvisions half in Steem which he can either power up or use to contribute to the costs of running his photography contests.
To quickly switch your Witness vote click below to remove your existing vote for @derangedvisions
https://v2.steemconnect.com/sign/account-witness-vote?witness=derangedvisions&approve=0
And then click below to vote for c0ff33a instead


I have already received many new votes from existing supporters of @derangedvisions , and thanks to you all our ranking has moved even higher up the Witness list

My goals as a Witness remain to support people creating quality content, increase visibility by sharing content - that is entirely why I resteem so many posts, to give content the opportunity to be seen and enjoyed - so many posts have the potential in them to be very highly rewarded - but because they are hardly seen it never happens.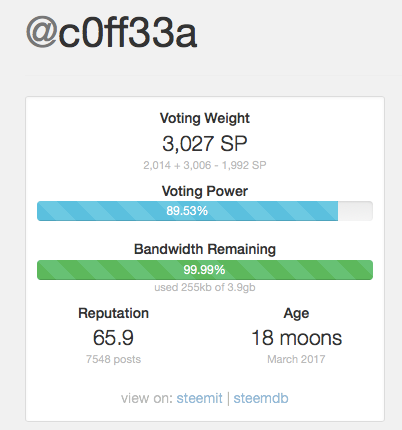 All my own Steem Power is delegated out to people and community projects, to retain a reasonable upvote value I pay for 3000 Delegated Steem Power. I am keen to manually curate when I have time, appreciating posts in person is an essential foundation of this platform - alongside leaving a comment that is relevant to the content and post creator. When I am not able to vote in person, SteemAuto will kick in and ensure my account supports many people (164 and growing) alongside also following the #thealliance trail.
With HF20 and Hivemind community literally just around the corner, we all have alot to look forward to. Now more then ever it is essential we stick together, support each other and keep trying to retain as many people as we can.
In my next Witness update I will cover exactly where my Steem Power is delegated to, supporting people and communities.
Some of my previous posts you might have missed
---
---
Last Confirmed Block Number 24,770,412 Last Aslot 24,848,188
Steemd v0.19.10

Kind thanks to
@enginewitty
for employing his Ninja graphic design skills and producing this 🔥 banner
If you enjoyed my post don't forget to leave an Upvote, feel free to comment on what you liked or where I can do better even. Follow @c0ff33a for regular and varied posts, photography, my weekly VLOG, posts on coffee roasting and brewing - just follow and see.



#thealliance
To grow your presence and following on Steemit, be active in the community Discords that offer the chance to learn, network, share and be found. The #SteemitRamble discord https://discord.gg/HZYzEry hosts a range of shows where you can join in and get your name shown, every Thursday there are two Pimp My Post Thursdays which are hugely popular and give you an opportunity to get your posts seen.
For fun and entertainment then #SteemStar is the discord to be in, https://discord.gg/ZDANjzy with regular shows during the week it's the best place to relax, and also network the friends you make could be your future biggest upvoters.

All photos are my own, taken with my iPhone. All my Steemit posted pictures can be freely used by other Steemit users in their own blog posts - all I ask is that you follow me and credit @c0ff33a linking to my post you took it from. You can also follow me on Twitter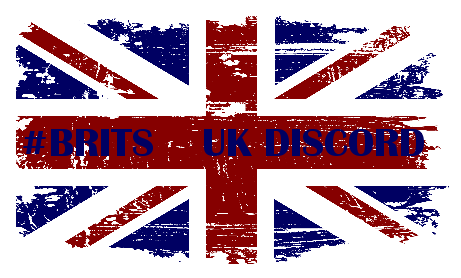 Visit #BRITS Discord Channel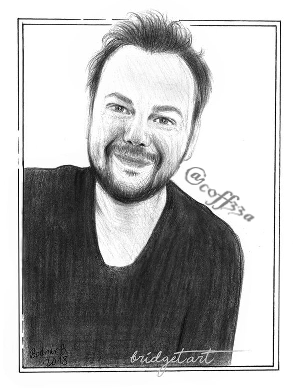 👆🏼 Me ☕️
The picture to the right kindly sketched by the wonderful @bridget.art , be sure to check her incredible art out https://steemit.com/@bridget.art
The greatest challenge we face on Steemit is getting our posts seen, I have always believed the simplest and best value way of doing this is by commenting on the blog posts of others, the more you engage people and interact with them the greater the chance they will visit your own blog and return the favour. Other then spending all my free time commenting on Steemit posts, I also distribute coffee roasting machines and also espresso coffee machines and roast my own Speciality Coffee Range. being one of the premium coffee suppliers Yorkshire including a wide range of filter coffee sachets
!steemitworldmap 53.766547 lat -1.801500 long Bradford, West Yorkshire, United Kingdom. d3scr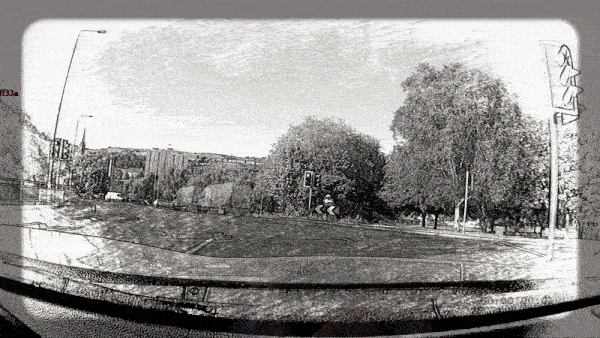 This awesome animated Banner has been kindly been created by the wonderful @snook
Don't forget to vote for Witnesses https://steemit.com/~witnesses
And you can vote for me c0ff33a - click below to vote easily