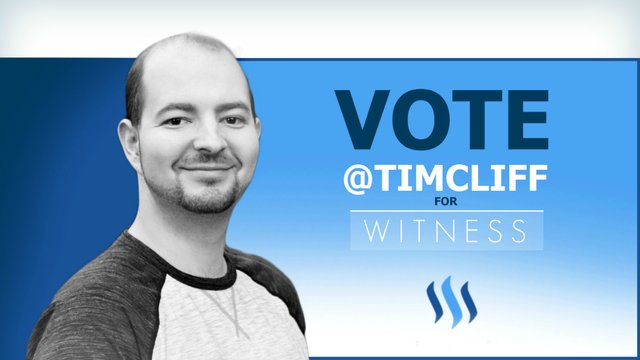 Hello Everyone!
Here is what I've been up to since my last witness post:
I attended SteemFest! It was great to meet so many amazing Steemians in person :)
I was a part of the "STEEM Panel Discussion" on MSPWaves Radio, along with @jesta, @blocktrades, @pharesim, @lukestokes, @elear, and @andrarchy.
I have been spending a lot of time reaching out to various exchanges to try and get STEEM (and SBD) listed. So far I don't have any news, but I continue to work hard on this effort! (As do several others.)
I was also a guest on the Steemit Growth Forum, held on MSPWaves Radio.
I was interviewed @terrybrock for his "Steemit Success" series, where I talked about my experience since I first joined Steemit, and my advise for new users on how to be successful. He did a great job on the interview! I highly recomend everyone check it out: Steemit Success Series- @timcliff on Who To Target With Your Content
I compiled the list of community suggestions for the #roadmap2018 posts into a single aggregated post with a full list of suggestions.
I continue to spend a lot of time helping the users in the "help" channel of steemit.chat.
I created a post to help get the word out about @netuoso's new Steem account signup service called SteemCreate, where user's can create a new account using their credit card!!
I created a guide on CryptoKitties with a lot of information about the game to try and help out fellow Steemians, as well as get picked up by Google SEO results and hopefully direct more people to steemit.com.
I submitted several pull requests to condenser, including one to add a warning to the SBD->STEEM Conversion page, and one to remove the protection from level 65+ users' posts being hidden if they are downvoted. The SBD->STEEM conversion pull request was not accepted, because Steemit decided to remove the conversion function from the wallet. I'm very glad this was removed instead of just adding a warning, because it was causing a negative experience for a lot of users.
I continue to post the weekly Reports from the Witnesses series each week, which provides the community with an aggregated report of all the witness reports from the past week.
I created a post Don't sweat the small stuff with advice to new users about earning low rewards.
Some Information / Suggestions:
SBDs are currently trading for around $10-12 USD! If you have any SBD sitting in your account, you can get around $10 USD worth of STEEM for each 1 SBD that you have by trading on the internal market :)
@jesta's update to Vessel is awesome! This will allow developers to develop apps that integrate with the Steem blockchain securely, without the user's keys ever leaving their computer!! (This is huge!)
If you haven't read about the "Automated Market Makers" that will be implemented as part of SMTs, Smart Media Tokens Talk: What is the Bancor Protocol? is a good read!
Check out SteemPixels - it is pretty cool :)
Steemit announced that

Multi-language support for steemit.com is here / /steemit/@steemitblog/multi-language-support-for-steemit-com-is-here

!
SteemWorld.org is a really useful tool. Check it out!
Forward Looking Plans:
My main focus right now is reaching out to various exchanges and trying to get STEEM/SBD listed. I know several others are working on this too including @gtg. The more people that we can get reaching out to exchanges and asking for STEEM/SBD to be listed, the better. This means you too! :)
Continue to provide support in the help channel of steemit.chat.
Continue with the weekly "Reports of the Witnesses" series.
Summary of Current Witness Parameters:
SBD Interest Rate: SBD is currently trading way above $1.00. Based on this, my interest rate is currently set to 0.
Price Feed Bias: My price feed bias is also set to 0. I am not currently planning to use the bias to increase SBD production, because I feel the potential negative consequences outweigh the potential gains. For those interested in more of the reasoning behind this, there is a lengthy discussion in the witness channel of steemit chat.
Registration Fee: My registration fee is currently set to 0.2 STEEM. This makes it so that a new account costs 6 STEEM (non-delegated), which is about $10.80 USD at current market prices.
Maximum Block Size: I currently have my block size set to 65,536. No changes here since my last update.
I welcome feedback if you think there are things that I can be doing better as a witness. If you think I am doing a great job, I would really appreciate your witness vote!
https://steemit.com/~witnesses
Thanks everyone for reading my witness report!