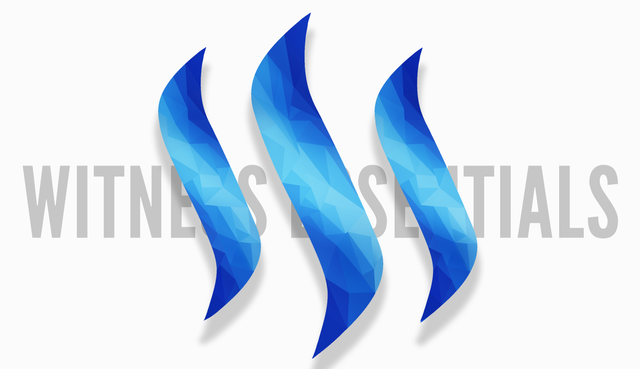 ---
Witness Essentials: Watcher received an update, which includes:
New command: test which can be used to test notifications & failover in case of missed blocks.
After a specific time, since the last missed block (1 day default), key-rotation rounds and the missed block threshold will be reset to prevent unnecessary failover
The interval variable inside config.json is in minutes but has been in seconds in code. This has been changed to minutes now.
---
Github: https://github.com/witness-essentials/watcher
PR: https://github.com/witness-essentials/watcher/pull/3 (plus PR #4 and #5)
---
What is Witness Essentials?
Witness Essentials is a collection of important tools for witnesses.
Witness Essentials: Watcher is a script for Steem Witnesses to watch for missed blocks, failover towards backup-nodes & alert via multiple services.
Multiple alert options available (TELEGRAM, SMS <NEXMO, TWILIO>, EMAIL)
Transaction signing either via private signing-key or private active-key
RPC Failover
Rotation between keys supported
Robust error handling
Github Organization: https://github.com/witness-essentials
---
Getting Started
You can find a detailed guide on Github
---
Update Information
Update your packages if you're running it locally (npm update/yarn)
Add "MAX_AGE_LAST_MISSED_DAYS": 1 to your config.json. 1 is the default value and should be replaced depending how long it takes for your witness to produce a block.
For testing, simply run: npm run test or yarn run test. You're then able to choose between testing failover via real key signing (+ choose if you want to skip disabling of witness) and testing notifications.
Make sure the interval(minutes) inside config.json is correctly set
Quick note: the test command is currently not available via docker, only directly via npm/yarn.
---
Alright, that's it regarding the new update.
I hope my fellow witnesses find this useful as monitoring & watching your witness-nodes is quite important.
All the best,
Wolf
---

Do you believe that my work is valuable for Steem? Then please vote for me as witness.