Introducing Witness Stats
Brought to you by STEEM Liberator - @netuoso (vote me as witness)

The cause
Your witness votes are very important, and you can only give so many (30). It is necessary that a witness has a reliable setup that is always available to be a worthwhile witness. Unfortunately, people often forget to check up on the witnesses they vote for. This leaves behind many stale votes for underperforming, or even disabled, witnesses.
Currently disabled witnesses in the Top 100

STEEMIANS, THIS IS UNACCEPTABLE!
These votes could be going to witnesses that are still active, involved, and updated! Just look how many disabled witnesses are sitting in the Top 100 ... while I am in position 102 and very active.
Call to Action
Please visit the Witness Stats website and input your name into the field and hit enter. This will return the witnesses that you currently vote for, along with some other statistics. See below for an example from my account: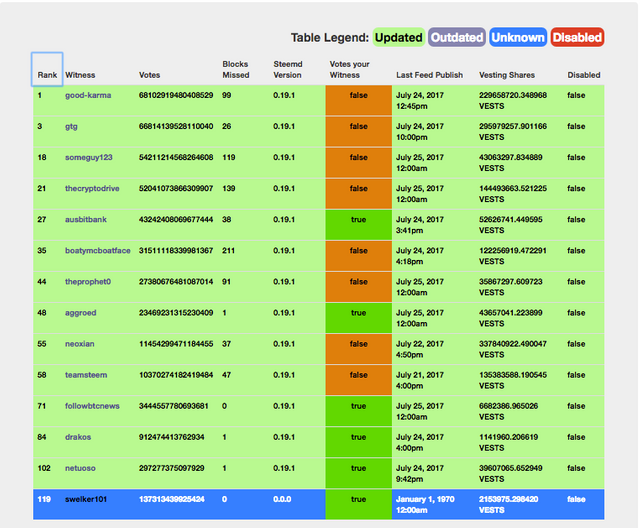 Notice how all of my voted witnesses are green, publishing feed prices, and not missing a crazy amount of blocks. Your list should look the same. However, if you find a bad offender, you can click their name to UNVOTE their witness. See below for example:

(this is an example, dont unvote @aggroed)
Vote for new witnesses via the website
On top of being able to unvote witnesses you already vote, there is a section to allow you to vote for a new witness. That looks like: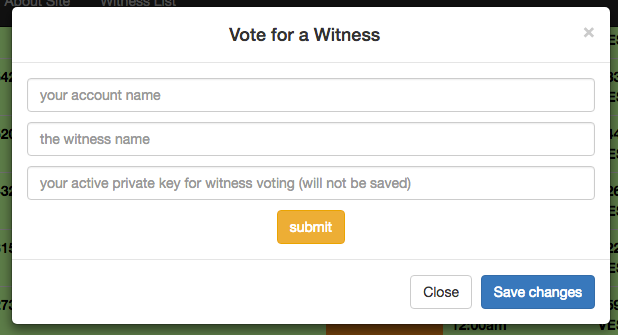 Last but not least
Of course, you can view the top 200 witnesses by visiting the "Witness List" page. You will still be able to see color coded statistics about these users.
Questions, comments, and suggestions
I made this for the entire community. Please leave comments and suggestions below if you have any. Maybe some tips of how to improve the interface, what stats to track, what new features to add, etc.
Roadmap
Going forward, I plan to add browser notifications to the website and allow users to create accounts.
This will greatly improve the ease of voting/unvoting for witnesses as well as allowing users to stay up-to-date about how their voted witnesses are performing.
I will be adding an API to the website, and adding the ability to get useful witness stats to my STEEM API Ruby gem
I will also be making a new post about once a week detailing the changing status of the Top 100
Vote for @netuoso as Witness
Scroll to the bottom of the page and locate the vote box (shown below)
Input my name (netuoso) and hit vote.

Give yourself a high-five for making such an awesome decision
PSST
If you need suggestions on good witnesses to vote for, check out the MinnowSupport Witness list
Important Disclaimer
You should be wary of putting your private keys on any website, including mine.Things can happen even when people take every possible precaution. You can easily use my site to get information then go to the SteemIt witness voting page to ensure the utmost security until a proper OAuth login method has been created with SteemIt. If you decide to trust me, I am not responsible for any lost keys, but if something does happen I will be aware of it and release a warning urging everyone to change their keys.