Lately, I've been working mainly on improving the performance and connectivity of my nodes. In my spare time, I have encouraged people to adopt STEEM, while answering tons of questions through various communication channels and, as a hobby, getting rid of all kinds of abusers from steemit.chat.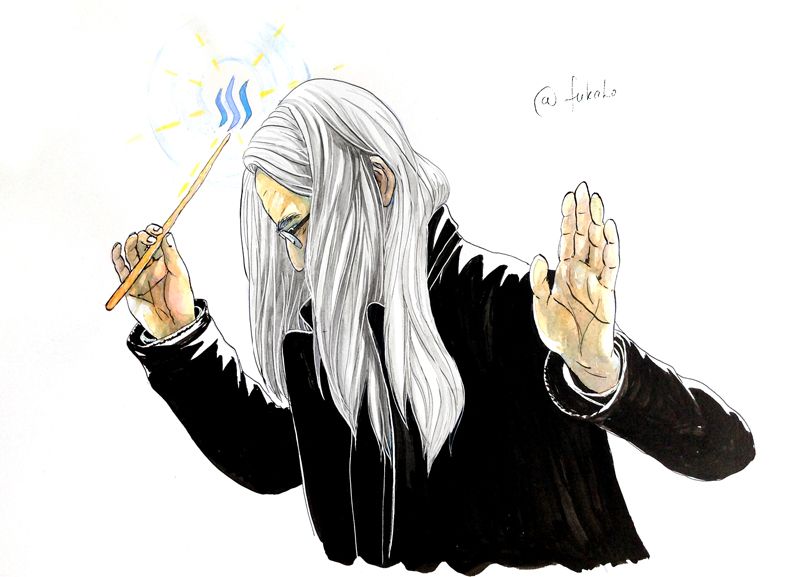 Gandalf the Grey by @fukako
You might have noticed that I recently started having fun with flags. No, actually it's not a fun at all. I know that I am really bad at curation but I can at least use my spare voting power to help the platform. I used to avoid flagging but the growing number of shameless abusers leaves me no choice.
As far as I remember, I started flagging when I spotted an abuser who impersonated @cheetah and posted comments warning about plagiarism (similar to the ones that the original @cheetah would post), but instead of a link to "similar content", there was a link to a phishing site that mimicked the login window and was used to steal user's keys.
Beware of phishing attempts and scam
When you communicate outside of Steem, make sure that person you talk to is the one they claim to be. For example: currently steemit.chat usernames might not match Steem usernames!
Lately, there have been many phishing attempts on steemit.chat that originated mostly from Indonesia. They use names similar to those of steem users with high reputation or high amount of vests, together with copied avatars and ask for transfers in exchange for upvotes.
By the way, to many of those who were already scammed: maybe instead of paying for upvotes, you should try making original, high quality content that will bring you upvotes for free?
If you spot similar cases, please notify me or other mods / admins on a chat.
Such accounts are deactivated promptly, but of course we should expect that new ones will appear.
Support science
Please support #science, without #science there would be no blockchain.
As already mantioned, I'm really bad at curration, but I know who isn't.
#SteemSTEM curators: @justtryme90, @lemouth, @mobbs, @ruth-girl, @suesa, @trumpman
I'm delegating 1000SP to each of them and encouraging you to follow their curation or @steemstem itself.
"SteemSTEM is a community driven project which seeks to promote well-written and informative Science, Technology, Engineering and Mathematics posts on Steem. The project involves curating STEM-related posts through upvoting, resteeming, offering constructive feedback, supporting scientific contests, and other related activities."
SBD peg
I've sbd_interest_rate set at 0.
Please note that in market conditions like the ones we are currently experiencing, i.e. when SBD is traded way above 1 USD, you should NOT use "Convert to Steem" option as it makes you unable to take that additional profit.
Many witnesses have recommended that UI providers hide that option in the default (beginner) user interface, to prevent it from being used by inexperienced users.
Exchanges
Poloniex is poloniexing again
Unfortunately, it looks like Poloniex is having issues again.
Last outgoing transfer was observed at 2017-12-06 09:42:12 (UTC)
Please be aware of that when sending your assets there (or preferably don't send them there at all).
Use bittrex or blocktrades instead.
Also, you might want to consider ignoring it when it comes to price feed.
Listing STEEM / SBD on new exchanges.
It's not about IF, it's about WHEN.
When? I don't know. ;-) It's up to YOU.
"Me?" you will ask. Well, yes.
Decentralized platform, remember?
Of course, I'm making my own efforts, some other people are on that, too (shoutout to @timcliff), but you could do that as well.
You are most likely using several exchanges. If any of those don't support STEEM / SBD yet, then open support ticket and ask when you can expect STEEM to be listed, because you would love to use it on their exchange.
It's that simple.
It's a win-win situation for everyone:
for us

it's faster (every transfer to/from exchange takes time, especially if it is done using assets other than STEEM, fewer steps, less time wasted)
it's cheaper (see above, fewer steps means fewer fees; exchange fees, transaction fees, deposits/withdrawal fees)

for them

they get more clients
they get more exposure in social media (yes, it's us)
all that means they get more volume = more money
Of course we (witnesses, developers) are here to help with integrations, technical issues, suggest best practices, etc.
Exchange, however, will not list STEEM only because ten or twenty witnesses or developers have offered their help.
What can be really convincing, is: hundreds or thousands of users filling support tickets, asking about STEEM.
No witness can do that, but YOU can.
Nodes, nodes, nodes
Sweet sixteen, be aware
Please note that we have crossed the 16GB mark for shared memory file used by consensus mode. Witnesses that were not keeping an eye on that learned that the hard way.
The sad truth is that witnesses often don't pay attention to their seed nodes.
Now it's time to do just that.
This week, I'll be reviewing the status of seed nodes (those listed in seednodes.txt) and suggesting removal of those that do not serve their purpose well enough.
Of course, seed nodes don't have to be set up for high availability, but if someone can't provide even one nine, they shouldn't waste a spot.
Status
Block 18000000 was generated at 2017-12-11 19:10:18 (UTC) by witness @someguy123
block_log - takes 47GB
shared_memory.bin - takes 17GB for consensus node or 186GB for full node.
Steem Pressure
I have been asked many times about best practices for running various nodes, optimal hardware configurations, etc. While I can't give you a golden reference setup, because your needs could vary, and marketing phrases such as "fast storage" in one datacenter don't mean the same thing in another, I think it might be a good idea to show you real life examples of common configurations and their performance. This will show you what you really need to effectively run various steem nodes and how long it would take to catch up to current head block.
Coming soon to your blockchain.
---

If you believe I can be of value to steem, please vote for me (gtg) as a witness on Steemit's Witnesses List or set (gtg) as a proxy that will vote for witnesses for you.
Your vote does matter!
You can contact me directly on steemit.chat, as Gandalf


Steem On