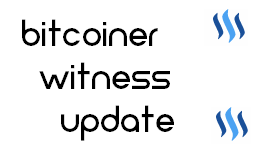 ---
My fellow Steemians,
Welcome to my third witness update. I do these weekly on Fridays as some other witnesses do, so I may keep my followers and the community up-to-date. Hopefully, this will show that I strive to be an active and reliable witness and that I may hopefully gain your witness approval vote.
I will use @jesta's template for these witness updates as he is awesome. Also, I will be using the Pay me 100% in Steem Power option for witness updates from now on.
1. Accomplished the week of 2016-10-07
Learned more about open source collaboration on GitHub with the goal of checking in code changes.
This included filling up my GitHub thebitcoiner with a fork of the Steemit.com codebase (which I now watch so I get notified of all activity) and creating branches off it to push commits and submitting pull requests against the original.
Submitted a few fixes and got most of them merged! See this list on GitHub for these. Some of these are from @timcliff's Steemit Wish List:
Worldwide Connections Map - [seed.bitcoiner.me] - Helping Spread the STEEM Network to All!

This was a fun web project created to see connections' origins on a map to my public seed node through its three interfaces, with data updated every minute. Options include seeing them in a static image and Google Maps for better interaction!

Updated my public Steemit.com sandbox test.bitcoiner.me to the latest develop. I will try to keep this site updated.
Helped out other witnesses on Steemit Chat with technical problems.
2. Upcoming projects/goals
Spend more time learning the Steemit.com codebase.
Go through more of the wish list and trying to implement them.
Try to allocate a bit of time for other web projects related to Steem I have in mind.
Continue being active on Steemit, Steemit Chat, and GitHub.
3. Thoughts from this week
Wow! What a week this was!
There were great initiatives and news to help the adoption of Steem, such as the following:
We had Steemians say goodbye to their day jobs and go all in on Steem. These include:
In addition, this week also saw many announcements from new witnesses: @bitcalm, @nonlinearone, @fyrstikken, @bacchist, @timcliff, @teamsteem, @dollarvigilante, @thecryptodrive, and @roelandp! A warm welcome to all!
With all these new projects and talented individuals, the community will definitely benefit for the better. It's an exciting time!
Finally, thanks to all who have voted me as witness. I am currently in the top 50, rank 47. It is true that with the introduction of all these great, new witnesses, my rank did go down a few ranks within the week, but I will continue to do everything I believe will be beneficial to the long-term success of Steemit. Thank you to all who trust me and like what I do. Thank you to my followers for believing in me.
4. Previous week's update, other links
bitcoiner.me - Full Node Details, Live Node Test, Witness Posts, Worldwide Connections Map
---
Like my work?