Hey Steemit friends,
I'm bringing you a wine review today. This is my first wine review on Steemit and I don't think it will be my last as I love drinking wine.
Today's wine is an Italian Montepulciano D'Abruzzo red wine made by the Zonin family from Italy. Zonin is a wine-making family with estates in northern Italy that have been producing wine since 1821. [1]
Zonin1821 Montepulciano d'Abruzzo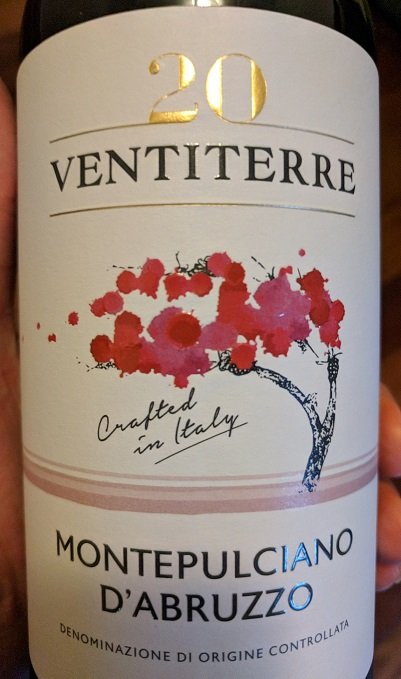 Montepulciano D'Abruzzo is a dry red wine that is made from a red Montepulciano grape variety in the Abruzzo region of northern Italy. [3 ]
How does it taste...
If you like full bodied wines, this is one for you then. The flavour is interesting and gives you a nutty-ness straight up with some after tones of plum and fruity berry-ness. This wine is very easy to drink. It is very smooth and balanced, so if you're not usually a wine drinker it might be a good option for you to try if you do have to drink a bottle of wine.
Food pairings...
The winemakers recommend that this wine can be paired with a range of meats (e.g. peak, veal and beef) and pasta dishes.
I would say that this wine goes well with a lot of tomato ragù based pasta dishes and beef-based Italian main dishes. When I did my tasting of this wine though I consumed it by itself in the early afternoon before dinner.
Final thoughts...
This is a good wine overall. I'll steer clear of giving it at score out of five because I think that is a bit subjective. I would definitely recommend the wine. With the right food and occasion in the future I would definitely drink this again. As it is a balanced and smooth wine, I would say it's great for taking to a dinner party, where you don't know the preferences of the people who'll be drinking it.
It's not an expensive wine and you can pick it up from Dan Murphy's if you're in Australia for around $8.90.
Thanks for reading friends.
~La Dolce Firma~
Resources: