Damian helped raise two gorillas and many years later, they welcome Damian and his wife into their lives.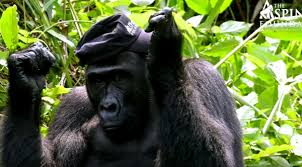 There are things about wildlife that I am truly fascinated about. They have their own code of life and it is quite beautiful.
Gorillas are strong and beautiful creatures. Primates who happen to be closely related to humans. With 98% of their DNA identical to that of humans, it's only right to feel a certain connection. For me, at-least.
They are some of the world's most intelligent animals. It was reported that a gorilla by the name of Koko who was taught sign language at age 1 and 39 years later she could understand 2,000 english words and could sign 1,000 different things.
In the video clip you'll see the couple check on Djarte and Ima at their new sanctuary in Batéké Plateau National Park. You'll also see how smitten one gorilla gets just being around a woman.
Enjoy...
https://www.sunnyskyz.com/happy-videos/7471/Heartwarming-Video-Of-Gorillas-Accepting-Humans-Into-Their-Lives