Steem.center : About | STEEM Rewards | Rules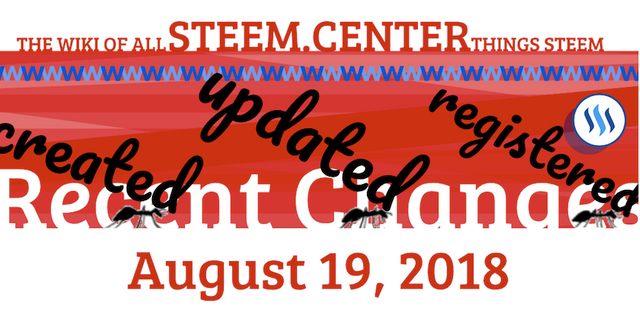 Hi steemians! Following what we've doing since March, here is the weekly summary post of our Recent Changes in Steem.center wiki. When not indicated, the articles were updated by @steemcenterwiki ourselves.
August 19
August 18
August 15
August 13
August 13
---
ARTICLES IN PORTUGUESE
August 19
August 18
August 17
August 13
August 11
August 10
---
ARTICLES IN SPANISH
August 15
---
ARTICLES IN VIETNAMESE
August 17
August 14
---
Check the Recent Changes list page updated live in: https://www.steem.center/index.php?title=Special:RecentChanges&days=14&from=&limit=500
Welcome and thanks to first time participants @takosdiary and @timcliff! Thanks again to come back contributors @adam.tran, @aiyumi, @antigourmet, @casagrande, @flaviusbusck, @freyman, @joaoprobst, @leodelara, @leticiachiantia, @pedrocanella, @ubikalo, @wagnertamanaha and @wiseagent.
Welcome and thanks to all new and returning participants! Thank you very much to keep collaborating even with the shortage of rewards! One more time, even with the well received donation from the Steem.center wiki creator and owner @someguy123 months ago, registered here in this post, we are facing again a tiny rewards period in the posts performance.
Until now all the international contributors form the group of 15 participants with the right to receive a share of the STEEM collected here in August. Unfortunately we need to reinforce and repeat this old post once more: Our reward pool is also dry this month. If you think our wiki content is useful please donate any STEEM value to increase all collaborators share.
Using Fundition crowdfunding to ask for donations

Thanks to @adam.tran's suggestion, @wagnertamanaha plans to open crowdfunding projects on @fundition to ask for donations and offer custom wiki articles as rewards to collaborators there. Anything that can help in this period of dry rewards pool is welcomed. Other wiki participant with ideas to improve our economic model please feel free to reply with your opinions or proposals here or in our Steem.chat #wiki channel.
Project's Balance

Now our wallet has the tiny amount of 5.943 STEEM, according our rules, 60% of all STEEM collected in August - 3.565 STEEM - would be shared among this month's 15 participants. Check our project's rules and join us if you're interested. Or just upvote and resteem this post to increase the rewards and support new participants if you think it is useful. We hope that as we did for July, part of all STEEM collected this month would be shared among the participants in August again.
If you consider all the collaborator's hard work useful and want to support the project with donations and increase our weak reward pool, just transfer any STEEM, SBD value or STEEM Power delegation (check in the rules our upvotes routine) to @steemcenterwiki.
Thanks again to all collaborators, followers and donators! Let's continue contributing to make Steem.center in the wiki about all things Steem!

Image credits: animated gif and illustrations by @wagnertamanaha.
Steem.center : About | STEEM Rewards | Rules