Source: Tigerfog
Please scroll down for English version below
Français
J'ai reçu deux défis #whygamesaregoodchallenge de @retro-room et @darth-azrael pour parler de quatre jeux qui m'ont marqués. Je couvrirai donc quatre jeux et mon frère Tigerfog en couvrira quatre autres dans un autre article qui sera publié quand ce sera prêt. Sans plus attendre, voici ma liste par ordre chronologique.
DuckTales (La bande à Picsou) sur NES
Comment j'ai découvert ce jeu:
Comme la plupart des enfants ayant grandi au Québec durant les années 80, j'avais une NES et j'aimais regarder les dessins animés le samedi matin sur Radio-Canada, particulièrement La Bande à Picsou. Quand j'avais appris qu'il existait un jeu basé sur la série sur NES, je devais absolument l'essayer. Après l'avoir loué plusieurs fois, ma tante me l'a éventuellement acheté et j'ai pu y consacrer de nombreuses heures sans me soucier des frais de retard.
En quoi ce jeu m'a marqué:
C'est vrai que les niveaux sont variés et bien conçus, la musique de Hiroshige Tonomura est un véritable chef d'œuvre et la jouabilité est excellente notamment la canne que Picsou peut utiliser comme bâton sauteur ou bâton de golf. Ce qui me marque encore chez ce jeu à part le fait que c'est le tout premier jeu vidéo que j'ai fini de ma vie, c'est aussi le fait que ce jeu a fait de moi un fan de Capcom et continue de représenter pour moi la preuve incontestable que des bonnes adaptations de jeux vidéo basées sur les films et séries existent vraiment. Par contre, j'étais aussi assez naïf de croire à l'époque qu'un jeu était automatiquement bon si c'était une adaptation.
The Secret of Monkey Island (Le secret de l'île aux Singes) sur MS-DOS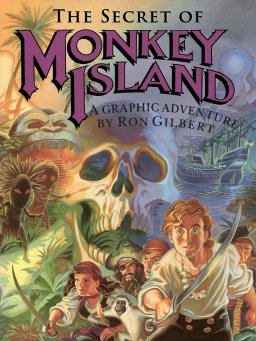 Source: https://en.wikipedia.org/wiki/The_Secret_of_Monkey_Island
Comment j'ai découvert ce jeu: Mon oncle avait un énorme paquet de disquettes de divers jeux sur MS-DOS et alors que j'avais généralement affaire à des jeux de plateformes et des puzzles, trois d'entre eux ont capté mon attention par leur type de gameplay qui relève plus de la réflexion que la dextérité des doigts: Leisure Suit Larry que j'ignorais à l'époque était réservé aux adultes, King's Quest IV où c'était très facile de mourir et Monkey Island qui était le seul jeu contrôlé à l'aide d'une souris.
En quoi ce jeu m'a marqué: Si j'ai découvert un nouveau genre de jeu nommé "jeu d'aventure graphique", pourquoi est-ce Monkey Island qui m'a davantage marqué? C'était la première fois que je pouvais contrôler un personnage avec une souris, choisir mes répliques durant les conversations, avancer dans l'histoire en résolvant des énigmes farfelus, gagner des duels de sabres en ayant un meilleur sens de la répartie que mes adversaires au niveau des insultes et pouvoir jouer sans me soucier de mourir ou être coincé car j'ai oublié un objet dans un lieu qui est inaccessible depuis. La raison pour laquelle j'ai une copie de ce jeu sur Steam, GOG, iOS et PSN est simple: l'humour qui ne vieillit jamais peu importe le nombre de fois que je rejoue au jeu. Aussi comme pour DuckTales et les adaptations, j'avais cru qu'un jeu de ce calibre était la norme et que tous les jeux d'aventures graphiques allaient être aussi drôles.
Chrono Trigger sur SNES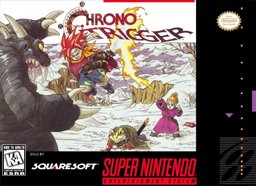 Source: https://en.wikipedia.org/wiki/Chrono_Trigger
Comment j'ai découvert ce jeu:
Après avoir passé mon enfance au Québec, j'ai passé mon adolescence en France où j'ai découvert le Club Dorothée sur TF1 et le fabuleux monde des animés dont DragonBall Z qui a été mon obsession depuis si longtemps. Un jour, j'avais lu dans un magazine qu'un RPG allait sortir sur SNES et je trouvais que Crono, le personnage principal du jeu ressemblait étrangement à Gohan, un personnage de DBZ. C'est en apprenant que les illustrations et les couvertures étaient faites par Akira Toriyama, le créateur de DBZ que je décidais d'essayer le jeu en le louant quand j'étais de passage au Québec. Après quelques locations, je me suis éventuellement procuré ma propre copie du jeu que j'ai ensuite complété à 100%.
En quoi ce jeu m'a marqué:
Avant Chrono Trigger, je ne m'intéressais pas vraiment aux RPG et quand je regardais quelqu'un d'autre jouer, ça m'agaçait de voir qu'il fallait constamment vaincre les mêmes ennemis pendant des heures pour gagner assez de points d'expérience et avancer dans l'histoire. Aussi, je trouvais que les histoires avaient tendance à se ressembler. En quoi Chrono Trigger était-il différent? J'ai beaucoup aimé la fusion entre les thèmes médiévaux, la science-fiction et l'existence du voyage dans le temps, j'aimais tous les personnages que je trouvais très intéressants, l'histoire me captivait constamment, j'avais la possibilité d'obtenir plusieurs fins différentes, le concept des attaques groupées selon les personnages utilisés rendait les combats très dynamiques, je n'avais jamais l'impression de tourner en rond pour gagner de l'expérience et par-dessous tout, la trame sonore de Yasunori Mitsuda avec un peu d'aide de Nobuo Uematsu et Noriko Matsueda demeure à ce jour et de loin ma préférée.
Autre chose:
Même si j'ai déjà rejoué à ce jeu sur PlayStation et Nintendo DS, il existe une autre façon de redécouvrir ce classique intemporel si vous possédez une SNES et la cartouche SD2SNES. Il suffit de patcher une copie du jeu pour y jouer avec une musique d'orchestre symphonique issue de l'album Chrono Symphony par Blake Robinson. Vous devez trouver un moyen de créer une copie à partir de votre cartouche originale et vous devez acheter l'album mais les détails sont disponibles dans ce lien:
http://www.romhacking.net/hacks/2546/
Ce hack est possible grâce à Michaël Larouche alias DarkShock qui le présente dans cette vidéo:

Source:
YouTube (Michaël Larouche)
Castlevania: Dracula X Chronicles sur PSP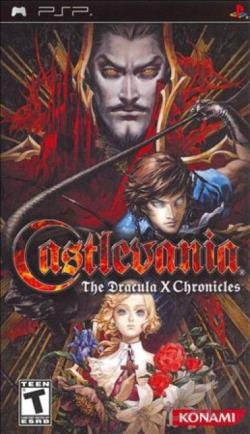 Source: https://www.cduniverse.com/productinfo.asp?pid=7439771
Comment j'ai découvert ce jeu:
Avant, je ne m'intéressais pas aux jeux de la série Castlevania car je passais à travers une phase où je jouais principalement aux RPG et aux jeux de baston mais j'ai toujours été fasciné par la mythologie des vampires. En me renseignant, j'ai appris à apprécier les histoires autour de la famille des Belmont qui est presque toujours présente à travers les siècles pour empêcher Dracula d'exterminer les humains. Peu après m'être procuré une PSP, j'ai décidé de plonger dans ce monde à travers Castlevania: Dracula X Chronicles, un remake de Castlevania: Rondo of Blood sur PC Engine.
En quoi ce jeu m'a marqué:
A part l'atmosphère gothique, la musique à la fois excitante et effrayante, la variété des armes secondaires en plus du "Vampire Killer", un fouet qui se transmet d'un membre du clan Belmont à un autre (à quelques exceptions près), le niveau de difficulté qui est très élevé sans être impossible, c'est cet éternel combat entre le bien et le mal avec une différence de moyens comparable à David contre Goliath qui a fait de moi un fan (en retard) de Castlevania. En résumé, Castlevania: Dracula X Chronicles a été ma porte d'entrée dans cet univers et je me suis procuré plein d'autres jeux de cette série depuis.
C'est tout pour moi. En attendant l'article de Tigerfog, à mon tour, je lance le défi aux Steemiens suivants:
@baart
@brokenzombie
@dekeigaming
@imaginalex
@ixindamix
@ragepeanut
Si vous avez aimé cet article, n'hésitez pas à l'upvoter et le resteemer et pour être au courant des futures publications, suivez-moi sur Steemit. Merci d'avoir lu et à la prochaine.
English
I received two challenges #whygamesaregoodchallenge from @retro-room and @darth-azrael to talk about four games that influenced me. I shall cover four games and my brother Tigerfog will cover four more in a future article that will be published once it's ready. Without further ado, here's my list in chronological order.
DuckTales on NES
How I discovered this game:
Like most kids who grew up in Quebec during the 80s, I had a NES and I enjoyed watching cartoons on Saturday mornings on Radio-Canada (French counterpart of CBS), especially DuckTales. When I found out there was a licensed game on the NES, I just had to try it. After I rented it several times, my aunt eventually buy me a copy which allowed me to spend countless hours playing it without worrying about late fees.
How this game defined me:
While it's true the levels were varied and well designed, the music by Hiroshige Tonomura is a masterpiece and the gameplay was awesome especially Scrooge's cane which can be used as a pogo stick or a golf club. How this game defined me besides the fact it's the very first video game I ever finished is that it made me a Capcom fan and to this day represents living proof that good licensed games do exist. However, I naively believed back then that a game was automatically good if it was based on a licensed property.
The Secret of Monkey Island on MS-DOS
How I discovered this game:
My uncle had a pile of floppy disks containing various DOS games and while I was used to playing platformers and puzzle games, three games stood out by their gameplay that relied more on problem solving than ninja reflexes: Leisure Suit Larry which I didn't know back then was for adults only, King's Quest IV where it was very easy to die and Monkey Island which was the only game of the three where you used a mouse.
How this game defined me:
If I just discovered a new genre which is "graphic adventure game", why then is Monkey Island the one that defined me? It was the first time that I could control a character using a mouse, choose my dialogue options during conversations, progress by solving wacky "think-outside-the-box" puzzles, win sword duels by having a better wit than my opponents insult-wise and being able to play without worrying about dying or be stuck in an unwinnable state because I forgot to pick an object from a location which was now unreachable. The reason why I own a digital copy of the game on Steam, GOG, iOS and PSN is simple: the timeless humor that never seems to get old no matter how many times I replay the game. Also, like DuckTales regarding licensed titles, I thought a game of this caliber was the norm and graphic adventure games were always supposed to be that funny.
Chrono Trigger on SNES
How I discovered this game:
While I spent my childhood in Quebec, I spent my teenage years in France where I discovered the "Club Dorothée" on TF1 (a French TV channel) and the fabulous world of animes like DragonBall Z which was an obsession of mine for so long. One day, I read in a magazine that an RPG was coming soon on the SNES and I noticed that Crono, the game's main character looked strangely like Gohan, a DBZ character. It's by learning promotional and in-game artworks were handled by DBZ creator Akira Toriyama that I decided to give this game a shot by renting it while I was visiting Quebec. Many rentals later, I ended up getting my own copy that I've since completed at 100%.
How this game defined me:
Before Chrono Trigger, I wasn't too crazy about RPGs and whenever I watched someone else play, I was annoyed that level grinding was necessary to gain enough experience in order to progress. Also, I found that stories in RPGs tended to be the same for the most part. How was Chrono Trigger different? I really loved the idea of blending medieval, sci-fi and time travels elements in a single storyline, I grew attached to all major characters that I considered to be well-developed and interesting, the story got me hooked from day one, I could unlock multiple endings, the team attacks depending on current characters in your party that are used as part of fighting mechanics made battles more dynamic, I never felt the need to level grind and most of all, the soundtrack by Yasunori Mitsuda with contributions from Nobuo Uematsu and Noriko Matsueda still remains my all-time favorite by far.
One more thing:
While I already replayed the game on PlayStation and Nintendo DS, there's another way to re-experience this timeless classic if you own both a SNES and an SD2SNES flashcart. You simply need to patch the game to be able to play using symphonic orchestral music from Blake Robinson's Chrono Symphony album. You need to provide your own digital copy of the game and buy Blake Robinson's album but instructions are available at this link:
http://www.romhacking.net/hacks/2546/
This hack is possible thanks to Michaël Larouche a.k.a. DarkShock who presented it in his YouTube video.
Castlevania: Dracula X Chronicles on PSP
How I discovered this game:
At first, I wasn't interested in the Castlevania series because back then, I was going through a phase where I played mostly RPGs and fighting games but I was fascinated by the vampire mythology. By further looking into it, I grew to appreciate the stories about the Belmonts who across centuries were almost always there to stand between Dracula and humanity. Not long after I bought a PSP, I decided to take the plunge via Castlevania: Dracula X Chronicles, a remake of Castlevania: Rondo of Blood on PC Engine.
How this game defined me:
Besides the gothic atmosphere, equally exciting and scary music, a variety of subweapons in addition to the famed "Vampire Killer", a whip passed down from a Belmont to another (with a few exceptions), a difficulty level that's high enough without being impossible, it's really the eternal battle between good and evil with supposedly insurmountable odds akin to David against Goliath that made me a (belated) Castlevania fan. In conclusion, Castlevania: Dracula X Chronicles was my first step into this universe and I've since bought more games from that franchise.
That's it for me. While I wait for Tigerfog's contributions, it's my turn to challenge the following Steemians:
@baart
@brokenzombie
@dekeigaming
@imaginalex
@ixindamix
@ragepeanut
If you liked this post, please consider upvoting and resteeming it and to be further updated on future posts, follow me on Steemit. Thanks for reading and see you next time.