---
MYSTIC SEAPORT MUSEUM, MYSTIC, CT - THE FISHTOWN CHAPEL
---
Today's whiteiswhite challenge theme is ARCHITECTURE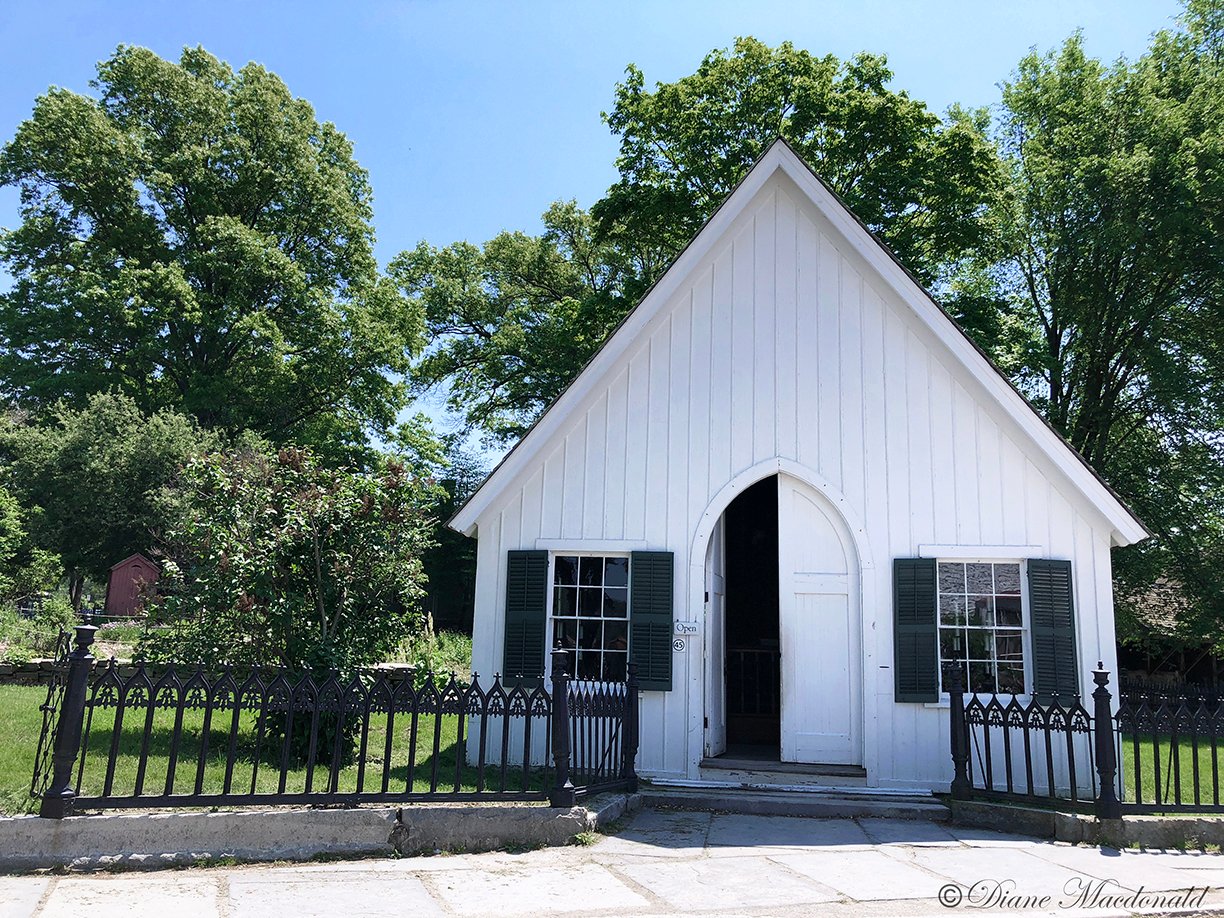 Image ©Diane Macdonald. All Rights Reserved. Camera: iPhone 8 Plus
---
I captured this charming little white chapel (THE FISHTOWN CHAPEL) in Mystic Seaport Museum, Mystic, CT, while visiting New England a couple of weeks ago.
This building was moved to its present location at Mystic Seaport Museum from the Fishtown area of Mystic in 1950. It was commissioned as a place of worship in Fishtown in 1889, and it took local builders just three weeks to build it. Around 1900 it ceased to be used as a chapel and became a schoolhouse for a short period. Sadly it fell into disuse and disrepair for half a century until it was purchased by Mystic Seaport Museum, and moved to its current location and rededicated as a chapel!
It had been around 40 years since I had last visited it, so it was on my bucket list to visit again. Luckily it is only a one and a half hour drive from my in-laws' place in Massachusetts, so on a day free from family obligations we took a day off and drove south to Mystic. It was well worth the trip, and I can highly recommend it for young and old alike!
Probably for the first time ever, I embarked on a trip without my DSLR gear, so all my photography from the trip was taken using my iPhone 8 Plus, which is excellent for standard shots like this which don't require a macro or zoom lens! The best camera for a job is always the one you have with you.
---
---
---
Don't forget about the #wiwcontest – It's not the same as the daily challenge!
Read about this week's theme and the rules here.
The deadline for week 26's contest is Saturday June 9th at midnight EST.
---
---
---
Here are the daily themes for the whiteiswhite challenge (not the wiwcontest.):
Monday: White Photographed Against White
Tuesday: Animals
Wednesday: Flowers
Thursday: Food And Drink
Friday: Architecture
Saturday: Water In Nature
Sunday: Anything Goes
The rules are very simple for the daily cahllenge. You have only 4 things to remember!
Your own original photography only!
The image does not have to be all white, but the subject matter needs to be mostly white
A link to this page so others can read the rules
#whiteiswhite tag
---
Thanks for taking the time to read this! I truly appreciate it. Read some of my past photography tips and tutorials at photography-101.
---