✨  ✨ WhatsCookingChallenge  ✨  ✨  MANGO BIRD'S MILK  ✨  ✨
 
                Bird's milk in Polish "ptasie mleczko" is one of the most popular and recognized sweets in Poland. It is produced by Wedel company and it looks like the piece of marshmallow 🍬  covered by the chocolate. In stores you can find vanilla, chocolate and caramel birds milk.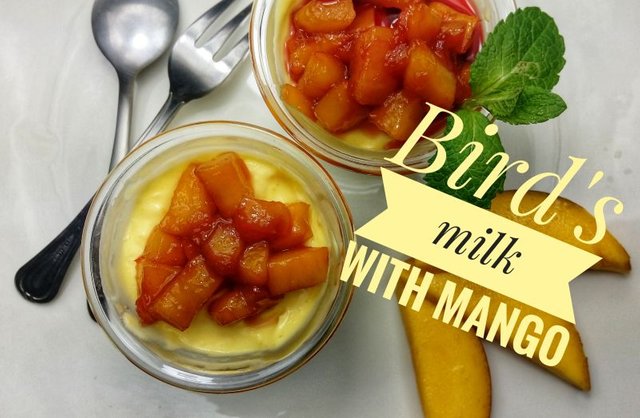 As I like to play with food I decided to prepare my own exotic version of bird's milk. Thanks to  @jaynie I've found #whatscookingchallenge the perfect contest for me as it is all about making unique dishes and this is how my mango bird's milk turned out to be.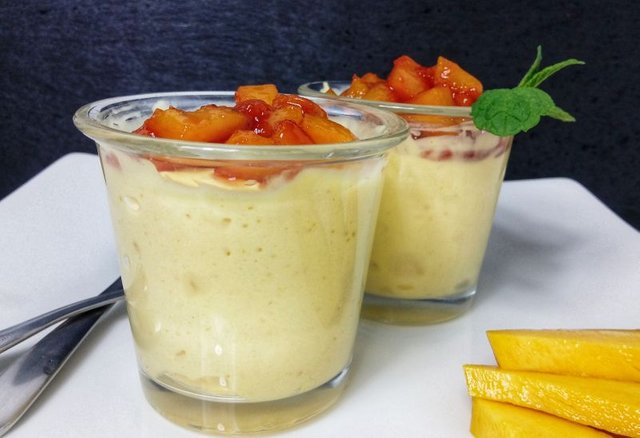 Mango pulp helped me to achieve my goal. Result?  😊 Just try this recipe at home. I'm sure you gonna love this. As a topping I used the fresh mango, cut and caramelised in elderflower syrup 🌺 . This combination turned out to be really delicious and I will definitely come back to it many times during the summer season using different fruits such as: strawberries, raspbierries, blueberries. Hope you guys will enjoy the recipe and will give it a try at your kitchen.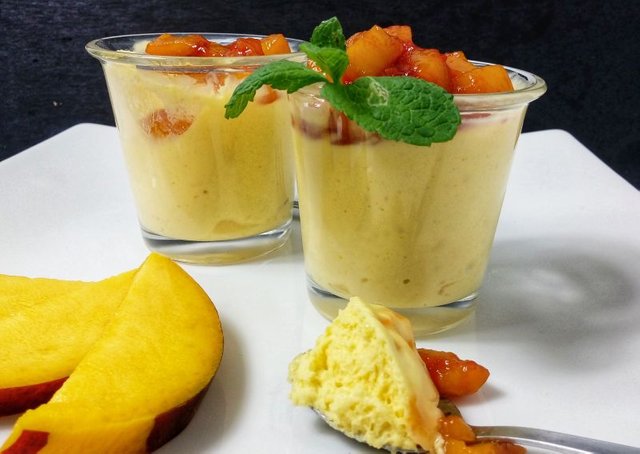 Ingredients for 4 portions:
 🍮 13 dag mango pulp
 🍮 1 teaspoon yogurt
 🍮 20 dag whipping cream
 🍮 30 g sugar
 🍮 8 g gelatine powder
 🍮 2 tablespoons cold water
 🍮 2 tablespoons elderflower syrup
 🍮 half of mango, cut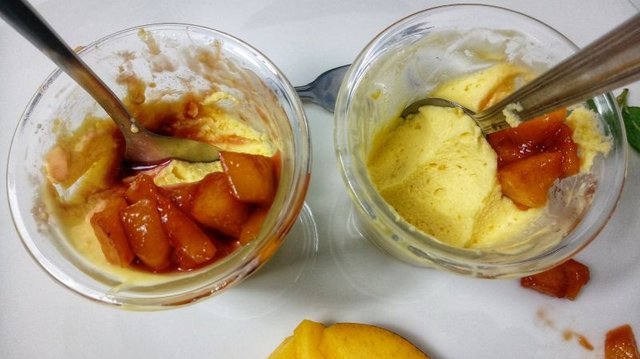 🍬 Method:
Mix gelatine powder with water and leave for 5 minutes. 
Cook mango pulp with sugar. Heat the gelatine but be careful not to boil it. Add one tablespoon of mango pulp to gelatine. Stir well and add the mixture to the rest of mango pulp. Stir and wait until cool down, then add the yogurt. 
Beat the whipping cream so it is 2/3 thick. Then add pulp and whisk on low speed until all ingredients combine well. Transfer the mixture into the serving glasses and leave overnight in the fridge.
Cut the mango and fry it in a pan with elderflower syrup. Once it caramelizes well take it off the heat, cool down and top your bird's milk.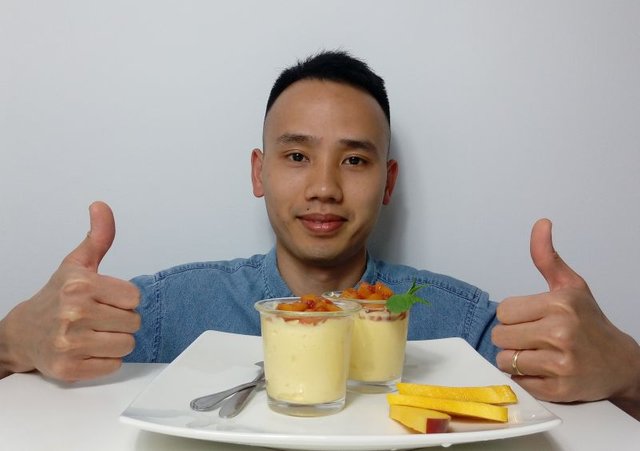 Bon appetit!  😊    
I would like to tag @monika-homa, @hanggggbeeee, @sisters, @sweetsandbeyond @mehowthe and invite them to have fun with us  😋