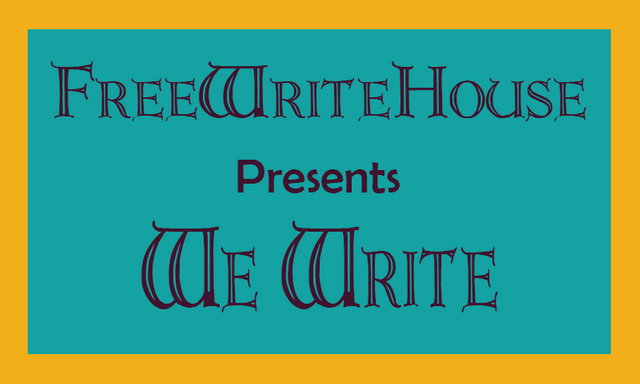 @Zeldacroft here!
We-Writes are easy, fun opportunities to write and win PRIZES. You can expect a WE-Write prompt every Monday, where we'll also announce last week's winner. Speaking of which...
Last Week's Winner
Many thanks to our writers from last week: @iamraincrystal, @phil-glaz, @felixgarciap, @mgaft1, @sarez, @owasco and @aduragbemi! Your stories were a great start to the revival of the partner contest. You can find this week's prompt further down, but first our random winners are...
Congratulations @iamraincrystal and @phil-glaz!!! Your SBI will be sent shortly!
The Prize: 5 SBI per Winner, Sponsored by @ntowl and @owasco
100% Upvotes from the FreeWrite House for All Entries

What is a We-Write?
If this is your first time coming across a WE-Write post, have no fear! It's all quite simple.
Every Monday we'll give you the beginning of a story. Use that beginning and keep writing. Most people do the 5-minute freewrite method, but a little longer is okay, too.
Then, publish it as a post with a link to this post AND drop a link to your post in the comments below this one. To be eligible to win you must comment on this post with a link to your entry.
Or, you may publish your story as a comment to this post.
Please tag me, @zeldacroft, and @freewritehouse in the beginning of your posts, and add a link back to the contest. Also, please make it clear which part is the prompt and what is your ending. Thank you!

How Do You Win?
Each week two winners will be chosen randomly from the entries. The deadline for entering is Sunday night at 9:00pm EDT, aka the same timezone as Boston, USA.
The announcement will be made the following day in the post for the next week's prompt! If you're a winner, @ntowl or @owasco will send you your 5 SBI then. 😊

This Week's Prompt
The Manor House
by @zeldacroft
"I can't believe we're here!" Clara gushed, gazing at the manor house. Its front steps were preceded by carefully-laid stone, centered around a magnificent fountain. Tourists bustled around eagerly with their cameras and visitor pamphlets as the two sisters joined them.
"It says here that tours start every hour in the Grand Gallery," said Kelly, holding up the guidebook. Clara was too busy admiring the variety of flowers that adorned the area, from the climbing vines near the elegant windows to the lush bushes around the stone path. So Kelly went back to her reading, but with a smile. It was nice to see that the manor was already living up to Clara's expectations.
After a brief distraction by a duck swimming in the fountain, the sisters quickly made their way inside. As they mounted the marble stairs, Clara's excitement became tangible, an emanation of joy that merged with the curiosity of the other tourists.
---
So what happens next is up to you! I'm really looking forward to reading your continuations. 😊
As always, any resteems and upvotes will be eternally appreciated (but aren't necessary for the contest or anything). Let's spread the word and get writing!

Want to be a Beta Reader or get feedback on your writing?
The Beta group is an initiative by @freewritehouse to help writers prepare for publishing. Find out more here!


For daily freewrite inspiration, be sure to follow @mariannewest for prompts!