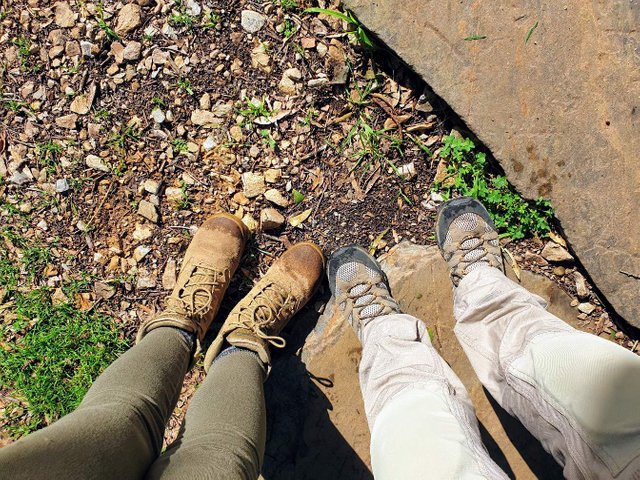 I haven't done a live action post for a while so figured today would be a good day to resurrect the concept whilst we are our hiking.
The sun is shining, well it has been on and off, but it's cold and has showered a little on and off. No problem though, we have all the right gear on - Layers is the way to go in this sort of weather. On the way up the hill I was forever taking off and putting on layers of clothing, my cap, a beanie and gloves; Annoying but better than freezing or cooking right?
I've got my wife with me today hence the two pairs of feet you can see in the photo and we walked along talking, and in silence, just enjoying the outdoors which we both love.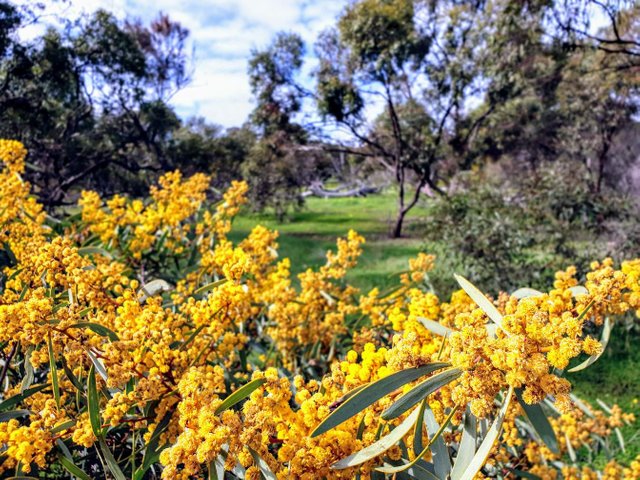 She's got her army boots on today which she loves! She has them for when we go to more remote and rugged places as they are sturdy and help to mitigate snake bites through being a little higher. She has proper hiking boots but she thinks these are more comfortable so she wears them more than the Merrell's. Decent boots are always necessary for any decent hike of course.
I was telling her about my recent blog on the Eastern Brown snake, (she doesn't read my blog usually), which was inspired by a hike at this location a week ago. The snake is very prevalent here at this National Park, (all over central to Easter Australia really), however Mr. Brown didn't make an appearance today. Too cold and too early in the year for him. (Read the blog, you'll know what I mean).
We only hiked for a couple of hours, a short cut back to the ruins I solo-hiked to last week, and pretty much came straight back after I smashed out this post. I was keen for a bit of an outdoors kiss and cuddle but there were a few others out there so we decided to save that for a other time. 🤪😉
I hope y'all having a good weekend and making the most of it. I know the outdoors and hiking isn't for everyone but the weekend is so get after it!
Design and create your ideal life, don't live it by default 🇦🇺
Posted using Partiko Android