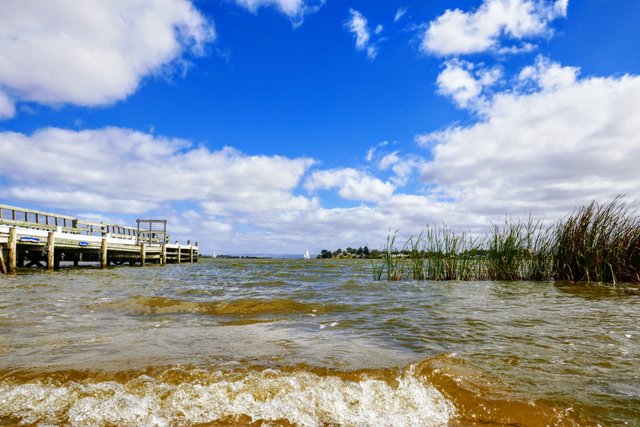 It wasn't going to be warm, however we decided to take a drive over the weekend. We packed up a picnic and headed off to see where the wind blew us. Following our noses, and the breeze, we ended up locating this lake to the southeast of the city in which we live, only ninety minutes away. There was a nice little park right on the waters edge with a small jetty close by and we decided it would be an excellent spot to unpack our picnic and spend a couple of hours.
Twenty minutes after my initial, and mandatory, exploration of the area ended we had some lovely lemon and herb marinated chicken breasts sizzling on the portable grill and I was tossing up a salad and spreading butter on crusty rye bread in preparation for lunch.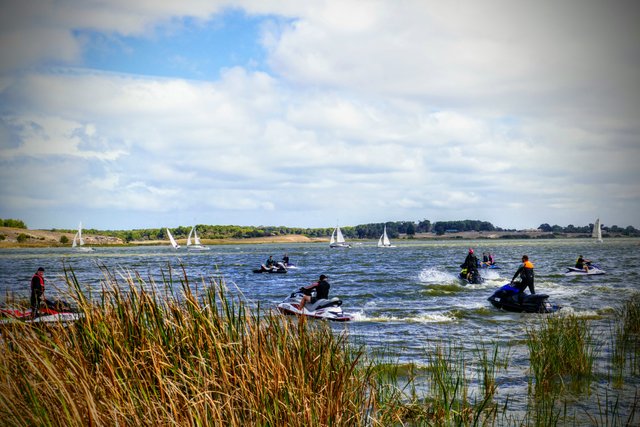 We were just finishing lunch when the jet-ski gang appeared on the horizon with great plumes of water spraying forth and marking their progress across the lake and the sound of their engines reaching us on the breeze.
Before long the gang arrived on our little section of lakefront and the came splashing out of the water, which must have been freezing, to make use of the public amenities across the park from us. The gang members were a mixture of people from about 30-60 years old and seemed a friendly bunch so we chatted a while before they remounted and buzzed off into the distance like a swarm of dragon fly's. I was only slightly jealous but I had my own little piece of heaven right were I was with my partner so was content.
We sat back sipping freshly-brewed coffee and the sticky Danish pastries we'd brought along and simply watched the sailing boats making their way up and down the lake chatting here and there. It was a lovely day...Peaceful with an abundance of fresh air and good company.