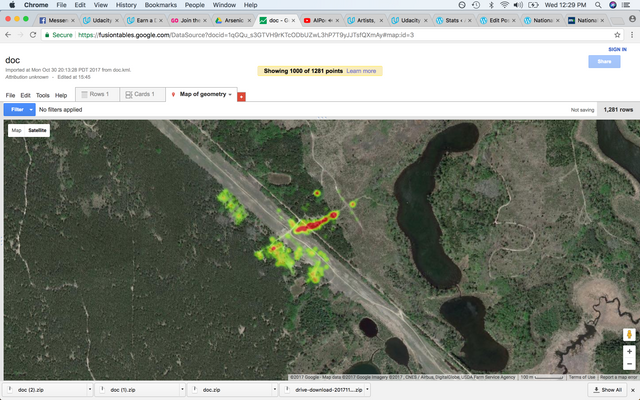 Arsenic data from large 1979 Enbridge oil spill that shows that arsenic is leached into ground water from bacterial metabolism of oil.
https://www.sciencebase.gov/catalog/item/59403140e4b0764e6c6311c7
https://fusiontables.googleusercontent.com/embedviz?q=select+col66+from+1qGQu_s3GTVH9rKTcODbUZwL3hP7T9yJJTsfQXmAy+limit+1000&viz=HEATMAP&h=true&lat=47.57300710308804&lng=-95.08962106213983&t=3&z=16&l=col66&y=2&tmplt=2&hmd=true&hmg=%2366ff0000,%2393ff00ff,%23c1ff00ff,%23eeff00ff,%23f4e300ff,%23f4e300ff,%23f9c600ff,%23ffaa00ff,%23ff7100ff,%23ff3900ff,%23ff0000ff&hmo=0.6&hmr=10&hmw=0&hml=KML
FOSSIL FUEL PRODUCTION REQUIRES TRANSPORT OF TOXIC OIL THROUGH EITHER GROUD OR SEA TRANSPORT. ALL OF THESE ROUTES OF TRANSPORT ARE HAZARDOUS AS EVIDENCED BY THE NUMEROUS OIL SPILLS AND PIPELINE LEAKS OBSERVED OVER THE LAST FEW DECADES. REGARDING TRANSPORT OF OIL OVER EARTH, RECENT STUDIES BY BIG OIL AND GOVERNMENT LABS HAVE SHOWN THAT THE TOXIC HEAVY METAL ARSENIC IS LEACHED FROM MINERAL DEPOSITS WHEN OIL COMES INTO CONTACT WITH THESE MINERALS IN A LOW OXYGEN ENVIRONMENT (HTTP://WWW.SCIENCEMAG.ORG/NEWS/2017/08/ARSENIC-DRINKING-WATER-THREATENS-60-MILLION-PAKISTAN , HTTPS://TOXICS.USGS.GOV/HIGHLIGHTS/2015-01-26-ARSENIC_PLUMES.HTML , HTTPS://WWW.ZMESCIENCE.COM/ECOLOGY/POLLUTION-ECOLOGY/WATER-WELL-ARSENIC-42323/) IN AN ANAEROBIC ENVIRONMENT, BACTERIA DEGRADE THE OIL AND RESPIRE ON IRON (III) AND NOT OXYGEN. THIS LEADS TO A COUPLED IRON/ARSENIC LEACHING FROM MINERAL DEPOSITS PRESENTING A SEVERE THREAT TO THE HEALTH OF GROUND WATER. (HTTPS://WWW.RESEARCHGATE.NET/PUBLICATION/271275920_ARSENIC_CYCLING_IN_HYDROCARBON_PLUMES_SECONDARY_EFFECTS_OF_NATURAL_ATTENUATION) RURAL POPULATIONS RELY ON WELL MOSTLY FOR WATER, AND THESE WELLS ARE NOT TESTED BY THE GOVERNMENT. THUS, IT IS IMPERATIVE THAT NEW OPEN SOURCE HEAVY METAL SENSORS BE BROUGHT TO BEAR ON THE ISSUE WITH A CITIZEN SCIENCE INITIATIVE SIMILAR TO THAT OF SAFECAST AFTER FUKUSHIMA. (HTTPS://BLOG.SAFECAST.ORG/) FORTUNATELY, A NEW GENERATION OF HEALTH TECHNOLOGY COMPANIES ARE PROVIDING SUCH TESTS SUCH AS THE HEAVY METAL TEST FROM EVERLYWELL. (HTTPS://WWW.EVERLYWELL.COM/PRODUCTS/ELEMENTS-PANEL/) THE DATA FROM THE BEST STUDIED MODEL SYSTEM OIL PIPELINE LEAK FROM ENBRIDGE'S OWN CRUDE-OIL-CONTAMINATED AQUIFER NEAR BEMIDJI, MINNESOTA. (HTTPS://WWW.SCIENCEBASE.GOV/CATALOG/ITEM/59403140E4B0764E6C6311C7) WE PROPOSE A CITIZEN SCIENCE CAMPAIGN TO CROWDSOURCE HOME WELL WATER TESTS AND HUMAN URINE ANALYSIS FOR ARSENIC AND IRON. THE CENTRAL MOTIVATION IS TO CREATE A COMMON DATASET THAT IS SHARED WITH ALL PEOPLE EQUALLY. THE DATA WILL BE PROTECTED BY THE CREATIVE COMMONS LICENSE (HTTPS://CREATIVECOMMONS.ORG/) AND WILL BE PLACED ON THE ETHEREUM BLOCKCHAIN (HTTPS://GIVETH.IO/). I WILL LEAD THE CHEMISTRY AND SOFTWARE DEVELOPMENT EFFORTS HAVING A CHEMISTRY PH.D FROM THE UNIVERSITY OF CALIFORNIA, BERKELEY. I HAVE SPENT THE LAST EIGHT YEARS IN THE STUDY OF RELIGION, MINISTRY, CIVIL SERVICE, AND EDUCATION WITH REFUGEE, AFRICAN-AMERICAN, AND NATIVE AMERICAN YOUTH. THIS IS THE LOGICAL EXTENSION OF THAT WORK, A SPIRITUALLY GUIDED HEALING OF MOTHER EARTH'S WATERS AND EARTH FOR THE SEVENTH GENERATION.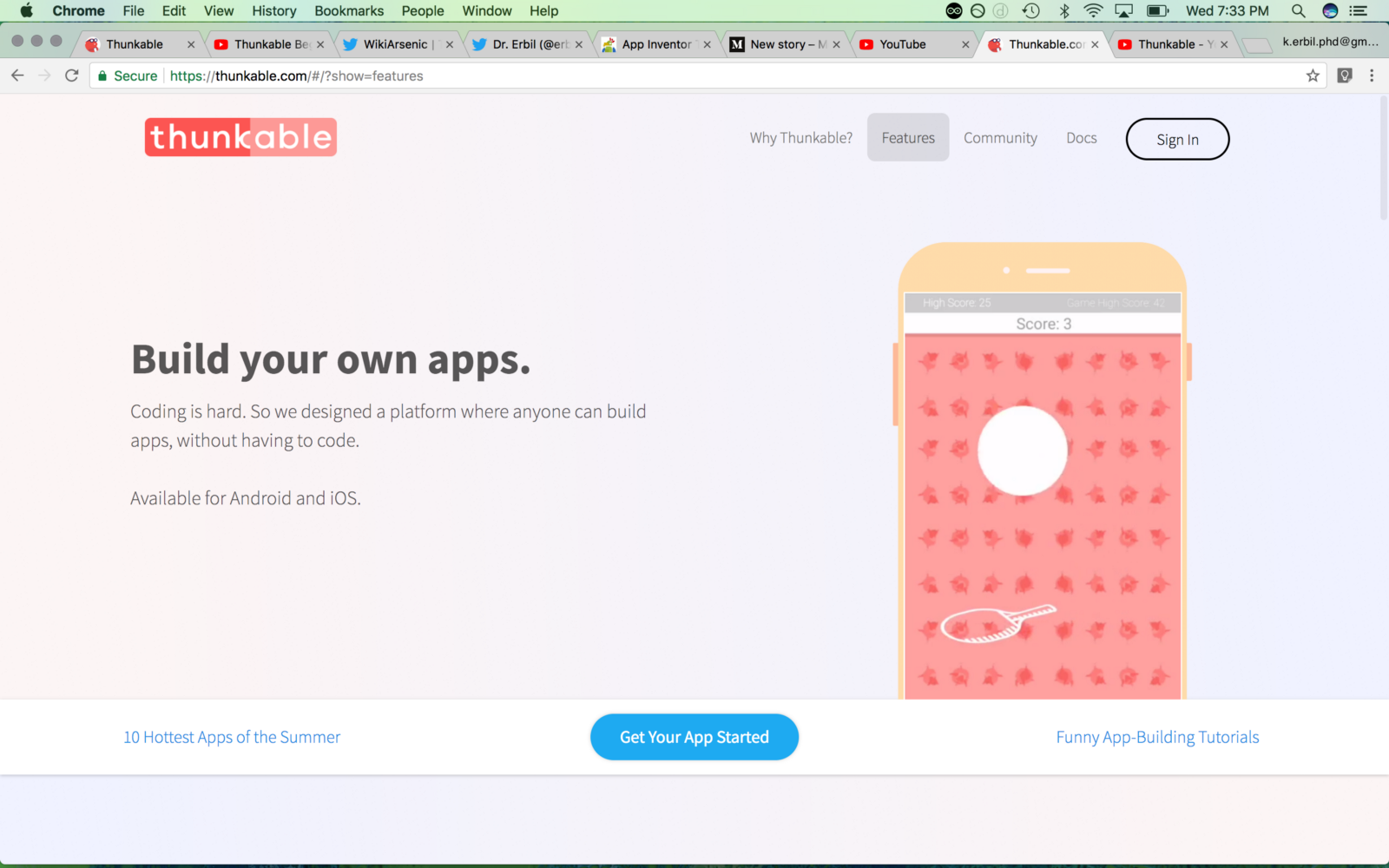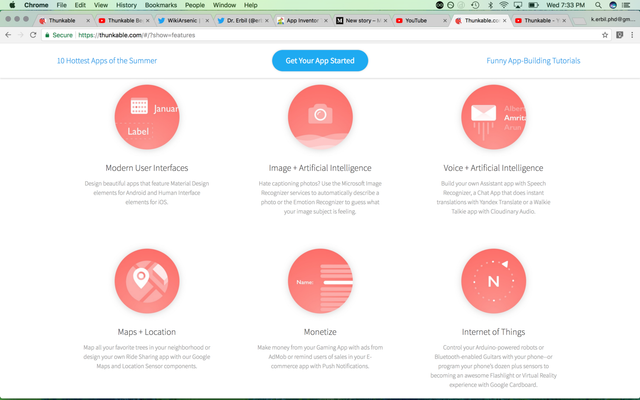 Possible things you can build with Thunkable.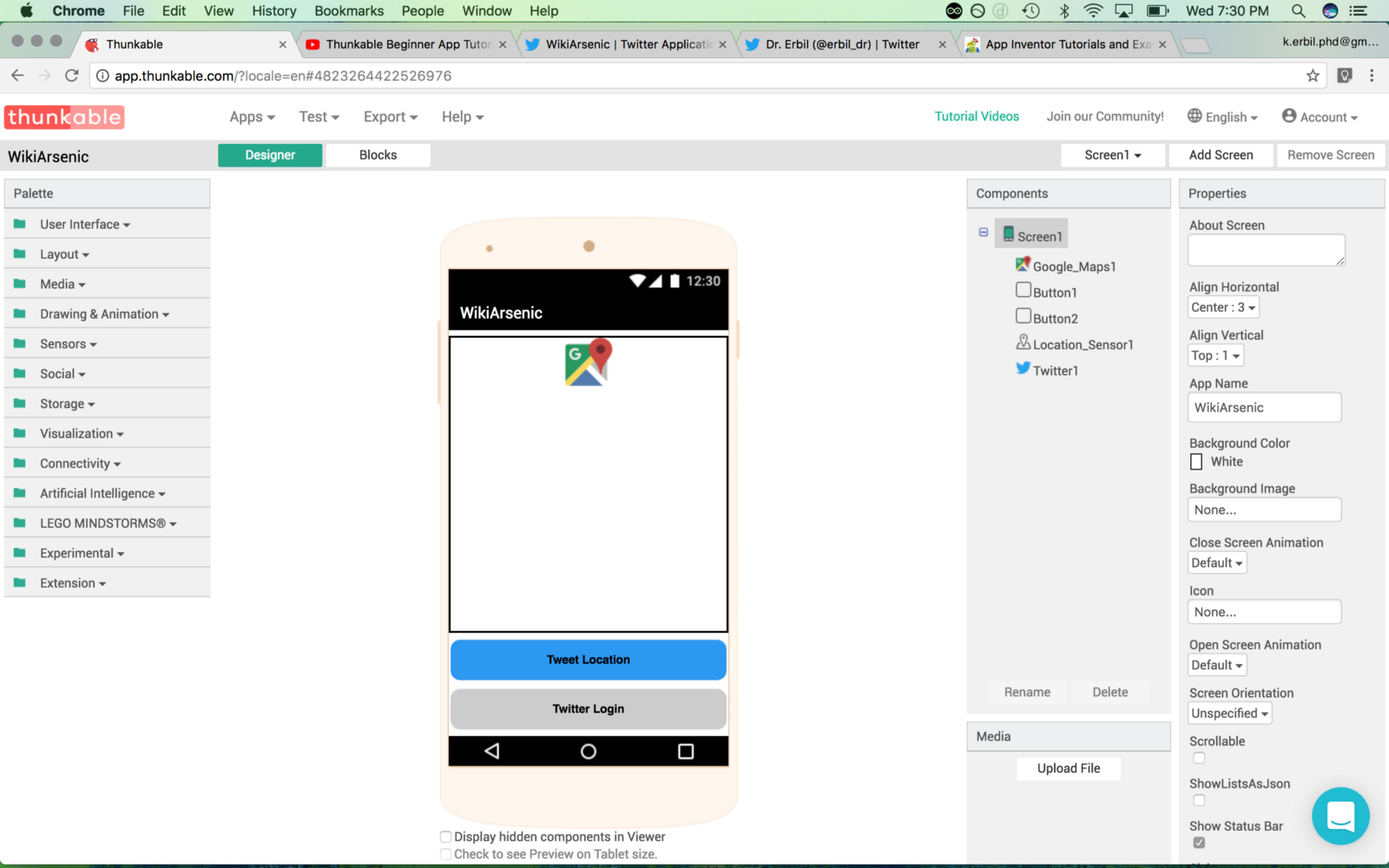 Simple Google Maps and Twitter app layout.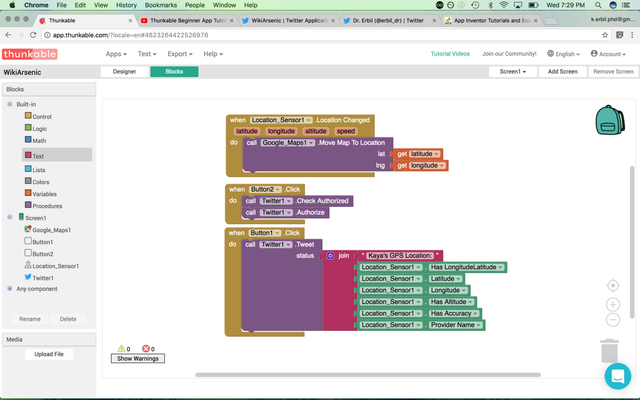 Scratch code (https://scratch.mit.edu/) for my app to fight Line 3 (Standing Rock 2.0).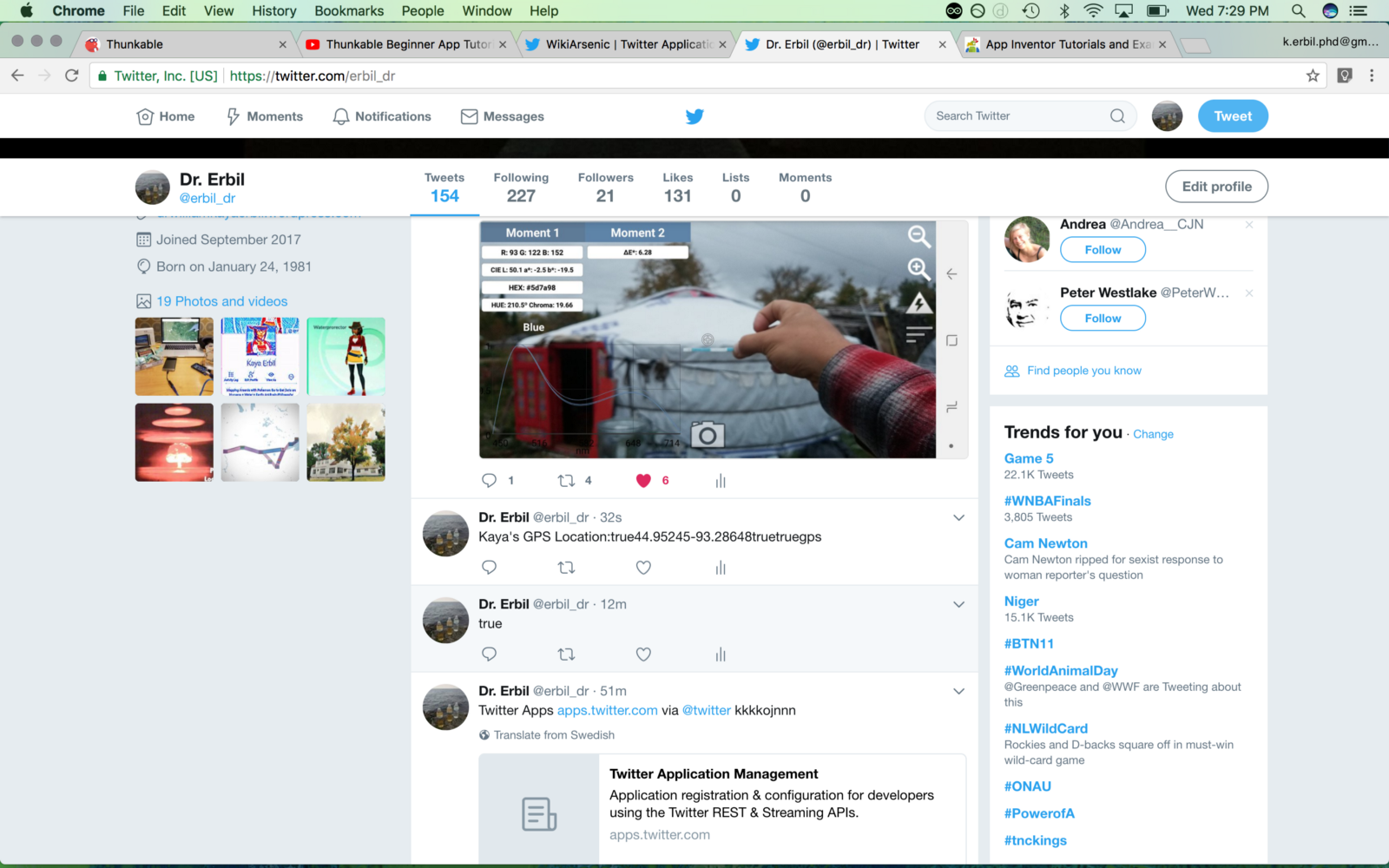 Next goal, Arduino sensor data post to Twitter. In about an hour, I build an app that can post my phone's GPS to Twitter and map my location.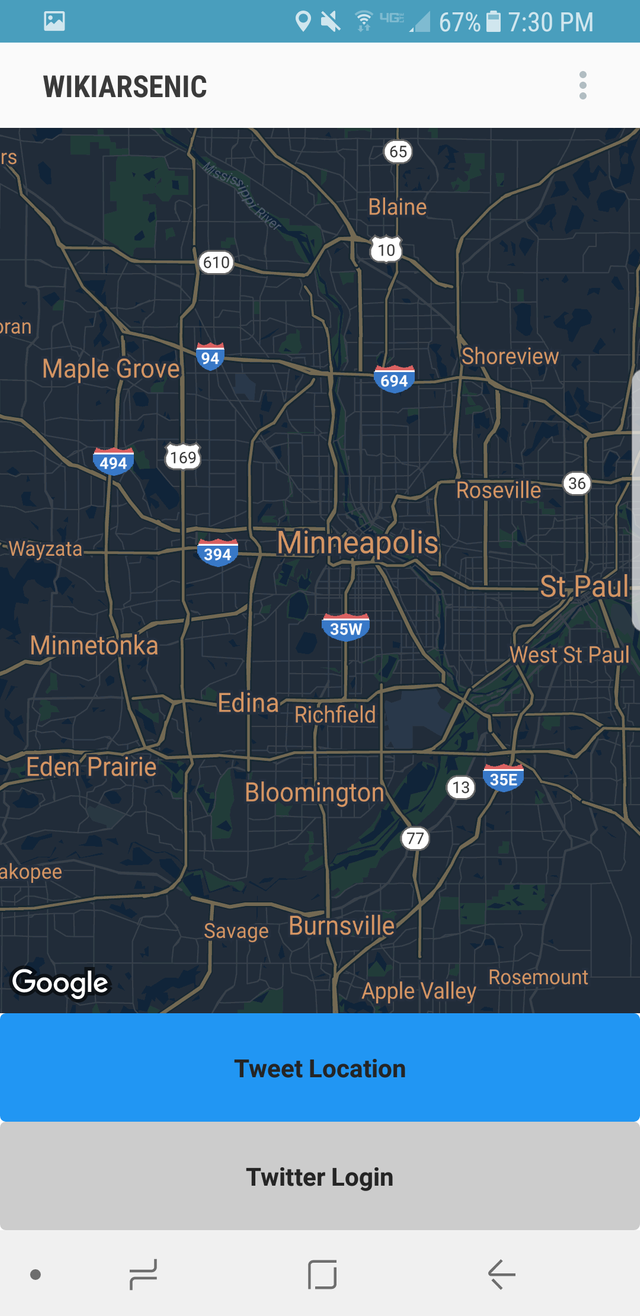 Thunkable has really fun documentation videos: