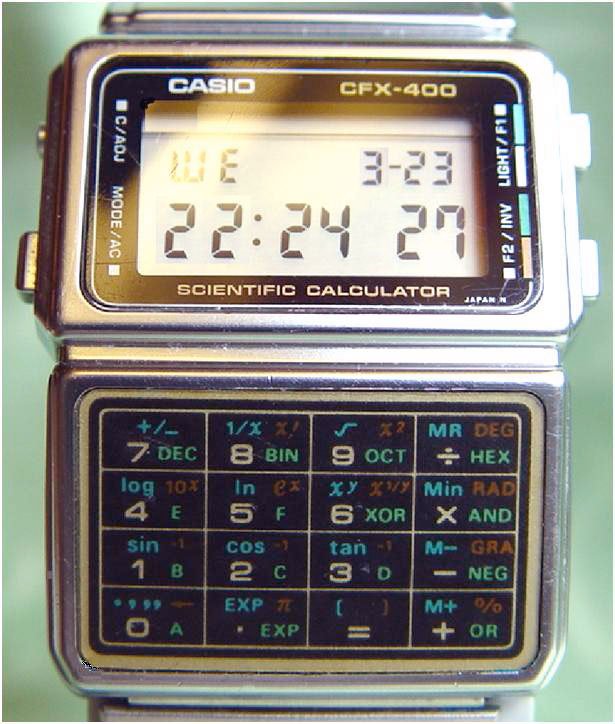 It was all disco and good times and then the 80s rolled in. Fashion, business and pretty much anything you can think of transformed dramatically in this decade. It wasn't all doom and gloom though, the eighties saw watches infused with more gizmos than ever before!
A calculator watch is a digital watch with a built in calculator, usually including buttons on the watch face. Calculator watches were first introduced in the 1970s and continue to be produced, despite falling from their peak popularity during the 1980s. The most notable brand is the Casio Databank series, though watches made by Timex were also popular.
Basically it gave people the ability to show off to their friends using little buttons to do math, something that wasn't cool at the time but was gaining popularity as the age of computing steadily approached.
Calculator watches first appeared in the mid 1970s introduced by Pulsar (1975, then a brand of the Hamilton Watch Company)[1][2] and Hewlett Packard.
Several watch manufacturers have made calculator watches over the years, such as Pulsar and Timex, but the Japanese electronics company Casio produced the largest variety of models. In the mid-1980s, Casio created the Databank calculator watch, which not only performed calculator functions, but also stored appointments, names, addresses, and phone numbers.
Mass-produced calculator watches appeared in the early 1980s, with the most being produced in the middle of the decade.
If you need someone to thank, thank Casio they pretty much dominated the calculator watch market in the 1980s and few people have ever seen a calculator watch that wasn't made by them.
What do you guys think about the utility presented in this gadget? If this was brand new and you are around at the time of its release do you think it would have you running out to the store to buy one at top dollar?
Source:
Wikipedia