I'm sure I'm not the only one out there that looking to make money on the net, especially if it's a quick return and low initial investment with High Gains.
Well I've tried a few and most..... correction.... ALL have let me down.
Basically, they've all gone pear shaped. Lost all Investments and went on to the next one.
NOTE: My investments are at minimum requirements. Sometime more as in this case for Ultraminers.biz If it works for the minimum, it should work for all investments above the minimum unless they choose who to pay and not to pay = ILLEGAL
The last site to go down without warning was BitLake.biz.
I managed to withdraw my initial investment, but all the other investments and balance is now gone. Disappeared into the Ether, Shame it wasn't EtherCoin, but into the actual ether aka their pockets. Gone.
So, I thought I might as well let you great folk in on these failures and attempts to make money, as a way of caution and warning. You never know, I might find one that is paying out. I would be happy with 10% a year if it was for real.
Now, let me tell you this for free, It cost me so it does't have to cost you....
DO NOT GO ANYWHERE NEAR THIS SITE. ULTRAMINERS.BIZ aka ULTRAFARMS LTD
This is Snapshot of my dashboard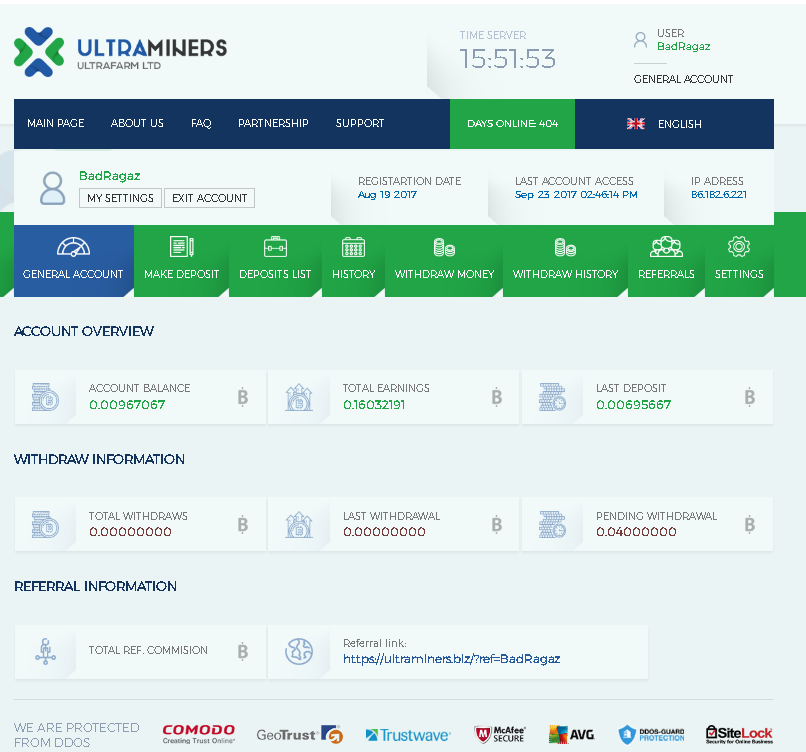 Instant withdrawals???? No way José, as you can see from the pics.
I started with a DEPOSIT OF 0.00539570 ON Aug/19/17 05:54:20 AM(GMT) and then continued to deposit earnings from balance to this as well, to increase the returns and earnings per day.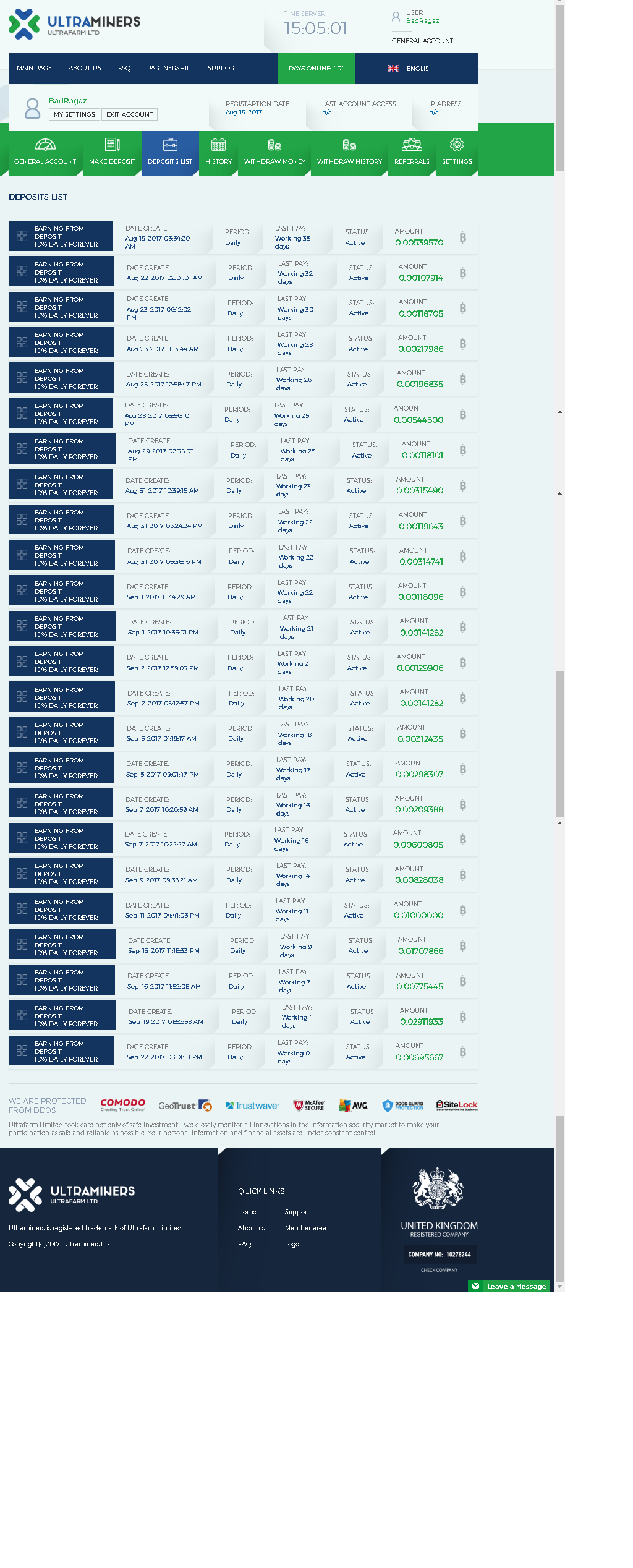 Till this date, I've been unable to withdraw a single Satoshi. I've tried from 0.00001000 to 0.04 (Current PENDING Claim)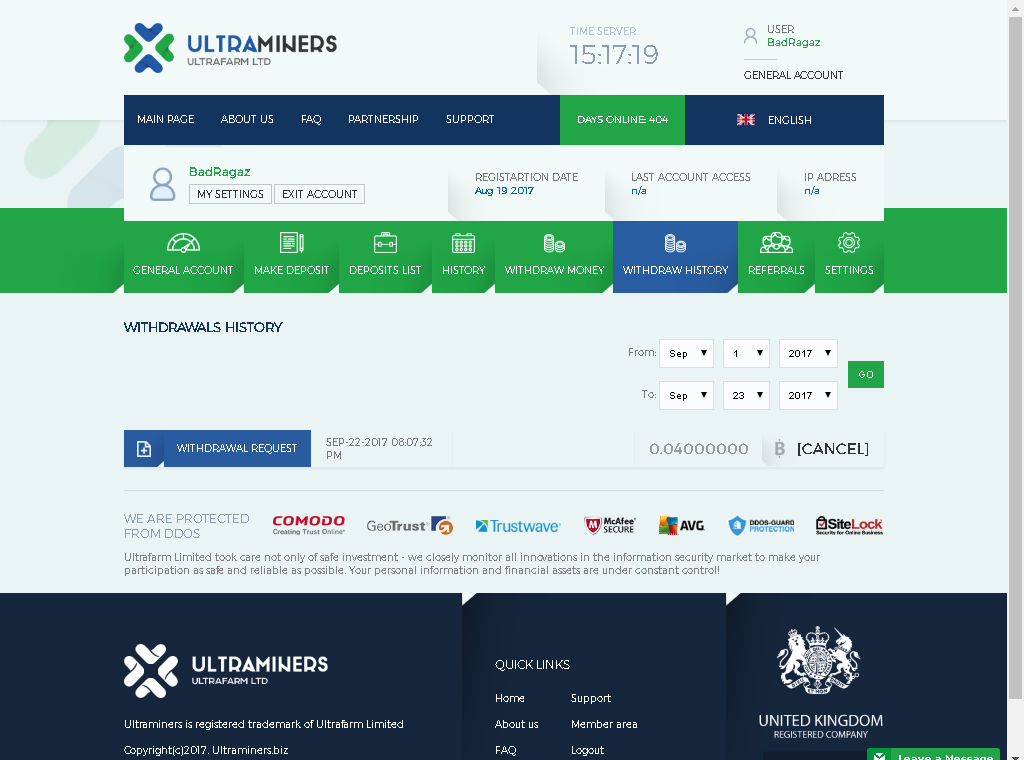 I've tried from 0.00000100 to the current claim of 0.04000000, taking into account the total earnings made, this should not be a problem.
To summarize, Its a No-payout site so far as I can see. I can't even get my initial deposit amount back. So much for a quick turnaround.
Guys, I'm not disheartened about this. I've not lost a lot.
But the one good thing to come out of all this is PROOF of the legitimacy of such a site.
Continuing forward, I will continue to invest in these to prevent you all from making a mistake and trusting them to follow through with their claims. I'll do my part and let them try to do theirs.
Bitlake.biz may be off-line, but I did manage to get my initial deposit back of 0.001, the rest was just a waste of my time and them building up my hope that they may be the one that is for real.
So, keep an eye out for any sites I've tried and successfully withdrew from and I promise to let you know as soon as I have the withdrawal amounts into my wallet.
Till next time guys and gals, Ladies and gentlemen, boys and girls all those not mentioned, have a great day and keep on keeping on. YOLO is the only true fact we all know but can't seem to understand fully. Weird huh?
YOLO mo.fo.'s YOLO YOLO YOLO