now with https

by the grace of cloudflare at least until megacorp decides it contains badspeak in a few syllables
---
http://vorlonempire.one -> https://vorlonempire.one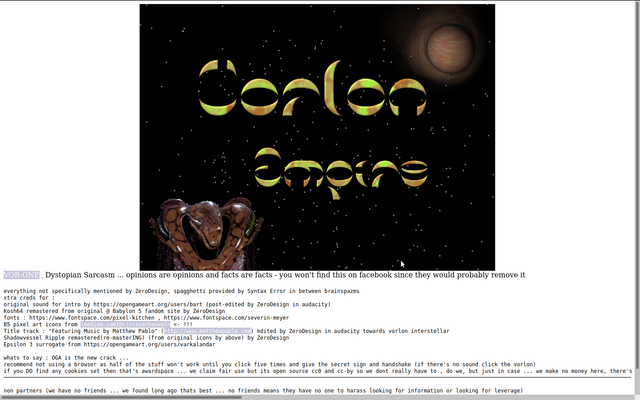 Well, you see, there is actually no need for https since it asks for nothing anywhere, but THEY had to drill THAT into YOUR head SO bad b/c YOU just wouldnt get it that NOW
everything that doesnt have that green thing is bad ...
t
ss
no thats not an insult at any one person
thats not even an insult .. you must be american ... ? , i mean like classic ... conservative ?
the type that would either think its a good idea to get "kanye for president" or else the type that would rally with armored vehicles and automatics because one guy on teh webz says "imma burn flags" ?
cuz , i happen to know, from reliable source, that there's plenty who in general dont speak up since if they do you will poke them
who think the situation as absurd as i do ...
hmmmm, its REALLY distracting, on top of all my usual interrupts (ever seen that movie with Angelina and Wynona ? like hottttsss ... well those were just like my ex only way less krank ... and me ? i think i caught it back then, it's a demon ... and i kinda took it, i think cos she got better heh ...)
yea yea yea yea
SEE .... i feel the whole "movement" will get a serious backlash from over-doing it ... like the great liberator Khadafi once was a guy every politician in the western hemisphere wanted to be on photo with ?
you know ?
know what i'm saying ?
backlash, revolutions over evolution always do
and THEN ?
well then it goes for deniability
and ME ?
i dont wanna be within a lightyear of the whole situation (good thing i'm in the vorlon enclave at the end of time) i'm afraid it might infect me in one way or another
but one thing they're doing great job : spreading the disease and making sure
less humans = more planet for me
thanks !!
---
fixed the https on alleycat as well ... thank you pieter & gilles ... i probably should start at "learn reading" again :)