People are now leaning on social media more than before. Others go to being influencers in Instagram or vloggers in Youtube. To be honest, one of the reasons is there is money in social media. You can monetize content even in Youtube. However, it's not that easy especially now that everyone wants to do it!
If you want to earn through video content on Youtube, you must apply, ofc. Here, let me save you a few clicks: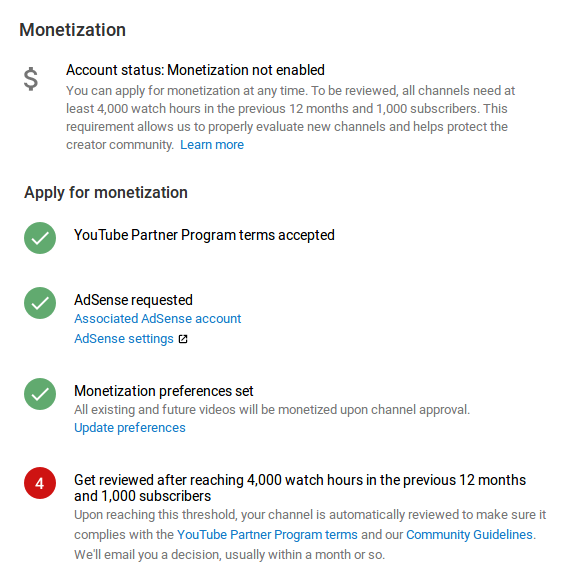 The first thing you need to do is go here to accept their terms. Once you've read their terms and accepted it, the green circle with a check sign should appear.
Next, you have to have an AdSense account. Do you know how you earn? It's through ads! So, it perfectly makes sense that you have AdSense. See what I did there?
If you already have an account, you can just associate it with your YT channel.
The third step is just to let you customize the way ads appear in your videos.
Lastly, the deciding factor is to have 4,000 hours watch time and 1,000 subscribers in the previous fiscal year.
You see, I just recently started a channel I called debilog. It's a mix of dinner vlogs, travel clips, and live streams of mobile games I play such as Mobile Legends and Cooking Adventure. Videos are relatively short and shaky since I'm still starting and experimenting.
I think my channel's just a month old and the numbers are not really looking good:


For famous folks, garnering likes, views, and subscribers is an easy task. However, for people like us whose defining video has yet to come, I'm wishing us good luck!
To end this post, I'm leaving this first video I uploaded feat @charlocked @erangvee
AND A SHORT VIDEO CLIP FROM OUR CORON TRIP!