In this series, I listen to a random record from my collection then search the internet for information on it. I took a chance by grabbing something off one of the last shelves in my record collection. This area has compilations from various artists, hip hop (I just don't have very much), weird stuff and all the film soundtracks I own. So I ended up with the double LP soundtrack to 1982's Fast Times at Ridgemont High.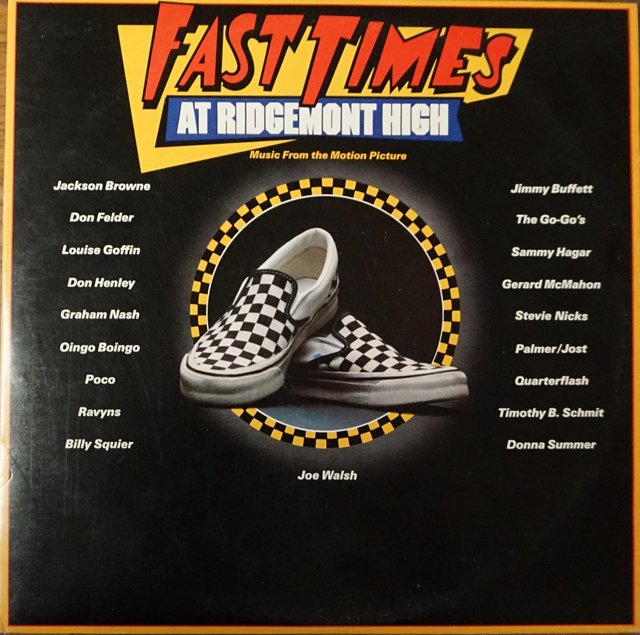 Pulling out the movie soundtrack left me unsure at first what I should say. I had already wrote about the film in one of my first Steemit posts:
https://steemit.com/film/@robmolecule/molecules-to-movies-fast-times-at-ridgemont-high-1982
The inside of the gatefold cover is really cool, with plenty of references to events in the film.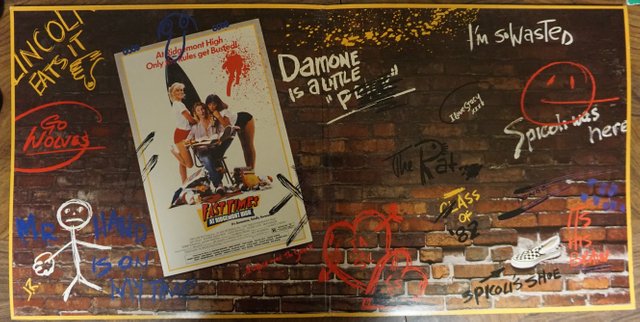 I don't really want to write about the film here though. The movie did have some really great songs in it. Who can forget the opening credits at the mall with "We Got the Beat" by Go-Go's blasting through the speakers? Watching this first as a teenage boy, I was memorized as Phoebe Cates stepped out of the pool in Judge Reinhold's fantasy as "Moving in Stereo" by the Cars played over the scene.
So here are all the songs on the soundtrack, and neither of these songs appear: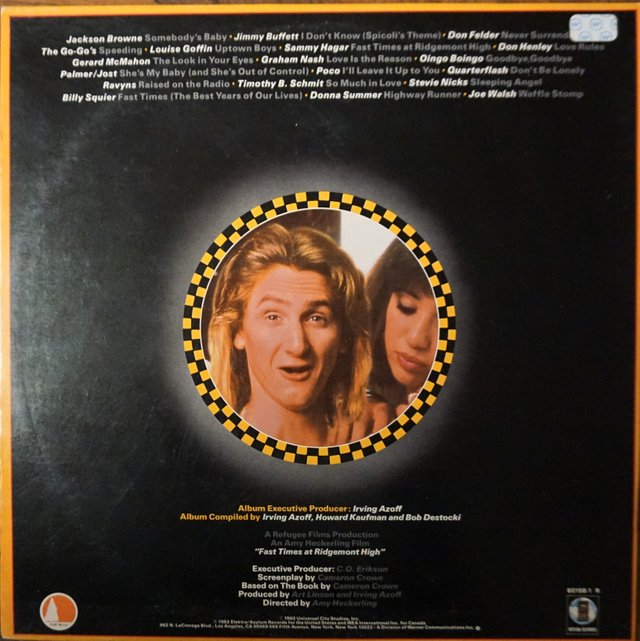 The center label is kind of alright. I love that it has the title artwork from the movie, but the solid light pink background is kind of boring.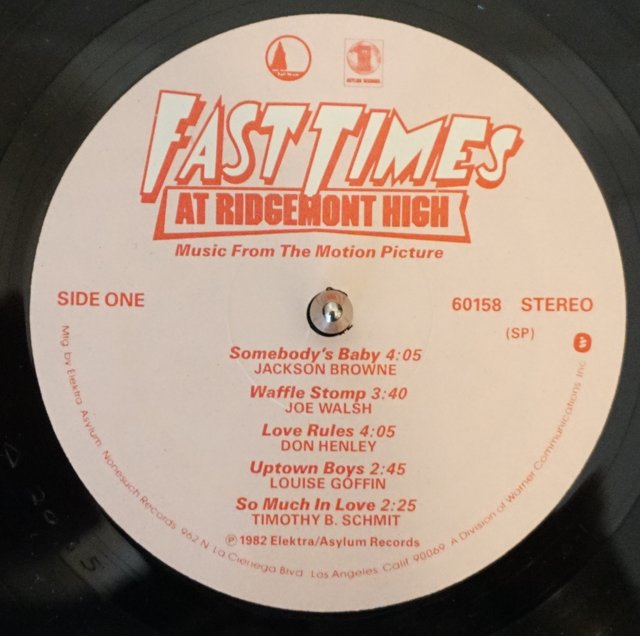 Back to the soundtrack. We do get Jimmy Buffett? Well I had no idea his song was Spicolli's theme. We get a different Go-Go's song. And apparently almost every former member of the Eagles has a solo song on the soundtrack. For a hip movie that accurately portrayed high school students of that time, the soundtrack is not that cool.
The film was directed by Amy Heckerling and based on a book by Cameron Crowe, who at age 22 went undercover as a high school student to write a book about what teenagers were really like. Heckerling wanted a hip new wave soundtrack with stuff like Talking Heads, the Go-Go's, Dead Kennedys and Oingo Boingo. Only a handful of her musical tastes appear to have made it into the film because the producers always wanted it to be filled with classic rock. One of those producers was Irving Azoff...wait for it...the manager of the Eagles! Of course, now that starts to make sense. This isn't straight classic rock but rather old rockers trying to come up with new sounds to appeal to an 80s audience.
Look, there were plenty of teens listening to classic rock, but this wasn't the cool new thing that the kids in this movie should be listening to. I mean, the girls in the mall were dressing like Pat Benatar, not Stevie Nicks. But since the soundtrack did go to number 54 on the billboard charts, maybe kids were listening to this? Or perhaps they expected more stuff like the Go-Go's and the Cars rather than Sammy Hagar doing a "Fast Times at Ridgemont High" theme song. Regardless of Sammy Hagar's later success that song is terrible. He did the same thing for the adult cartoon film Heavy Metal which resulted in a much better song.
For more info check out this article (which I used as a source for the above two paragraphs):
http://ultimateclassicrock.com/fast-times-at-ridgemont-high/
The soundtrack is kind of strange, because it has some weird attempts by 70's musicians trying to sound a bit new wave. "I Don't Know" is almost completely unrecognizable as a Jimmy Buffett song. I kind of like it, not that I don't appreciate Jimmy Buffett.
I'm just going to leave with this, a song missing from the soundtrack: