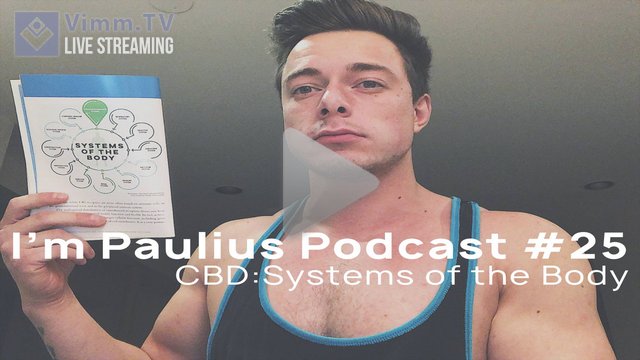 I'm Paulius Podcast #26: CBD Systems of the body
Category: IRL
Sub-category: health, fitness, hemp

Click here to watch the live stream!
---
This is part 3 of my CBD segmented. Today I'll be introducing a brief overview of 12 systems of the body which we'll explore deeper along the week.
-Endo
-Respiratory
-Digestive
-Endocrine
-Exocrine
-Sensory
-Renal
-Nervous
-Reproductive
-Cardiovascular
-Muscular/Skeletal
-Lymphatic/Immune
We started with the basics of CBD, learned about the cannabinoids, endocannabinoid system, CB1 & CB2 Receptors and the function of them.
Yesterday we learned about ways to keep your Endocannabinoid system healthy.
JOIN MY DISCORD COMMUNITY
https://discord.gg/s5axaRN
Stay gold,
-Paulius
---
Follow VimmTV (@vimm) for frequent updates, contests and giveaways for our early adopters!