Fraud is one of the challenges businesses face in the modern business environment, Infact it is estimated to be among the top 10 business's operational risks in 2018.
One of the solutions towards fraud elimination in our businesses is blockchain technology, blockchain technology innovative features such as distributed ledger technology has the ability to help businesses curb fraud from their business operations through the immutability of the records stored in the blockchain. Data management in the blockchain is secure and allows businesses have control of who has permission to view the data under their control, this can help businesses promote trust between partners and also allow businesses operate in a transparent supply chain, documents and information management among others.
( Video Source: YouTube - Introduction to V-ID )
One of the blockchain project powered by blockchain technology with an aim of eliminating fraud in our businesses is V-ID, the projects innovative platform ensures the legitimacy of businesses operations are maintained by allowing records tracking at the same time eliminating data bleaches and changes in a process that minimizes frauds.
V-ID works in a rather simple process where information is recorded on the blockchain and every other transaction is validated based on the records stored on the distributed ledger, the technology behinds distributed ledgers allows the documents to be stored securely, permanently and decentralized to minimize data hacking and exploits.
This technology is very helpful in the modern age when we are digitizing everything including our identity, certificates among others and ensure the data remains authentic across the value chain of businesses transactions.
V-ID is currently working on minimizing frauds when it comes to digital records to ensure their authenticity to prevent data manipulation.
V-ID Technology.
══════════════════════════════════
( Video Source: YouTube - V-ID verification live demo )
V-ID technology uses blockchain technology to validate documents to prevent frauds in business operations. The company has already partnered with existing companies such as Airbus Space & Defense with more from various industries such as education, research, medical among others.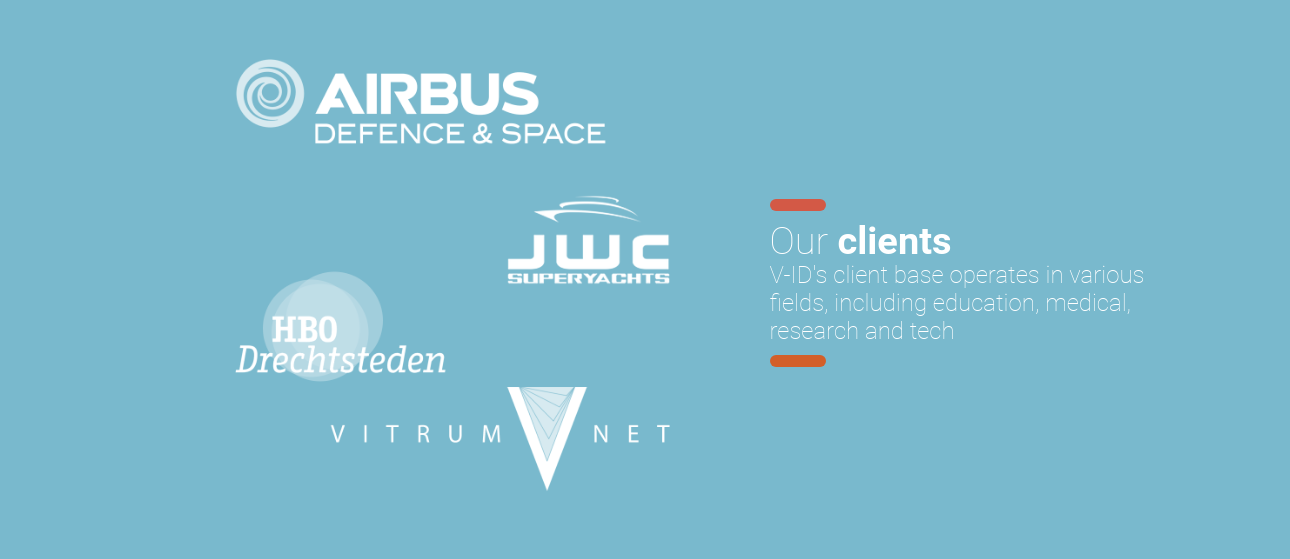 V-ID is scalable and organizations can use the platform in a decentralized environment towards performing audit trails, security footage validation, education certificates authentication among others.
V-ID Validation Process explained.
══════════════════════════════════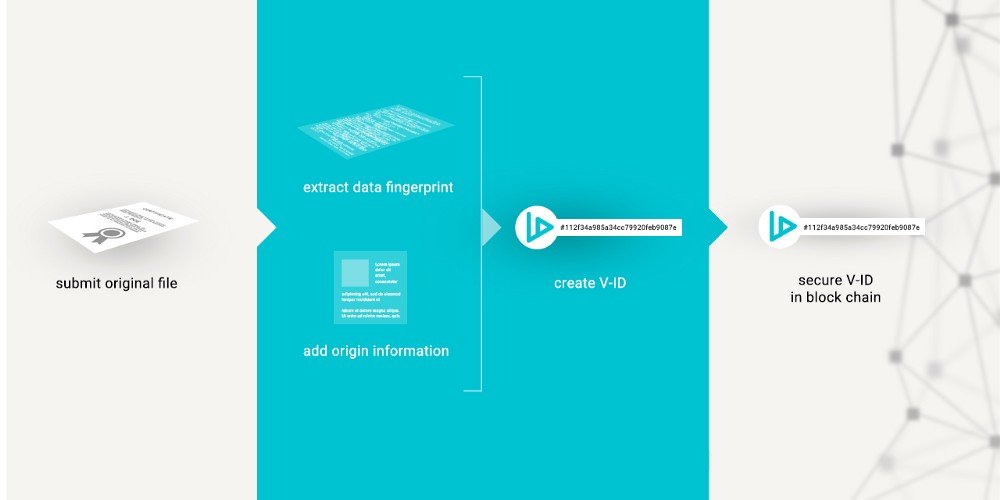 V-ID Validation process is simple, the publisher publishes the original document on V-ID network where its fingerprints are locked, the file then moves across the supply chain which is prone to integrity issues and finally reaches the recipient who receives the file and verifies the authenticity of the file by comparing it to the original document stored on the immutable distributed ledger.

Throughout the supply chain anyone can check the authenticity of the documents and get its authenticity at a click of a button.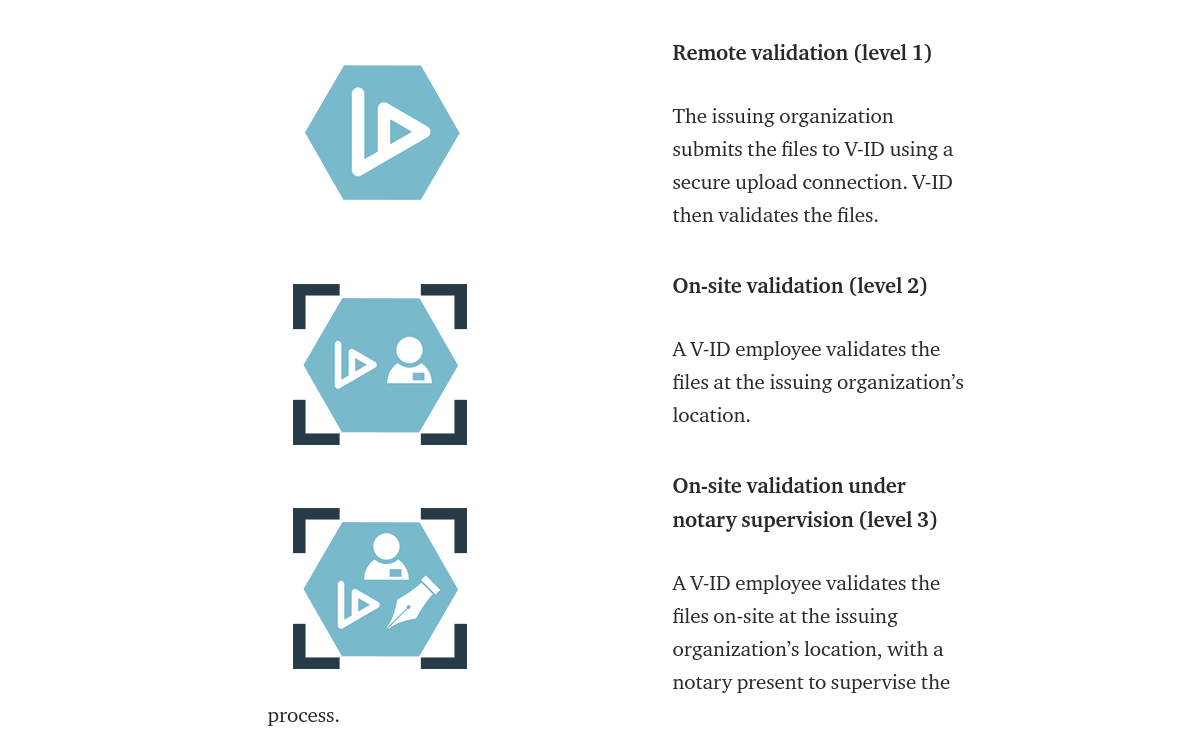 V-ID TOKEN Utility Value.
══════════════════════════════════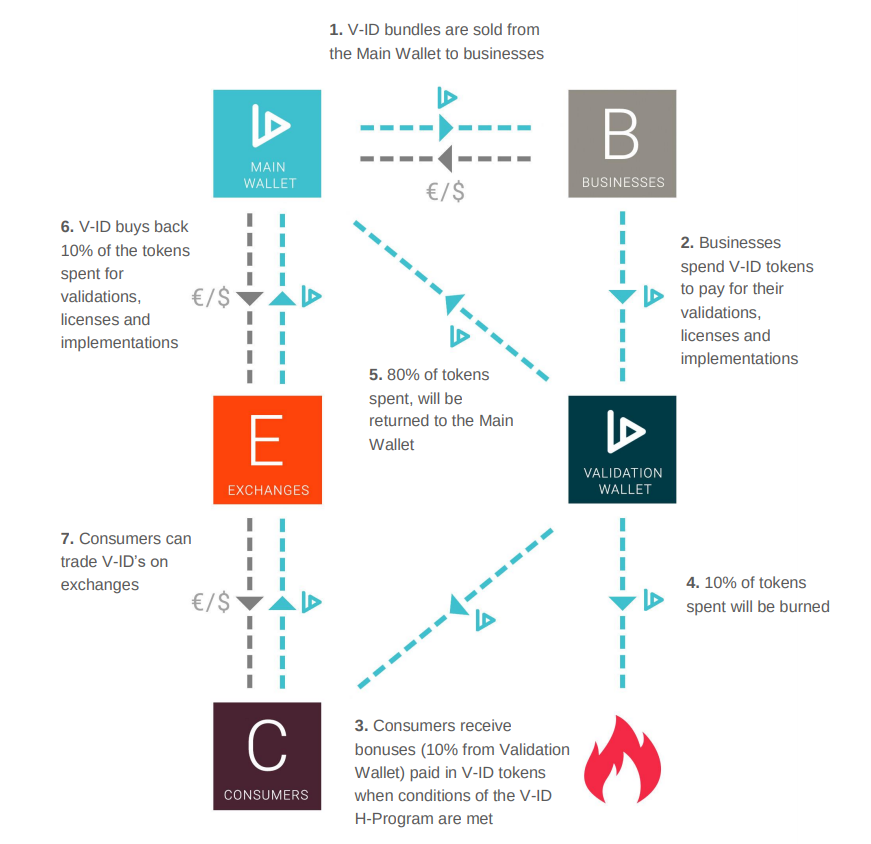 The V-ID token allows the platform to operate in its own economy to truly allow decentralized operations to take place. This includes processing of contracts during validation of documents without third party substandard services. Organizations will be able to make use of V-ID wallet to store V-ID Tokens allow validation of documents and digital files. V-ID will be used towards the process allowing the storage of the records on distributed ledgers where the records are stored in structural layers making it easy to use in validation.
V-ID ICO Announcement: Presale Details.
══════════════════════════════════
Start Date: 15/09/2018
End Date: 15/10/2018
Token Price: 1 V-ID = $0.20
First week bonus: 35%
Minimum Contribution: 1000 VIDT
Conclusions
══════════════════════════════════
Business are being affected by fraud activities in the supply chain, It is approximated that each individual in his lifetime will lose approximately $1300 and businesses approximately $16 billion to fraudulent activities each year. Traditional methods are ineffective and time consuming, due to the use of human verification methods which are prone to frauds.
V-ID is a game changer to businesses operations, V-ID platform will leverage blockchain technology to end fraud by allowing publishers to have control of their data by choosing who to share with, the data is stored in immutable distributed ledger which is hard to hack, exploit and make changes maintaining the integrity of the data in the value chain.

══════════════════════════════════
For more information on how you can take proactive and preventive measure on preventing data fraud across your business's operations, please take a look at the platform's website, whitepaper and social media pages below for more information.
References.
══════════════════════════════════
V-ID: Verification of the website V-ID: https://www.v-id.org/
V-ID ICO: https://token.v-id.org/?2
ANN: https://bitcointalk.org/index.php?topic=4918204.msg44277489#msg44277489
White Paper: https://token.v-id.org/page/v-id-business-white-paper.php
Facebook: https://www.facebook.com/V-ID-277311629500577/
Twitter: https://twitter.com/v_id_blockchain
Reddit: https://www.reddit.com/r/VIDT/
LinkedIn: https://www.linkedin.com/company/v-id/
Medium: https://medium.com/@pim_vee
Instagram: https://www.instagram.com/v_id_org/
Telegram: https://t.me/vidtoken
══════════════════════════════════
Author: jamesndungu1
BitcoinTalk Profile: https://bitcointalk.org/index.php?action=profile;u=1856049