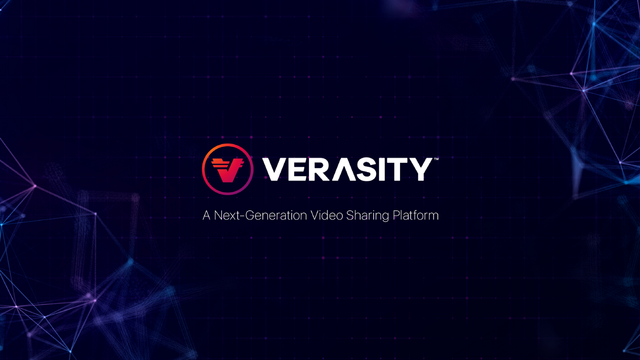 Hello friends. Today we will talk about one of the best projects in my opinion. It is very feature-rich and brings something new to the entire blockchain industry and video creators. Which can forever change the standard perception of monetization of video content, promotion of video content, advertising with video content, and also will allow all users to profit from the content they viewed. Today we consider Verasity and their video player which allows you to implement blockchain technology in all video services. Such as YouTube, Twitch, Vimeo, JWPlayer, Brightcove, Kaltura, VideoJS, Flowplayer, and Ooyala.
For me, this topic is also relevant. Because besides YouTube views. I have a channel that I would also like to monetize. I liked the ideas of this project. I would like to share them with you and tell you about the main features of this project. The project is not only directed to us by the creators of the video, but it also opens up new opportunities for attracting a new audience and makes it possible to encourage your audience in the form of cryptocurrency. And since we are a blog about cryptocurrency. I will try to introduce this technology to my channel.
Verasity

Created a unique video player that can be integrated into any platform that also uses advanced blockchain technology. The team solves many problems in the form of monetization of content and encouraging users. Now all users who watch your videos can earn cryptocurrency Vra (ERC-20) or VRAB (BEP-2). Thus, we reduce the tension between advertisers, content creators and people who watch videos. It's very simple to give an example of the YouTube platform when we watch ads, we people try to block in every way. Thus, the advertiser spends the budget without getting the desired effect. Channel subscribers also have a negative attitude toward advertising. But now this problem is resolved. By integrating Verasity into all well-known video platforms. Users will now receive rewards for watching your ad or video. Thus, remaining loyal to your channel. Let's see how this blogger works for us, and future users new technologies.

The best solution from the team. This is the use of their knowledge and the introduction of their technologies in the most popular platforms YouTube, Twitch, Vimeo. Now on these huge video platforms, it will be possible to monetize your data using cryptocurrency. Your subscribers will be able to earn money by watching your videos. Unique viewers will use Verasity. And make a profit. All well-known bloggers will not have to change their deployment to switch to any other platform. You will need to connect Verasity to your YouTube account. And of course, an explanation of how to use the new features for your subscribers. The integration of this video player into large networks is a success. They occupy almost the entire video footage market.

Well, friends. Let's see how you can use this for your purposes. Paying for your content to be watched will attract more and more audiences to your channel. The growth of your channel will allow you to use advertising. Having high rates of live users, he will be able to advertise from advertisers. And such an advertisement will cost much higher. Because all Verasity users are living people. Usually, we earn from our views. But here comes a loyalty program that will earn your audience. And now they will watch every new video. To receive your reward. Let's see how we connect Verasity to our channel.
VRA Rewards Wallet - you will directly need to connect to this program so that your viewers can receive rewards in the form of VRA cryptocurrency. How easy is it to do? I do not know yet. The fact is that you need to leave a request on the project website. Perhaps while such monetization applies only to large projects.

Go to the site: https://verawallet.tv/grow-your-audience. Fill out the required form. After that, team members must contact and confirm the possibility of connecting your channel to the Verasity service.

If all is well and your channel has been approved. You will need to purchase VRA on a cryptocurrency exchange. And inform your users so that they register. And we're able to receive awards.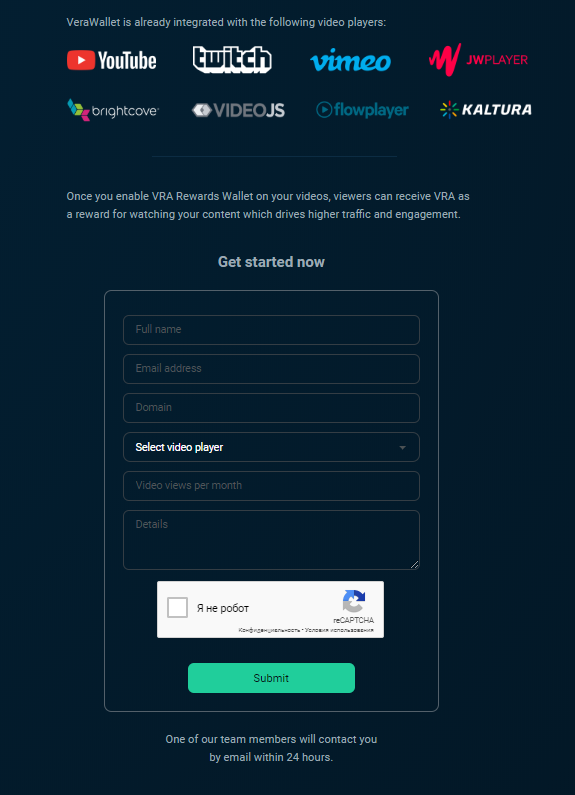 Well, dear friends, it's easy. Nevertheless, we need to do this to register Vera Wallet. Then we can receive a reward for watching videos from our favorite bloggers. Or where it's already possible to watch a video for a reward. Some large projects have already opened such an opportunity and you can already earn VRA coins. You can find out what projects distribute here https://verawallet.tv/earn-vra.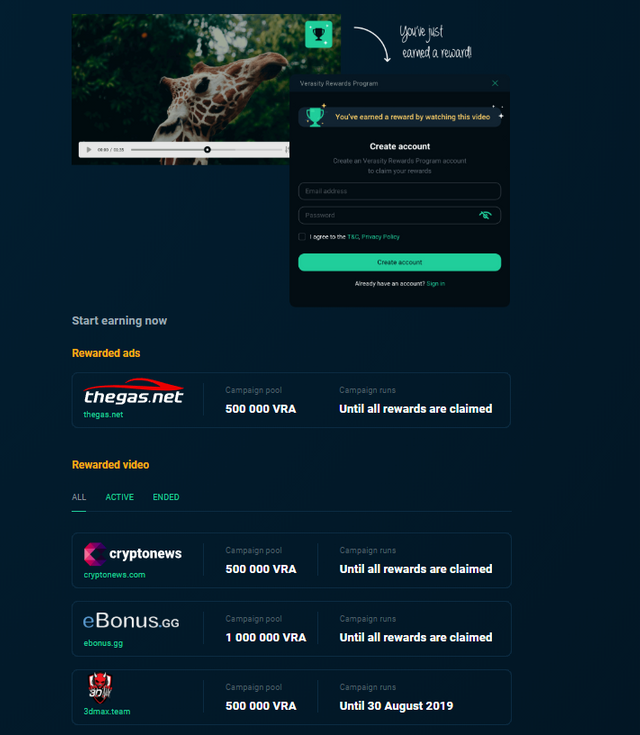 Conclusion

In general, I liked the project itself. New unique solutions. Opportunity to make money for everyone. The ability to attract a new audience to your channel. A unique opportunity for advertisers to interact with projects. Passive earnings for those who like to watch their bloggers. Verasity - made a huge step for the development of blockchain technologies and their use in everyday life. I will closely monitor the project. I'll try to connect my channel on this platform. Let's see what happens.
---
Website: https://verasity.io/
Telegram Chat: https://t.me/verasitychat
Twitter: https://twitter.com/verasitytech
Facebook: https://facebook.com/verasitytech
Medium: https://medium.com/verasity
Reddit: https://www.reddit.com/r/Verasity/
Russian chat - https://t.me/VerasityRU
Korean chat - https://open.kakao.com/o/gh8ZK0cb
Turkish chat - https://t.me/VerasityTR
Chinese chat - https://t.me/Verasity_CN
Autor
Bitcointalk Username: anatolij.shishkin
Bitcointalk Profile: https://bitcointalk.org/index.php?action=profile;u=2280356
Wallet: bnb1egtxgk9tezvfl2k29r52pw75u8ypqarkn93ksl