A LUCKY ONE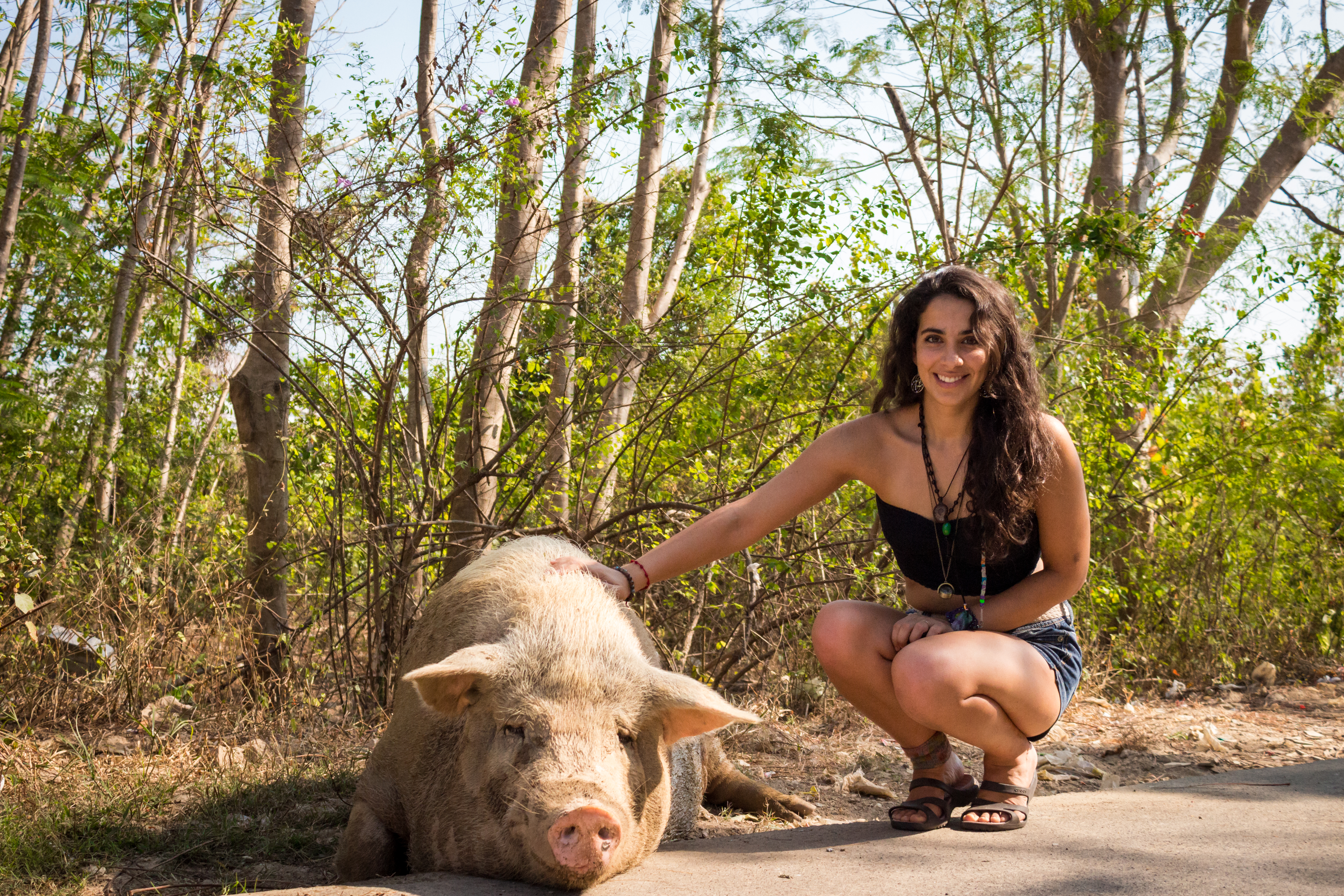 A beautiful piggy who I met in Thailand, she was destined for slaughter but instead won the hearts of the people around her who ended up sparing her life.
THE UNLUCKY ONES
This flyer really grabbed my attention. On sale at 1$ per pound is a (not so) pretty pink ball, with a sticker "Olymel" Labeled "smoked pork picnic".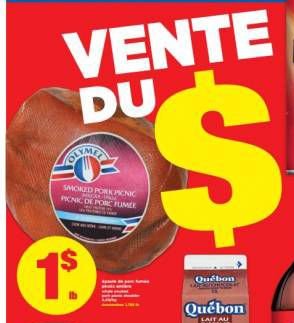 I recently attended a vigil outside Olymel slaughterhouse and watched truckloads of frightened, shit covered pigs going in. Most of these victims, go in silently, with no one around, at all hours of the day. Few protest their death, rather the majority are paying for it.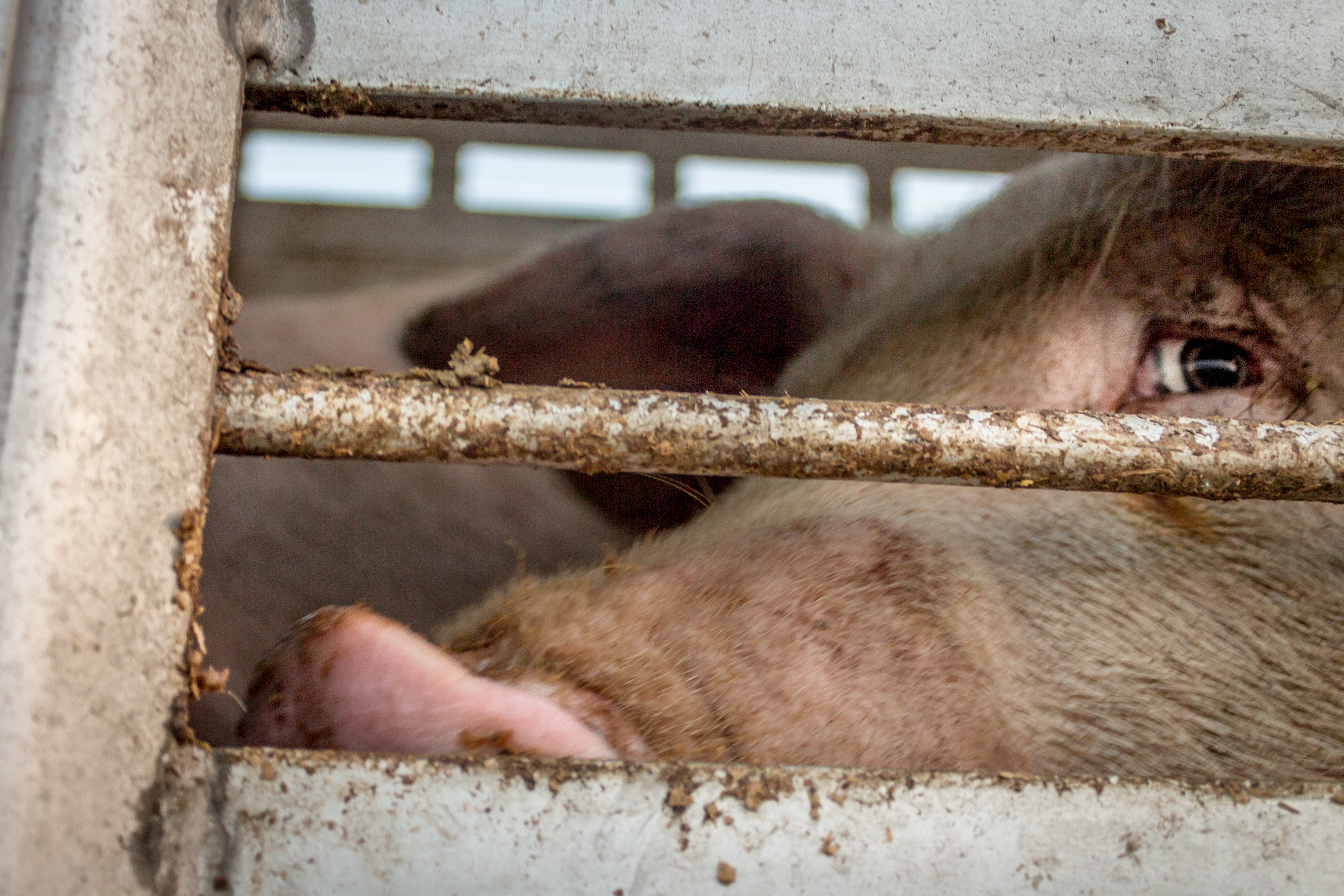 YOUR IGNORANCE IS NOT BLISS FOR THE VICTIMS
I think we owe it to these animals to see them. Not to distance ourselves from their suffering, and turn a blind eye. Bearing witness is a blast of truth, hitting all our senses.
This ominous and opaque building is the slaughterhouse. there is a barbed wire fence at the perimeter, we cannot see what goes on inside. However, when the doors would open we could hear pigs screaming.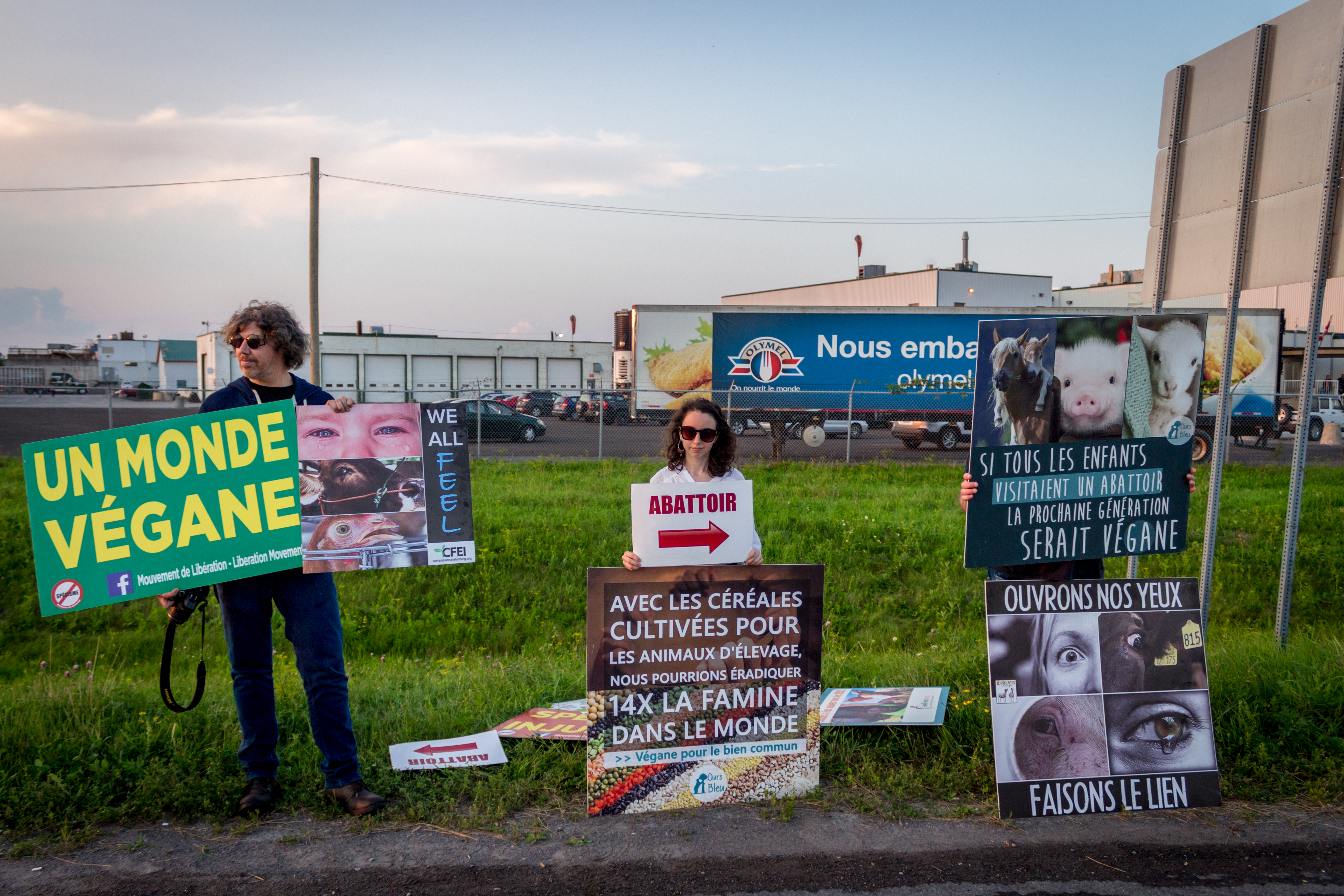 HUMANS ARE PREDATORS
Do you know anyone who drools when they see an animal being slaughtered? If I did, I'd be concerned, to say the least. If you think humans are predators, should children "harvest" their own meat?
Video credit : VegAnimation
WHO ARE YOU FORKING ?
Now you can get a glimpse into their world. See through their eyes, from birth to death in a few minutes.
iANIMAL PIGS
CHECK OUT THIS IMMERSIVE 360 DEGREE EXPERIENCE, YOU CAN DRAG AND ROTATE WITH THE MOUSE TO SEE ALL AROUND, GO FULL SCREEN & TURN UP THE SOUND :
Weather you are vegan or not, we all must go to the slaughterhouse to see the animals going in. In fact if you are consuming animals, then you need to see it even more. Know where your food came from so you can make an informed decision on whether you really want to eat it.
I know many people who refuse to go because they say it is "too hard" to see. How can something simultaneously be too hard to watch, but so easy to pay for and consume? In my personal experience, it is much more rewarding to be there than not.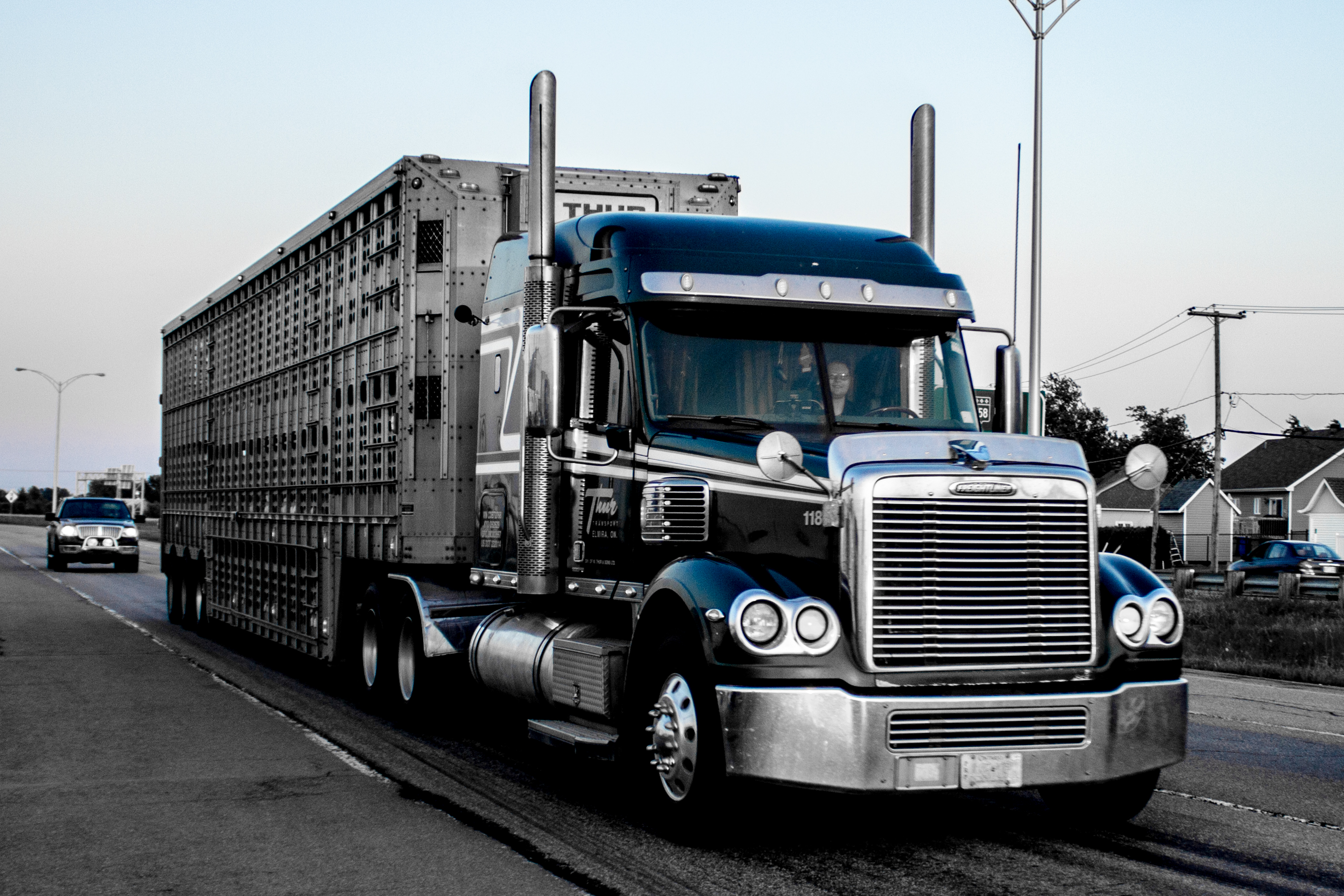 The fact is, these animals are going in to die weather we are there or not, by being there, we can be a voice for them, even without speaking. Just by standing there and holding a sign, helping passersby make the connection of what is happening behind these closed doors.
At the same time, it's an opportunity to take photos and video and share it online, to promote awareness. To share with the people who do not go, a glimpse of who's bodies are being chopped up and sold.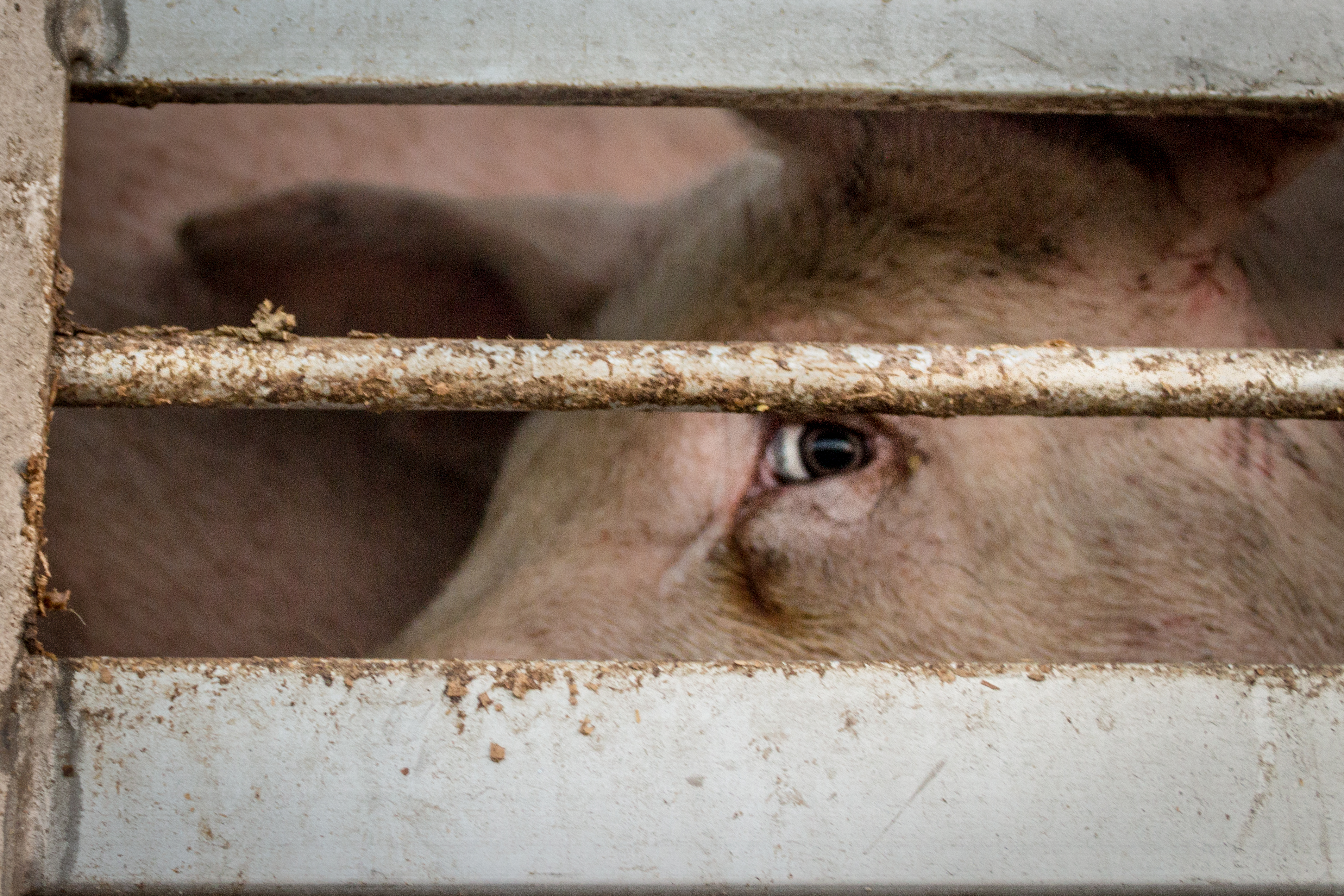 Find slaughterhouse vigils happening in your area, I challenge you to attend. You just have to show up, there are dedicated organizers and activists who will help you, and give you material to hand out or signs to hold.
It is also very inspiring to connect with other activists, it is motivating to be around people who see this injustice and want to stand up against it. Especially when most people will go out of their way not to look.
As it gets dark we show the documentary Earthlings. It's similar to a window showing what is happening in animal industries.
In Montreal the group I go with to slaughterhouses is called "Movement de Liberation - Liberation Movement". To get involved join the Facebook group and attend a vigil or event.
Get online and find animal advocacy groups near you, or if you cant find one then start one. You can also go to a slaughterhouse by yourself, take pictures and videos and share the experience online.
We all make a difference, standing up for animals is actually the biggest impact any single person can make. To go from being the unknowing aggressor, to being a protector of the innocent.
MOUVEMENT DE LIBERATION - LIBERATION MOVEMENT
https://www.facebook.com/Mouvement-De-Lib%C3%A9ration-Liberation-Movement-233077040235706/
Photos by : Fire and Ice Montreal Photography - https://www.fireandicemontreal.com