I read some stuff about veganism and vegetarianism today and it sort of got me thinking a bit. So I thought I would share some of that thought process with you – as you do.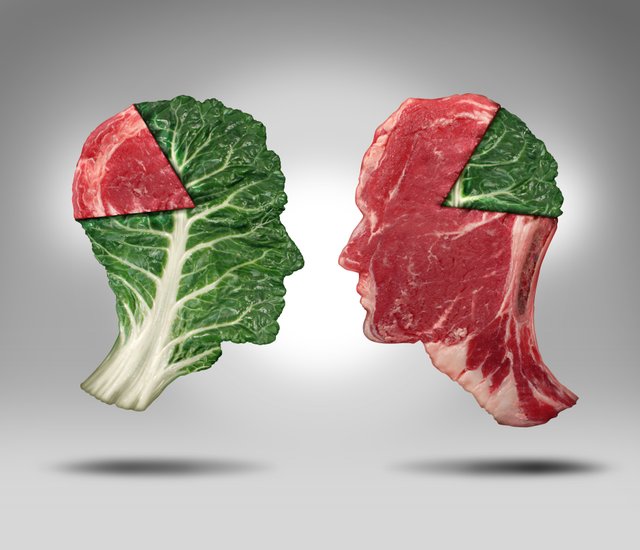 Just so you know where I am coming from, I am an omnivore. I eat both pants and meat (and very occasionally, McDonalds. Which can't really be classified as food).
I love my vegies, and we eat mostly vegies (and icecream mmmm….) in our diet. We eat fish and / or other meats two to three times a week. Sometimes more if we eat out.
The debate around whether or not we should eat meat is quite interesting and bears striking similarities to the various debates about whose God is better.
Both camps are firmly entrenched in their viewpoints, both think the other side is morally wrong and should burn in hell forever for even contemplating a different viewpoint. Both are equally rabid, both are equally wrong.
But how can they both be wrong?
Stick around and you might just find out. Or I might wander off onto another tangent half-way through and neither of us will ever find out.
From the vegan / vegetarian view
Those who consume meat and animal products are inherently evil because the support cruelty and torture of animals.
We don't need meat to survive.
We can lead full and happy lives without having to resort to the murder of innocent animals.
Their goal is to minimise their impact on the animal world by only eating (and using, for vegans) plant based products, and products that don't exploit animals. (in general)
Think of them as gentle Buddhist monks just trying to get through life without causing any harm.
From the meat eater's point of view
We evolved to eat meat, and in doing so we got smarter, our brains got bigger, and all we have today is the result of that. If we didn't eat meat we'd still be chimpanzees. (And it is a fair call that some of us still are)
We eat meat because we like meat. We don't support torture and cruelty of animals. We don't even think of the animal when we chow down on a nice juicy steak.
Humans are a top predator – at the top of the food chain, so it is fair enough that we eat other animals, just like other top level predators. It's part of the natural order of things.
And this is where things all start to come apart.
The vegans view the meat eaters as evil.
The meat eaters view the vegans as unnatural.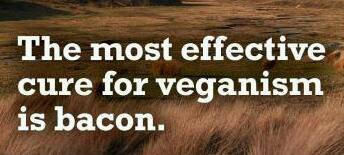 image source
This may be a 'funny' meme, but it strikes at the heart of the argument form the meat eater's perspective. They view the vegans as having a disorder that needs to be cured.
Which is wrong.
Meat eaters are also very quick to point out the hypocrisy of veganism. While they may not eat or wear something that comes from animals, the people who made those products did. The fertilizer used to grow their food is probably animal based (bird guano for example). And a million other small (and petty) points where the ideal of doing no harm or exploitation of animals falls down.
The slightly more informed meats eaters might also point out that science is just now discovering that some plants may in fact, be sentient.
So how do you deal with that as a vegan / vegetarian? If your strawberries can feel pain and terror, would you still eat them? And if you would, does that destroy your whole argument about not wanting the animals to suffer?
Many vegans (well ones that I have met anyway) are quite earnest about their desire to inflict no harm, and are generally concerned with coming up with new and interesting ways to make delicious food from the vegies and fruit they have available to tem. And of course, converting meat eaters to their side of the debate.
Where meat eaters think vegans need to be cured, vegans think meat eaters need to experience what it is like to be a lamb to the slaughter, because - "that'll teach them."
Neither of these strategies work.
You might win the odd convert to either side, but it will be more about the attractiveness of the person holding the debate, and the perceived chance of hooking up with them if they change sides, that will drive the change of habits.
And if the 'hook-up' doesn't happen there is a pretty good chance that the 'convert' will 'revert' as soon as possible.
So what to do?
Start by recognising and valuing that we all have different viewpoints.
And that those viewpoints are valid.
This is very important.
You eat what you want to eat because this is what you believe.
I eat what I want to eat, because this is what I believe.
The fact that we have different viewpoints is not a problem. In fact it is a good thing. It doesn't mean we have to be at war with each other and try to pull each other down.
I'll give you an example.
My wife likes squid. She likes squid a lot.
I can't stand squid – the smell of it cooking, the taste, texture, everything. I've eaten it a couple of times. I've tried to like it, for my wife's sake. But if I never eat squid again, I won't die thinking I missed out on something.
My wife no longer tries to get me to eat it. She is free to eat it any time she likes. But she knows that I won't ask for any, so she can have it all to herself.
She does not try to convince me that it is the best thing since sliced onion, fried in butter, on a bar-b-que in summertime, with a beer in your hand….
And I don't tell her not to eat something with tentacles that will reach up from her plate and choke her to death one day.
We respect each other's different viewpoint. (we tease each other about it obviously, but we do so with respect)
And this is what is required from vegans / vegetarians and meat eaters.
STOP trying to hack each other's arguments to death.
Stop trying to say why the other side is wrong.
Stop vilifying people and blaming them for things that they themselves had no part in.
What ten year old needs to be told that they are cruel and heartless for supporting animal cruelty because their parents took them to get a burger?
STOP trying to convert each other by beating each other to death with invalid, emotive arguments.
Your call to action
Vegans and vegetarians
Instead of telling the meat eaters how terrible they are, share some of your recipes and tell them it will be great as a side dish. Talk about your love of food, and share that interest with them.
Get the meat eaters liking what you eat. Give them a reason to want more vegies.
My wife is Greek Orthodox and a big part of that culture is vegan food. I like the vegan dishes my wife makes. But I would never have tried them if she hadn't introduced them to me.
You may never convince them to give up meat, but you may significantly cut down their consumption of meat and quietly get them thinking more about what they eat.
All progress is good progress.
Meat eaters
Vegans and vegetarians don't need to be cured. There is nothing wrong with them. They don't need a good old bacon sandwich dripping with fat so they know what they are missing out on.
We all know that somewhere along the line animals will be impacted, no matter how earnest and pure the vegan's intentions. But at least give them kudos for caring and for trying to live as cruelty and exploitation free as they can.
Make a point of at least trying to source your meat from places where the animals are well treated.
Engage with the vegans and vegetarians and get their recipes. A lot of their food is scrumptious. It's not just boring old soggy leeks and roasted dandelion nuts. I have had some stuff that is just divine to eat – full of flavours and textures and just mouth watering. (I'm drooling just thinking about it)
If both sides engage and share the part of the argument that unites them, the love of good tasting, healthy food, then I really think that they will discover they have a lot more in common than they might think.
Friendships might be made, points of view altered and a brave new world where we are not vegans and vegetarians and meat eaters might emerge. We might find a world where we are all lovers of good food and we all share in our responsibilities to ensure our food is well grown and treated and harvested.
But don't do this for my sake.
Do it for the piglets. The poor, cute, little piglets.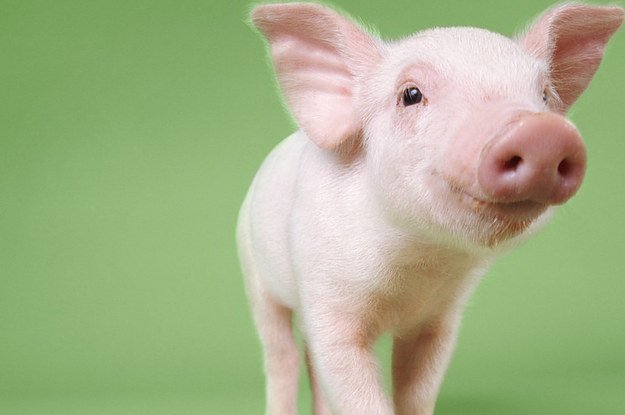 image source
---
Check out my stories here on Steemit
Running Deer
Running Deer - part 1
Running Deer - How legends are born
Charlie Rabbit
Meet Charlie Rabbit
Charlie tides up
Charlie Rabbit and Margery Mouse
Charlie Rabbit and Margery Mouse make music
Little Peppers Adventures
Runaway Rabbit and the hungry fox
Maybe and the land of purple rainbows – A Little Peppers adventure
How Pappa Pepper and Monster Truck the Pepper got their wild hogs - a Little Peppers Adeventure
Dark Angel Regiment of the Space Marines - Mission Files
First Squad Sniper Elite - Zaresith mission
Other stories
---
Also don't forget to check out my Dad's blog
Who else can tell you stories about impersonating an officer, stealing a military aircraft to go on a booze run, or steal military aircraft and go on an unsanctioned bombing run - and that's all before he turned 18!
Check out @len.george and find out what other madness he got up to!
---
Are you new to Steemit and trying to figure out what it's all about?
Head over to: https://www.steemithelp.net/. It's the best place to get a handle on what the platform is all about.
---