Hey there folks! We have had quite the rainy week, so it has been pretty perfect for a warm bowl of soup. I think after this last round of storms today some colder air is coming in next. Which means more soup for next week to come! I know plenty of my other pals on here enjoy a warm bowl of yumminess, too.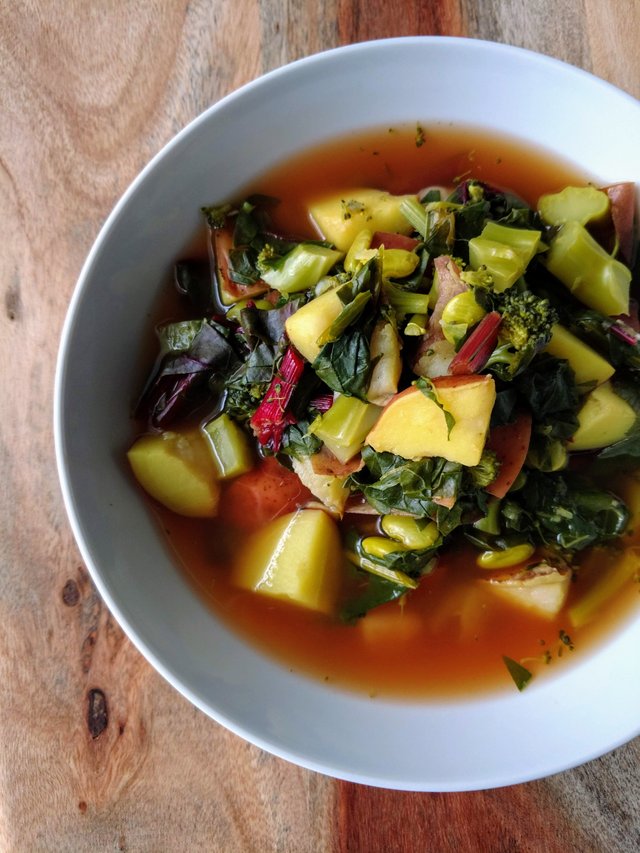 As usual this was a pot full of my fresh farmers market goodies. Having such wonderful local produce continues to excite me every week. These farmers just wow me with the fantastic veggies they bring to the table. I knew the root veggies like potatoes and the broccoli are making a strong appearance right now, but I have been really surprised to continue to see the butter beans the last few weeks. They are definitely a big part of Southern cuisine, but if you do not have access to such lovely little beans then you can absolutely substitute what you can get locally. That is one of the best things about cooking--find inspiration from people all over the world and then cater your meals to what you have access to.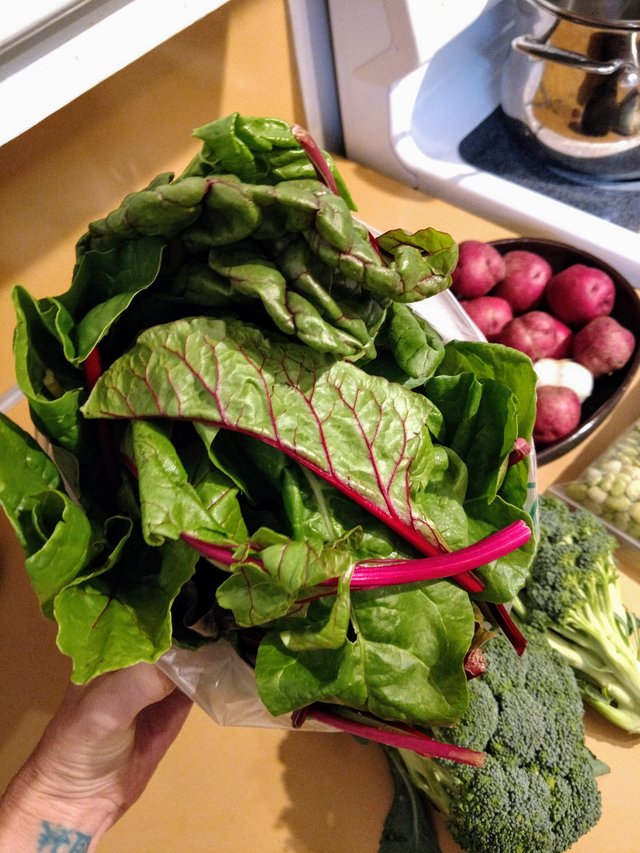 We've been drying some of the oregano from our garden that has been doing really well, so I used some of that in this. I'm sure at some point the plant will die off for the winter, but it is really easy to dry for use later. On the spice front the smoked paprika totally stole the show for me in this meal. I love the richness that the bit of smoke imparts to really flavor the whole bowl. I've also been fighting the start of what feels like a cold, so I figured some turmeric would help add to the immune-boosting properties of a warm bowl of soup. So far it hasn't progressed, so perhaps it is doing the trick! If nothing else it does taste quite delicious regardless.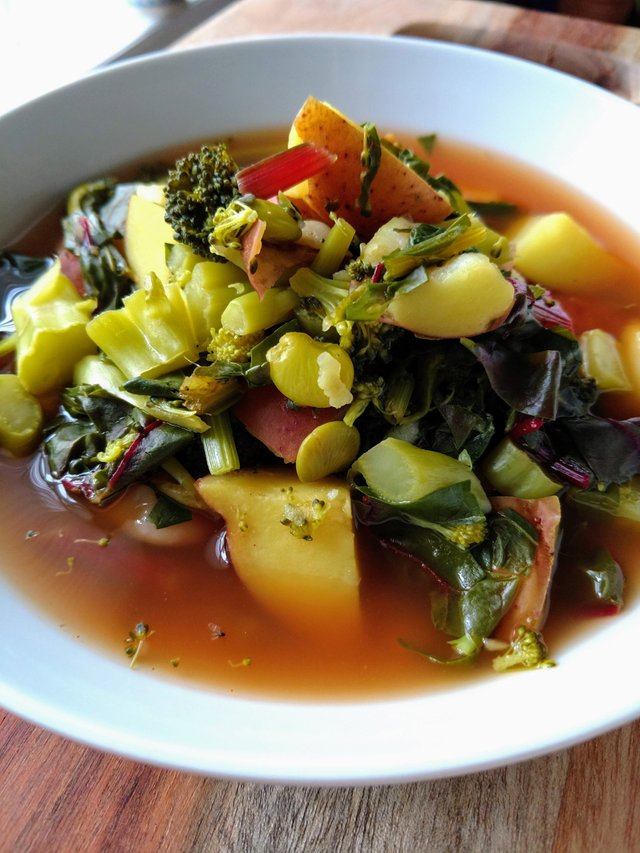 Red Potato, Broccoli & Butter Bean Soup
Makes 8 servings
2 pounds small red potatoes, washed & quartered
1 pound fresh butter beans (or about 2 1/2 cups of your favorite cooked bean like white beans or chickpeas)
8 cups water or low-sodium veggie broth
1 teaspoon smoked paprika
1 teaspoon dried oregano
1 teaspoon dried thyme
1 teaspoon ground turmeric
1/4 teaspoon cayenne powder
2 small broccoli crowns, cut into florets
4 heaping cups chopped rainbow chard (can sub kale or another green)
2 tablespoons white miso
2-3 tablespoons apple cider vinegar
Place your potatoes & beans into a large stockpot and cover with the water or stock. Stir in your spices and bring to a boil. Reduce heat to low and simmer partially covered for 15 minutes.
Next add in your broccoli crowns and continue to cook for 15 more minutes or until the vegetables and beans are cooked through. I like my broccoli to have a little bit of texture at the end which is why I prefer to add it later on in the cooking.
Once the soup is done remove from heat and mix in the chard to let wilt. Mix the miso with a quarter cup of the soup broth so you don't end up with chunks of miso in the soup, then stir in along with the vinegar. Taste and adjust to your liking. Enjoy!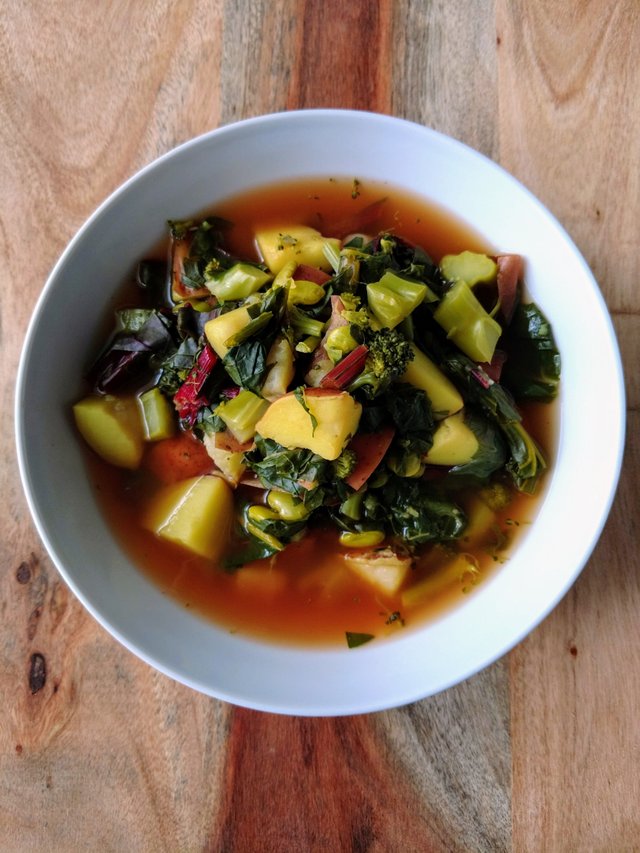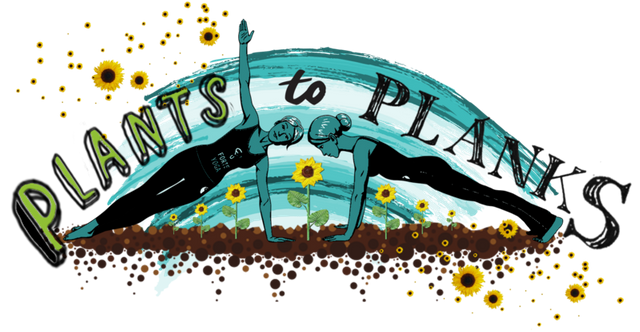 Banners by @woman-onthe-wing, @dksart and @bearone for @steemusa