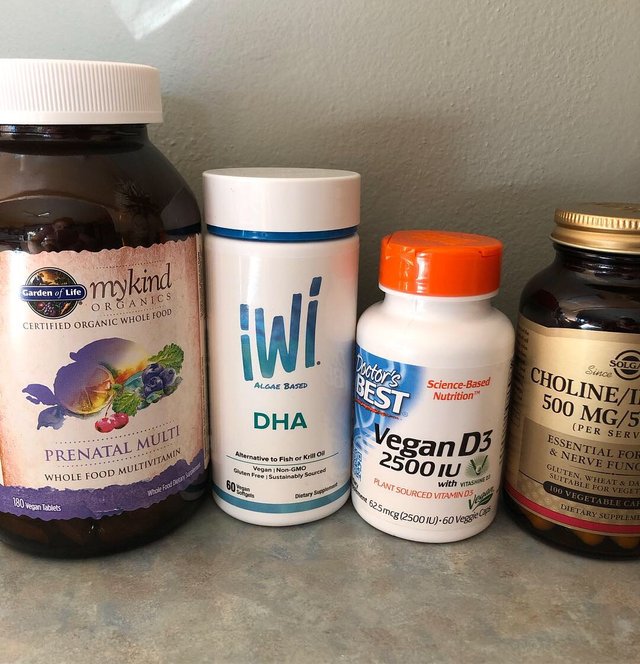 Women need more calories, protein, and certain vitamins/minerals to meet the needs of their growing baby during pregnancy (and later when breastfeeding) ~Building your nutrient stores~
Certain nutrients are very important to protect the developing baby from certain birth defects as well as ensuring the baby is off to a healthy start.
Folate - women attempting to get pregnant need 800-1000 micrograms of folate (do not exceed 1000 micrograms) Already pregnant need 600 micrograms.

Vitamin B-12 - Before you are pregnant 2.4 micrograms daily; once you are pregnant 2.6 micrograms daily.

DHA - 300 milligrams daily for pregnant and lactating women.

Calcium - 1,000 milligrams daily (not exceeding 2,500 mg), preferably one with Vitamin D (helps calcium absorb) Fortified plant milks is another option. Take separate from iron.

Iron - 30 milligrams per day; take between meals with a source of Vitamin C

Iodine - 150 micrograms of iodine (use iodized salt)
*Choline - 450 mg daily
Vitamin D3 - 600 IU daily

Additional: Zinc, Vitamin A, B Vitamins Thiamin, Riboflavin & Niacin (Majority of above should all be in your prenatal vitamin)
~GET EDUCATED~
Checkout out www.Plantbaseddoctors.org to find a vegan RD in your country, or ask your health care provider for a referral- most hospitals have RDs who provide outpatient counseling.
www.TheVeganRD.com and www.Veganhealth.org are both informative sites by Vegan Registered Dietitians.
Finally, purchase, "The Everything Vegan Pregnancy Book" by Reed Mangels for answers to your vegan pregnancy nutrition questions.
🤰Vegan Pre/Postnatal Fitness Program coming soon! Sign up for the mailing list and be the first to know.
🌎www.HollyBrownFit.com
📩[email protected]