The post I made previously about cooking covered some of this, but I've been learning a lot lately and wanted to share some of it. The diet that I try to stick with is a whole food plant based diet. The reason I follow this diet is because it appears to be the best diet for my body, my wallet, and the planet.
Since becoming an adult and cooking for myself (about five years now) I have been trying to be as healthy as possible with the least amount of effort. Most of that time was spent doing things I thought were healthy, but currently I have been learning a lot about diet and disease prevention and realized that I was very wrong for most of the last five years. My whole life my dad had worried that I didn't have enough weight on my bones. This led me to gaining about 20 pounds during my first semester at university worried that I wasn't bulky enough. The culmination of this was when I ate two eggs, two strips of bacon, two pieces of toast and a fruit smoothy every day for breakfast thinking that this would be healthy because it would help me put on weight. Now I know that my healthy weight is around where it always has been and that all the extra weight I had been trying to put on was unhealthy.
During that two eggs a day, I met my girlfriend who was vegetarian. She never pushed me to not eat meat, but I had always wanted to eat less meat for environmental reasons. Additionally, eating meals together has always been something my family has done. So I learned how to cook a few vegetarian dishes and ever since I've been eating much less meat. When we moved to Oregon, eating vegetarian got so easy that my girlfriend became vegan. I still ate meat when I had the chance, but I started learning more about healthy diets. There are a host of sources that I drew from, Mic the Vegan, Kip Anderson, Dr. Greger, and Caldwell Esselstyn have all pointed to a whole food vegan diet being exceptionally healthy. If you look long enough you will start to find a lot of research on this subject touting whole food veganism as being good for your body.
As I mentioned earlier, it's also great for your wallet and the planet. Together, my girlfriend and I spend about $70 a week on groceries which equates to $5 a day for food. That's not bad. When it comes to the planet, animal agriculture is the second biggest source of greenhouse gas emissions. This doesn't even take in to account the water use or run off pollution that is not particularly good for the planet.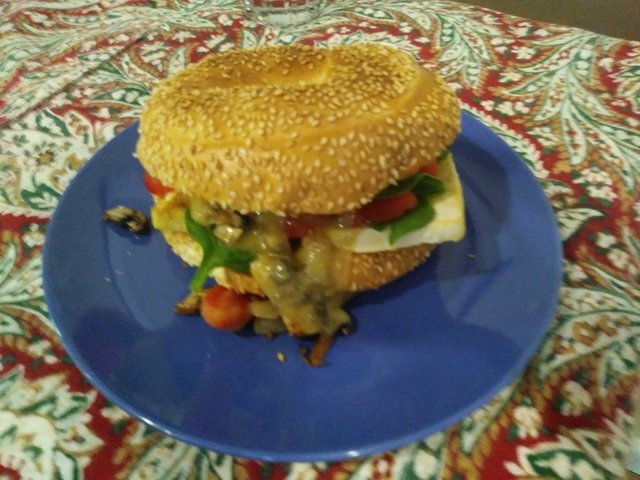 (whole food vegan breakfast)
I still don't quite call myself vegan yet, (I still eat meat occasionally) but knowing all the benefits of whole food vegan diet has definitely improved my health and improved my life.