Steemit Iron Chef 2018 Act 01 Round 05: 🍫🌰 🥜Seriously nutty indulgent HEALTHY chocolate breakfast bar bites!🥜🌰 🍫
Here is my entry for the vegan chocolate contest @deliciousplants and iron chef contest (nuts) @progressivechef and thank you both for creating such motivating and fun challenges each week! Here's my entry: Seriously nutty indulgent HEALTHY chocolate breakfast bar bites!
---
Ditch the coffee and think of RAW chocolate for breakfast!!! Raw chocolate is only gently heated so the properties of the cacao bean are not cooked away, this means you will benefit from a whole load of nutrients and minerals. (Roasted cocoa and coffee do not have nutrients) Raw cacao is a stimulant and is good for brain function, aids memory and prevents Alzheimer's. It also contains fiber aiding digestion and weight loss (unlike coffee that has no fiber and causes your sugar levels to rise and crash, therefore making you crave higher fat foods). It's great for pain relief and boosting serotonin levels, we all need this but especially good for people suffering with depression or those who need motivation to work out. Nuts, give us essential healthy fats and energy so topped with Raw chocolate is a perfect grab and go breakfast snack, booster before the gym or a pick me up when you are lagging.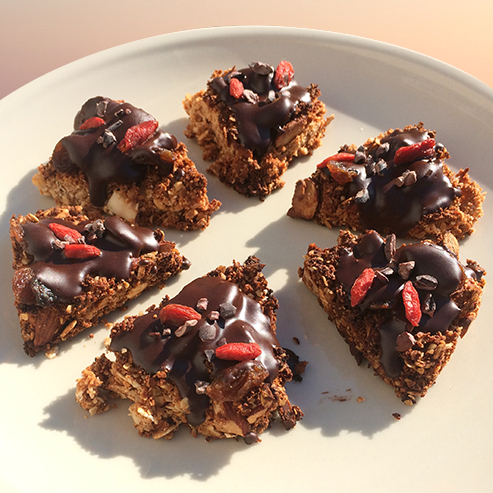 These are great because you can prepare a whole batch for the week ahead. There are two stages, first you need to make the nut base and you can actually save half the batch for plain granola, it is way healthier and nutritious to home baked granola and sometimes cheaper depending what brand you buy. All you need is mixed nuts, almond meal, coconut flour and/or flakes, seeds, chia, coconut oil and natural sweetener, agave / coconut nectar, combine together and bake! I'll be posting the step by step method soon, watch this space....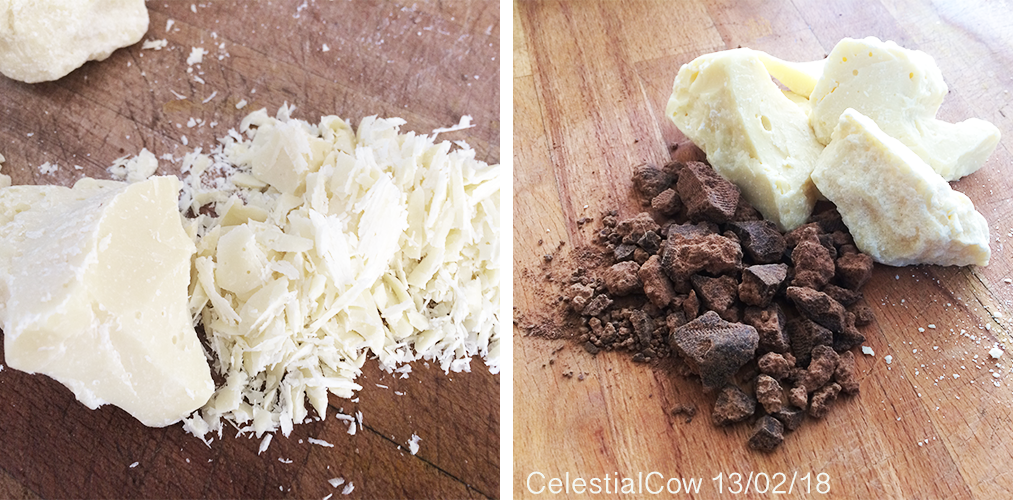 Once the granola mixture has cooled you can cut it into slices and add the Raw cacao topping, to make Raw chocolate sauce please check the full recipe of how to do that here. Whilst the choc sauce is setting sprinkle with cacao nibs, goji berries or whatever you like. Store in a cool place so the cacao solidifies, once set, transfer to an air tight container to save for the week.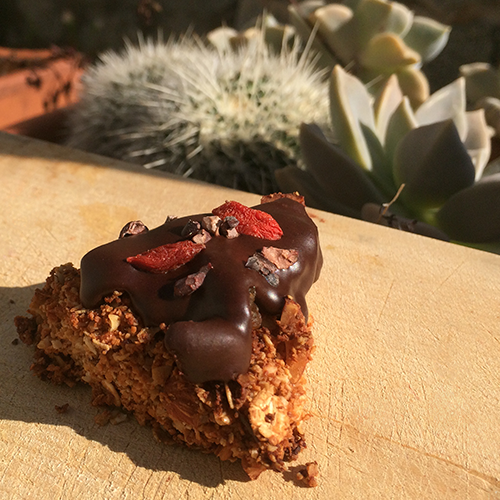 I hope you enjoy these healthy delights just as much as I do, i've added some more information on why Raw cacao is so healthy for the body. Please try to source high quality, organic and sustainable Cacao, labeled RAW to get the full benefits of what cacao has to offer. Raw chocolate is strong and different to ordinary chocolate, you might find, like I did, sweet cravings reducing if you switch to using this ingredient.
---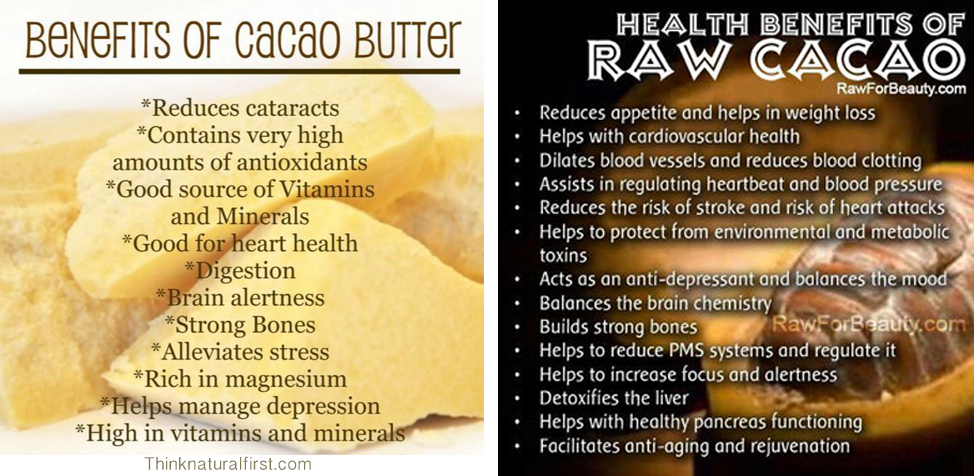 ---
🥑 🍎🥝 🍉 🍇 🍐🍓🍈🍋🍑 🍍🍊🍌🍏
For more health and diet tips, check out @celestialcow....

switching to a plant based diet 🌱 can change your life and change the world
✌️Join the food revlution now✊
All images are created by @celestialcow
Thanks for reading