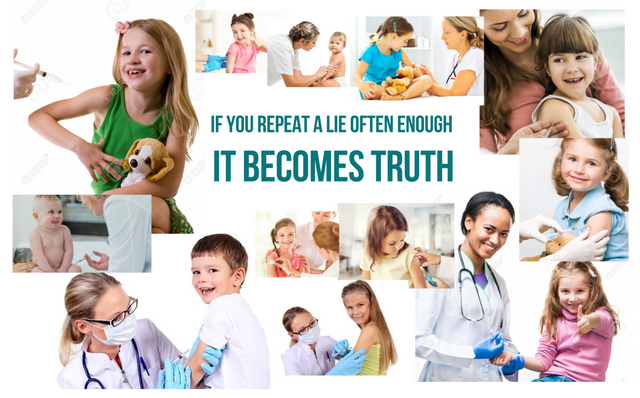 The American Medical Association (AMA) recently urged big social media & tech companies including Amazon, Facebook, Google, Pinterest, Twitter and YouTube to "help combat the spread of misinformation about vaccinations on their platforms" and since then a co-ordinated effort to shut down the debate on vaccine safety has begun.
These companies represent a huge section of the internet and now that they are actively reducing the visibility of those speaking out against vaccines I am left wondering how this will effect the younger generations who rely so heavily on these platforms to provide links to world news & events? Their perspective will be very one sided and a generation from now the brainwashing will be complete.
Removing one side of the argument does not take away from the fact that there is still an argument! Shouldn't all of us be entitled to at least hear the argument and make our own mind up?
Not when their strength is built on our ignorance.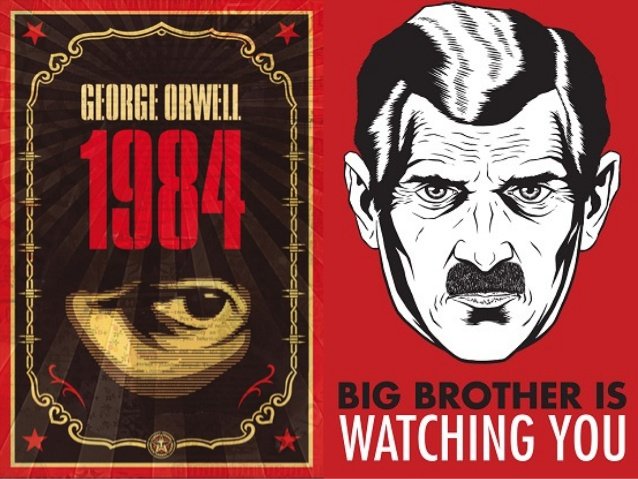 George Orwell was spot on, but Big Brother is not only watching you, he is controlling what you see and how you think. And he does not have your best interests at heart.
The move to shut down the debate was encouraged by the World Health Organization, in the name of public safety, giving this as their reason:
The WHO recently named "vaccine hesitancy" as one of the biggest global health threats of 2019. The designation comes as the United States grapples with a sudden resurgence of measles, a disease that was declared eliminated in 2000 by the CDC as a result of extensive use of the measles, mumps and rubella vaccine. More than 100 cases have cropped up since the beginning of the year — more cases than were reported in the United States in all of 2016. Washington Post
"one of the biggest global health threats of 2019"?
This is absurd! Knowing what I know about vaccines it seems to me that the biggest threat to our health is the creation of a one sided argument, dictated by those selling the vaccines.
"grapples" with more than 100 cases of measles?
What exactly were they grappling with? With a population of over 300M, just 100 cases hardly seems worth mentioning. Yet mention it they do.
Just to clarify, measles is very unlikely to kill you unless you are severely malnourished. And once you have had it you will never have it again, so to all extents and purposes it is the most effective vaccine out there. And it's free!
Why is there so much fear around this disease? Back in the 'old days' getting measles was all part of life and no big deal. I remember having it myself.
Let's take a look at exactly what these companies are doing:

Last month YouTube demonetised anti-vax channels disincentivising people to make films about this subject.
They have also added 'facts' from wiki under anti-vax films (amongst others):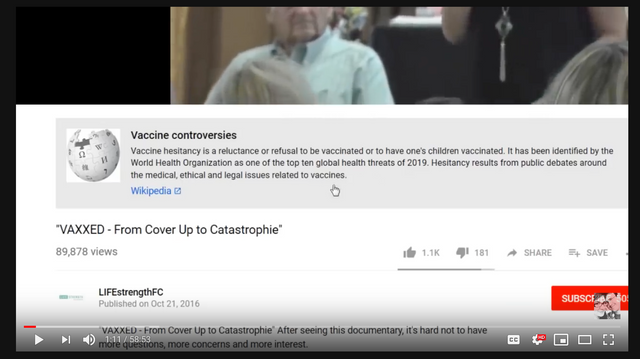 Where are the 'facts' under pro-vax films pointing us toward the other side of the argument?
Not likely.

Just in the last few weeks they have started removing anti-vax films from their Prime Video streaming service:
Facing Public Pressure, Amazon Pulls Anti-Vaccine Content From Prime Video
CNN are also calling for a ban on anti-vax books being sold on Amazon:
Anti-vaccination conspiracy theories thrive on Amazon
Let us not forget that Amazon also owns Kindle.

Facebook made an annoucement a week ago, entitled Combatting Vaccine Misinformation, a section of it seen here: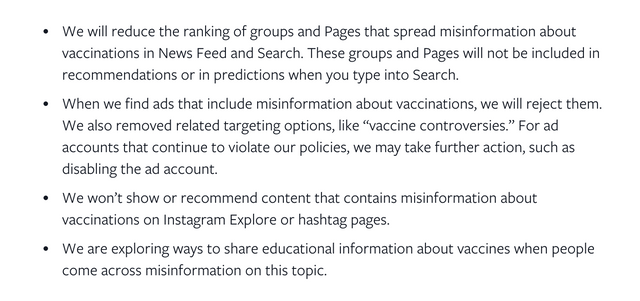 That last point sounds a lot like they will end up with a similar system to YouTube where wiki 'facts' are forced upon us when viewing content which challenges the status quo.

Initially they blocked search results related to all vaccination subjects, stating that they were looking for a "more effective" method of dealing with this.
Today they have reduced the visibility of anti-vax tags and if you Pin a subject which questions vaccine safety your message from them will be this:
One or more of your Pins about vaccines has been highlighted as containing medical misinformation. Per our policy, this content will remain available to you, but it will be hidden from circulation on Pinterest as it contains claims that are considered to be misleading or inaccurate by the medical community. source
---
I can't seem to find any info about what moves Google or Twitter have made, but we can be sure that even if nothing has yet been done, it will be.
How did it happen that corporations get to decide what is vaccine 'misinformation' and what is not? Can people not see the conflict of interest here?
It is well-known that the U.S. corporate-sponsored "mainstream" media censors all contrary vaccine information, so it is vitally important that the alternative media and social media remain free of censorship on the vaccine debate, so people can be aware of the fact that vaccines do carry risk of harm. Green Med Info
Unfortunately these giant corporations are all in bed together.
---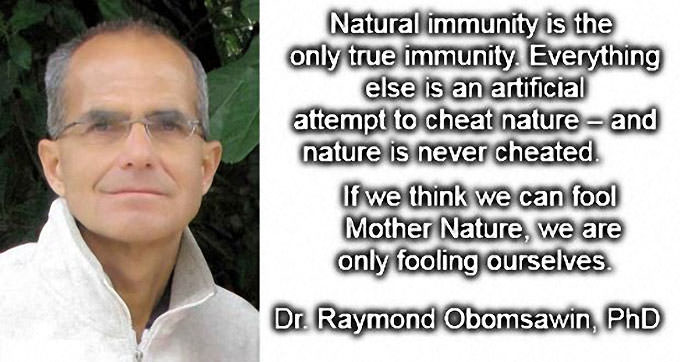 The best vaccine you can give a child is its mother's breast milk, but with little to gain from revealing these kind of facts, corporations move only to eliminate all opposing voices from the debate so that the production of vaccines continues to increase into the next decade.
Here is Esteban with a little message for those corporations.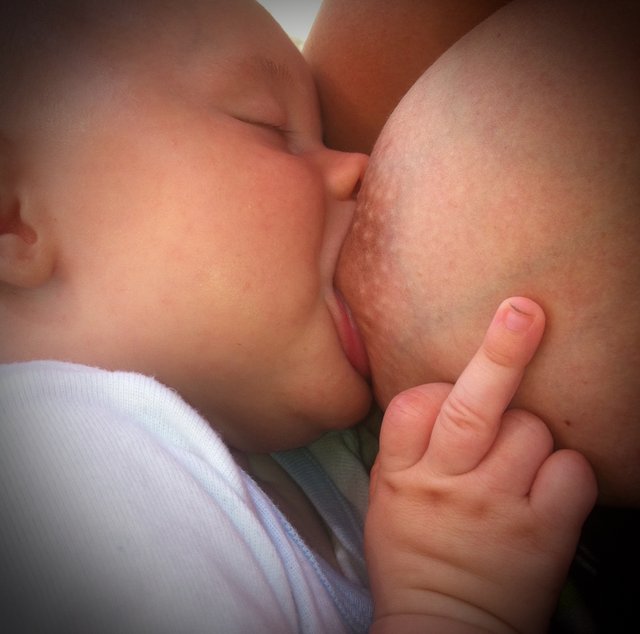 Am trying to keep this lighthearted because I find vaccines the hardest subject of all to write about. The more I see how the world is moving away from nature towards a complete reliance on big pharma, the more it makes my blood boil.
I would much rather write about how Esteban likes drawing smiley faces!
But I cannot in good conscience let this latest news go without an article.
Even before I knew Sabrina was pregnant with Esteban I spent a serious amount of time researching this subject, the culmination of which can be seen here:
Vaccines & the hidden agenda: a detailed examination of the facts
I made this film in 2016 in response to a bunch of haters who didn't like my decision:
I mentioned George Orwell's vision of the future 1984, but in truth the situation is closer to the vision of the future portrayed by the movie Idiocracy.
Have you seen it?
The opening scene provides a comedic look at the problem of IQs deteriorating over time and it's pretty funny.
In conclusion
This issue goes beyond whether or not we are pro or anti vaccines.
It is about our right to free speech in a society where the public square has gone digital and major corporations, political leaders and so-called scientific experts are being left to decide what we are allowed to see, discuss and know.
And there is something deeply wrong with this picture.

He was a London based filmmaker until he sold everything and set out on a barefoot journey around the world, currently based in the south of France.

He is travelling with his partner & two children and with no bank account he has been living on STEEM & crypto for over a year.

All content created for this account is 100% original (unless otherwise stated), produced by @samstonehill who invites you to use & share freely as you wish.
Sam is the creator of:
The Aspiring Steemit Whales & Dolphins group on Facebook which seeks to help newcomers make the transition from Facebook to Steemit, providing them with detailed notes and personal assistance with their posts... resteeming them when he can.

---
Here is a list of Steemit Witness I have voted for & recommend you do the same:
@teamsteem @timcliff @jesta @good-karma @someguy123 @blocktrades @pfunk @klye @krnel @blueorgy @ausbitbank @thecryptodrive @ura-soul @pharesim
Without them our beloved Steemship would not fly.
Learn what this means HERE and place your vote HERE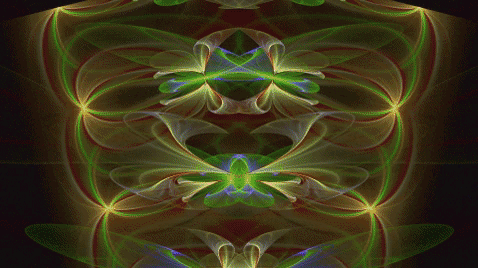 All non original photo sources can be found by clicking on the image