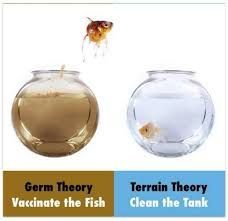 Vaccination is based on the GERM THEORY of disease.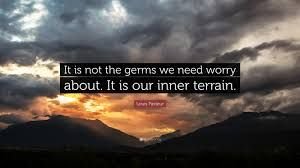 The Germ Theory has some truth, but has gaping holes in it.

I think that the TERRAIN THEORY makes a lot more sense.

"If the Germ Theory were true...

no one would be alive to believe it!"

Dr. B. J. Palmer, the Developer of Chiropractic

To put it simply, I do not live in fear of germs and viruses. Germs and viruses have a job to do! They are the clean-up crew! They clean up our "terrain" when it is needed. They help restore our bodies to health.

There are germs and viruses everywhere. We can't avoid them all. We could never be vaccinated against them all. Would you get 1000 vaccines if they were available against 1000 viruses or bacteria? Where does it stop?




...

Below are some Quotes about the role of germs in our bodies: The germ or virus alone is never the sole cause of disease.

Do mosquitos make the water stagnant? Or does stagnant water attract the mosquitos?

Infection is a body cleaning process for a body burdened with toxic materials.

Germs seek their natural habitat.

For more detailed information on the flawed Germ Theory, Please Read Dr. Brad Case's Articles Below:

#1 Dr. Brad Case: How I Learned to Stop Worrying and Love the Germ

#2 Dr. Brad Case: Attack of the Living Dead?

And More Info on "Soil Theory" aka Terrain Theory, can be found here: Soil Theory vs. Germ Theory

This video below has some very good information in it. I really like Dr. Larry Palevsky, MD. Start at the 27-minute mark to hear him discuss the Germ Theory.
Read more Vaccine Awareness articles at my Blog @canadian-coconut
Please Comment Below and Let's Have a Productive Conversation!
I know that this is a very controversial topic ...
but if you care about children as much as I care about children...
surely we can all be civil and help each other discover the best way forward for all our children and future generations.