Open Source is the new way to go in the revolutionary decentralized economy and blockchain industry today. And Utopian Colony is the first of its kind - a crowdsourcing platform aiming to connect OS projects with digital professionals and contributors where contributions are incentivized through rewards on the STEEM blockchain. Now you can join the revolution by helping Utopian launch the next phase of their ecosystem in Q2 of 2019.
Utopian is a really inspiring project because it's empowering to all those who come into contact with it. The Open Source philosophy is a mature and evolved concept and an example of the "sharing economy" sweeping the blockchain world today. It's about the rising tide lifting all boats. It's also about collaborating for the best outcomes as well as improving the lives of everyone in our shrinking global village. This is a truly laudable ethos, which teaches and leads by example.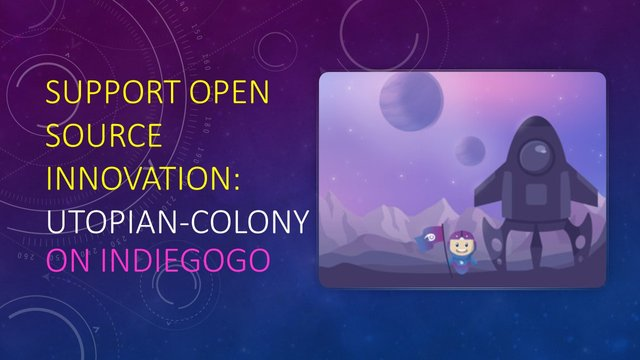 To give you some background, Utopian has been around since September 2017 as a "proof-of-concept" platform on the Steem blockchain and has already attracted numerous contributors from all digital professions. Human nature is highly incentivized so Utopian has designed a unique attractive "gamified" incentivization model to motivate professionals to provide content to the most innovative OS projects to date. With over 5 000 contributors offering over 70 000 contributions to around 9 000 repositories, they are certainly setting the trend.
With experience, Utopian have been able to connect not only developers, but also writers, translators and graphic artists to their network, creating a much-needed solution for the greater professional digital community, or colony as they like to call themselves. And the official release of Utopian Colony by Q2 of 2019 will be a great success if we all help by supporting their Indigogo crowndfunding campaign. This is a great way to empower OS together and uplift everyone in the process. Knowledge is power and shared knowledge is the key to the redistribution of this empowering facility to all humanity.
That's what Open Source is about.
Utopian is the place for developers to find contributors and vice versa. It's the digital network hub for all visionaries keen to learn more, share more and grow more. Sharing of tutorials, blogs and all relevant content will be incentivized by a process of "tipping" via a variety of currencies. Also bounties will be launched enabling the collective financing and crowdsourcing of development for a project. In other words it's a freelance platform for the OS community. And anyone can support a favorite project by boosting the bounty pool.
For quality control there is a group of moderators as well as guidelines, and project owners can decide which contributions meet their standards. To facilitate this, a support team will guide developers and writers all the way. Members can show off their contributions, skills and repositories on their own individual profile pages on the platform. Accompanying that is the community chat facility as well as a secure virtual wallet to store donations and tips. And this is not just a platform, it's a constantly growing community of thousands of contributors already all sharing their work.
Projects on offer include a hackathon with prizes, involving universities from Malaysia, Europe and Venezuela among others. The first hackathon was already a great success and out of it came apps like "dpoll" on the Steem blockchain. There is also a weekly podcast, called FOSSHub, with over 30 episodes connecting developers with projects. Your donations can really help visionaries to launch ingenious ideas that could revolutionize the industry still further.
Check out the Utopian Discord radio show called IdeaHub for that too.
To see the progress along the roadmap, you can go here. The upcoming alpha release of Utopian is in Q2 and the public beta release is due in Q3 2019. Supporting Utopian Indiegogo Campaign will help to make this happen by covering the remaining development expenses and expediting the public release. Utopian already consists of a team of dozens of professionals, speaking over 29 languages between them. As a supporter you will get an exclusive limited edition badge, signed by the artist on the Steem blockchain that you can display on your profile at Utopian Colony.
So use this opportunity in the remaining days of the crowdfunding campaign to be part of the evolving tech revolution and thereby create a worthwhile legacy of your own.
NOTE: If the goal of 35k USD is not met by the end of the campaign, @utopian-io won't be able to claim any of the donated funds and it will be sent back to the donors so let's make this happen!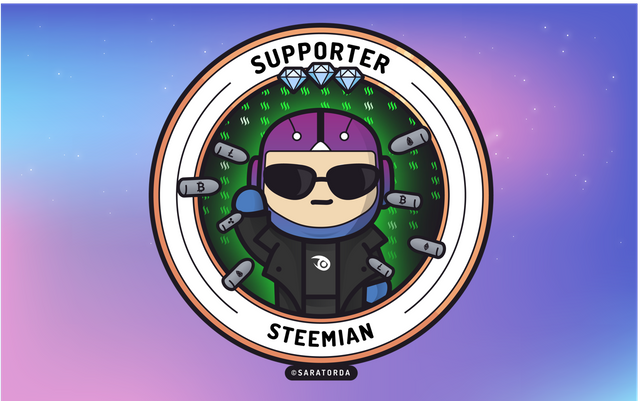 BONUS: There are some pretty nice perks added recently for Steemians who decide to donate to the campaign which include SteemMonsters giftcards, one month free and early access to SteemPress Pro-blog, credit vouchers to use the Reviewhunt platform from Steemhunt, Steemian Badges from Actifit.io, Free exposure on SteemSTEM platform, and Patreons Only Radio Show from the Quasar Framework.
For more inforation read: Brought to you by Steem Monsters, SteemPress, Steemhunt, Quasar, SteemSTEM and Utopian. The Secret Steemian Bundle - Our Biggest Reward Yet
What are you waiting for?
Donate at least 5$ to support the development of the Utopian Colony!
Some users who I'd like to invite to take a look at this campaign and support it if they like.
@thecryptodrive, @yabapmatt, @good-karma, @roelandp, @lukestokes.mhth, @aggroed, @therealwolf, @gtg, @themarkymark, @blocktrades, @someguy123, @timcliff, @ausbitbank, @smooth.witness, @anyx, @followbtcnews, @drakos, @clayop, @jesta, @xeldal, @liondani, @riverhead, @pharesim, @pfunk, @bhuz, @emrebeyler, @abit, @reggaemuffin, @stoodkev, @blockbrothers, @teamsteem, @arcange, @kevinwong, @firepower, @furion, @patrice, @neoxian, @nextgencrypto, @fyrstikken, @nathanmars, @theycallmedan, @cryptomancer, @cervantes, @haejin, @chbartist, @traf, @adsactly, @kingscrown, @slowwalker, @jrcornel, @gavvet, @krnel, @exyle, @jamesc, @trafalgar, @arhag, @thejohalfiles, @ngc, @yoo1900
Unlike some of us, you definitely have the firepower to push this campaign to unseen heights!