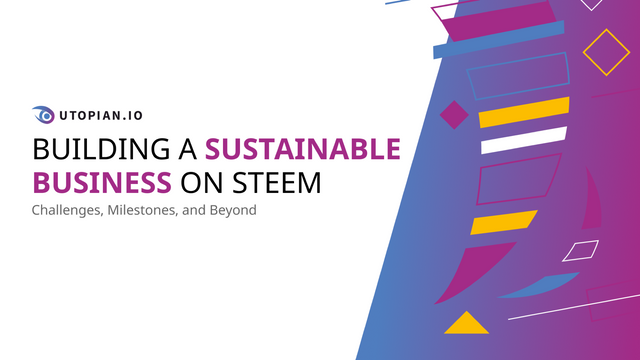 Utopian
Utopian.io is an open source project built on the steem blockchain set out to reward open source project made by contributors or project owners.
Utopian was established in 2017 and stand out as one of the earliest projects to operate on the steem blockchain and over the years of its establishment, it has rendered support to over 5,000 contributors who have made over 70,000 contributions to over 9,000 open source repositories. One of the best ways to prove your worth is not the use of big words, grammars to woo your potential customers and backers but rather with figures and actions and Utopian have done exactly that.
By creating incentives from delegated stakes, supporting open source projects have never been this easy via Utopian.
Open-source projects
In general, open source refers to any program whose source code is made available for use or modification as users or other developers see fit. Open source software is usually developed as a public collaboration and made freely available. techtarget.
This cut across various software we use freely today with the developers usually having no backings, but due to passion, they were able to make their imagination become a reality with little or no help.
After the introduction of Utopian, various open source projects built on the steem blockchain and others have been supported by Utopian up till date.
The reward given out by Utopian to open source project is not limited to project owners but rather to any and every user able to contribute to the open source project one way or the other, be it graphic design, bug hunting, and many others.
After 1 year of none stop learning and implementation of various tools to better improve the running of Utopian, the team behind Utopian, saw it fit to advance further by introducing Utopian Colony.
---
Utopian Colony
The collaboration and collective financing platform for open source innovation.
Utopian Colony is the first crowdsourcing platform to connect open source projects and contributors from all digital professions. The culmination of a year operating a successful proof-of-concept, Utopian aims to launch the open source ecosystem into a new age where all digital professionals are finally empowered to take part in open source innovation. Help us release an early version of Utopian Colony by Q2-2019! Utopian
Utopian Colony hopes to bridge the gap between project owners, backers, and contributors by creating a self-sustainable crowdsourcing platform.
Open source project owners will be able to get backings from the community while professional contributors across the various field made readily available (Translators, graphic designers, marketers, and other open source professionals) to help bring the project to live.
This will be achieved with the use of,
Incentivised Knowledge Sharing

Open Source Bounty Exchange

Integrated Quality Assurance

Your Place in Open Source Space
---
Incentivised Knowledge Sharing
Able to complete a specific task is one but willing to share the steps you took to in achieving it is another, from the definition of an open-source project we introduced above source code is made freely available, everyone likes the word free but to the founder, that is not usually the case.
Utopian Colony hopes to create incentives where users will be able to share their knowledge on different aspects and get rewarded for it via monetary reward which comes in the form of tipping.
Knowledge to be shared here is not essentially sourced codes to a particular open source project but includes clearly explained tutorials, detailed blog post, and others
---
Open Source Bounty Exchange
By creating bounties to open-source projects, community members will be able to increase the reward pool assigned to a particular project which would, in turn, be used to finance the project and also pay contributors in freelance job pattern.
---
Integrated Quality Assurance
As we mentioned above, Utopian has been in existence for more than a year and during that time, the team has been able to gain experience and knowledge as regards to reviewing of open-source contributions.
That been said, quality assurance will be the order of the day.
---
Your Place in Open Source Space
As a potential customer or a project owner, before getting any user into my team, a brief description about themselves will be needed and due to communication or geographical barriers, Utopian will create a professional page where users will be able to input few details about themselves like,
projects they took part in

tutorials they made before now

job experiences and other relevant details.
---
Why should I support this campaign?
Alone we can achieve certain visions, imaginations and what have you but with help from others, our imaginations and achievement are bound to become limitless.
Help bringing the project to live is more like indirectly bringing hundreds if not thousands of open-source projects to live.
The development roadmap so far has being a success and with your help, the next phase will be completed.
Help bring Utopian Colony to live by being a backer via the Indiegogo campaign.
Also, you can share with friends, families and loved ones who would love to be among the earliest contributors to what is bound to be a great success, while securing a limited amount of badges.
---
You can know more about the campaign via the links below