Giving you more through partnerships and collaborations! Steem-UA, SteemPlus and more. Awesome new Incentives!
Utopian.io empowers Open Source by connecting open source projects with professional contributors and facilitating contributor rewards. Whether you are a developer, content creator or just a creative mind, Utopian.io is here to help you succeed and improve as is evident by the many Steem apps and contributors succeeding on this blockchain through collaboration and contributor incentives through Utopian.io.
With the vision of bringing millions of bright minds together, Utopian continues to incentivise and expand collaborations. Today, we bring you a world of new opportunities and contribution incentives, powered by @steem-ua, @steem-plus, steeditor.app and others.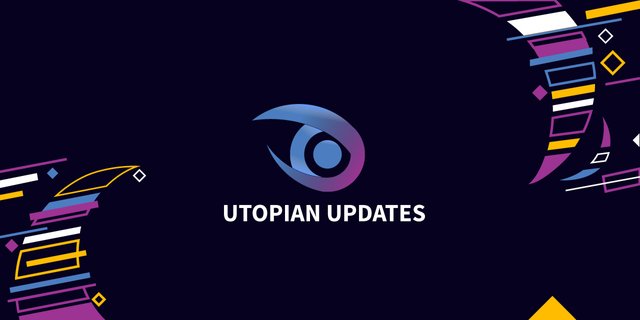 @steem-ua - A New Reputation Standard
@steem-ua, run by seasoned Utopian.io contributors @scipio and @holger80, aims to provide an alternative to the current reputation system on the Steem blockchain (which is known to have flaws). With their hard work, these two geniuses quickly brought to life the early version of @steem-ua. We, in Utopian are proud to be among the first testers of such innovative project and gain access to the UA-API as one of the first UA Registered Partners.
As of today, @steem-ua will upvote scored contributions in Utopian using the @steem-ua algorithms and dynamics. You can read more about it here: https://steemit.com/@steem-ua.
Essentially, submitting quality open source contributions to Utopian now will guarantee access to @steem-ua incentives without requiring registration to the Steem-UA services via delegation.
To help grow both @steem-ua and incentivize contributors to excel, Utopian.io is delegating 18,000 SP to support @steem-ua, bringing the total stake delegated to the account to over 136,000 SP at the time of writing.
We are excited and grateful to be part of this important project, and once again thank @scipio and @holger80 for launching this initiative.
Increase in Max Category Upvote Caps
With the changes in Steem market price and incoming delegation volume, we are still eager to incentivize and encourage open source contributions across all categories. To ensure this, the maximal upvote percentage for all categories will be raised until further notice.
| | |
| --- | --- |
| Category | Max Cap |
| suggestions | 30% |
| development | 70% |
| bug-hunting | 30% |
| translations | 55% |
| graphics | 50% |
| analysis | 60% |
| social | 40% |
| documentation | 40% |
| tutorials | 40% |
| video-tutorials | 50% |
| copywriting | 40% |
| blog | 40% |
| task requests | 10% |
Note that these values may change in the future, and we will be sure to update you in advance.
Support Utopian and Get Higher Contribution Post Payouts
You can help support our growth and get up to 20% more on your upvote value! How? By setting @utopian.pay as a beneficiary of 5% or more on your Utopian contributions. Our voting system will not only ensure you get that value back, but will also award you a higher payout for your support of Utopian.io through post beneficiaries.
As of today, we've doubled the added supporter incentive from 10% on the original score value, to 20%.
You can do this by using @Steem-Plus or Steeditor.app to submit your contribution.
Community Manager and Moderator Content Writing Incentives
With the public beta release of Utopian v2 closer than ever it's time to start preparing the content to compliment that platform and begin outlining our community knowledge base. And who is better to tackle such a challenge than our team of professional community managers and moderators?
Currently, the majority of valuable information for Utopian.io contributors is scattered around the blockchain in posts and comments, and much of the experience and knowledge of community managers and moderators remain unshared.
We want to change that, and incentivize our team to share their expertise and experience with you.
We are looking for well-written posts to be written by community managers and moderators, that can be of use and benefit to the community as well as, potentially, integrated into the knowledge base of Utopian v2.
Among others, we'll be happy to read and review:
Tips and recommendations for contributors to various categories
Lists of useful tools for contributors and moderators in various categories
Helpful resource repositories and link collections
Best practices in specific categories
Personal experiences and lessons learned in community management and moderation roles
These contributions will be reviewed by the Utopian.io core team members personally, and scored according to the category guidelines for Blogs.
To ensure your contribution is reviewed, please include the tag #iamutopian in addition to #utopian-io and #blog categories.
Questions? Don't hesitate to ask in the #iamutopian channel on the Utopian.io Discord.
One Last Thing…
With the Utopian.io mini-hackathon taking place on September 20th, the content team and contributors will have its own unique role in the planned activities, so stay tuned for surprises and updates.
Tips are Back!
Did you know Utopian has a continuous 24/7 contest happening? When you leave insightful comments on Utopian contributions, you have the chance to get a tip or even a mega tip!
Check https://steemit.com/trending/utopian-io and make sure to provide your most valuable insights in the comments. We are constantly on the lookout of awesome ideas and feedback worthy of reward.

First Time Contributing in Utopian.io?
Learn how to contribute on our website
Utopian Witness