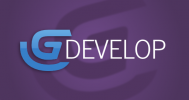 Project Details
I have worked on translations for GDevelop.
GDevelop is an open source game creation software, allowing to make games for the web (HTML5) or for Windows and Linux. No programming or coding skill is required! It is easy to use and powerful enough for advanced users.
You can find the GDevelop on GitHub:
https://github.com/4ian/GDevelop
And on crowdin:
https://crowdin.com/project/gdevelop
Contribution Specifications
Translation Overview
The whole project is summarized in one string and includes the UI, as well as commands for characters and objects inside possible games.
Word Count
Between 21.12.2018 and 30.12.2018 crowdin has counted 1058 words. At least 55 words are phrase repetitions and should be excluded from the word count. The real number of translated words lies therefore closer to 1003 words.
Proof of Authorship
I have decided to publish this report from my german steemit account. My main account that includes my application as translator is @sooflauschig.
My username on crowdin.com is sooflauschig and you can find my profile at:
https://crowdin.com/profile/sooflauschig/activity
The Team
The current German Team is comprised of:
LM @infinitelearning
LM @egotheist
@laylahsophia
@supposer
@achimmertens
@louis88
@sooflauschig